Chair ofBusiness Ethics and Management Control
Teaching
We offer the following courses:
Research
Research approach
The three dimensions of the research cube show the research profile of the chair. The first dimension illustrates the basic characteristic of the research at the chair: Business administration is understood as social and behavioural science.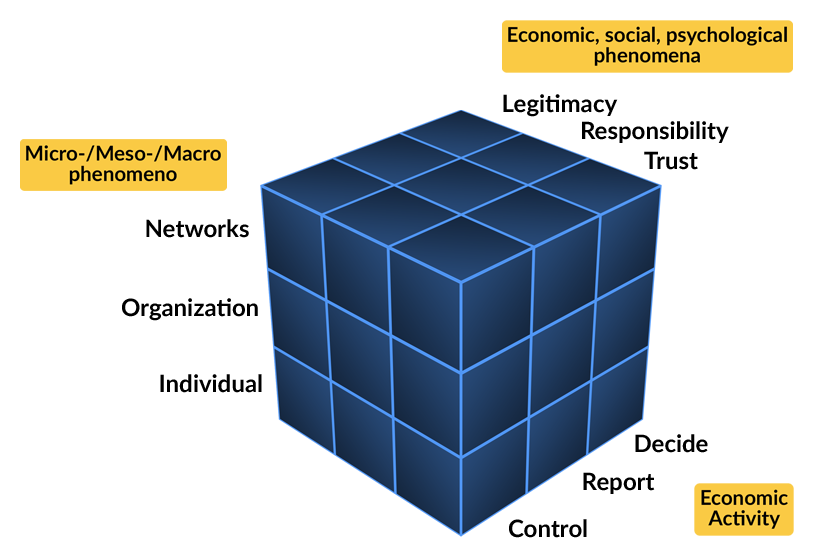 Research topics
Responsibility and Accountability
Responsibility and accountability are like Siamese twins. If one is responsible, we expect him to account for his actions. Accountability therefore also considers questions about who is ascribed responsibility. We build on a model which illustrates how responsibility is assigned and how this process relates to the account giving of actors. This model allows for statements about characteristic account patterns. We tested this model by examining the communication of banks after the financial market crisis. Several other projects are dedicated to the question of how organizations answer to negative events. Accountability is a central concept consulted in these projects.
Organizational Legitimacy
In recent years many corporations report about their social activities. In our research we assume that this communication is intended to influence the attitude of the companies' important stakeholders. Currently, the focus of our research is on the judgment of organizational legitimacy. For many years institutional scholars have focused on organizational legitimacy as core of their research. However, investigations about the how individual judgements of stakeholders are formed are missing.
In a first study we applied an experimental design. In a between subject design participants were asked to judge different corporate social activities (with and without additional benefits for the corporation). Our results show how the motives that are attributed to company are related to corporate credibility and legitimacy.
Management Control Systems
In an international project management control systems within a variety of countries (e.g. Europe, Australia and Canada) are investigated. Crucial components of management control systems are described and explained within their respective context. In this project several research questions are addressed. In a sub-project we investigate whether cultural values, e.g. according to Hofstede or GLOBE, have impact on the design of management control systems. Belgium, Germany, Canada and Poland are involved as subjects of the study. In a further subproject, we investigate how such values affect the design of performance management systems.
Shared Service Center
In recent years large corporations have begun to form new organizational entities: shared service center. Shared service center assume tasks from other decentralized organizational departments. Most prominent are shared service center that are focused on Finance, HR, accounting and IT. The accompanying consequences of these massive organizational changes are currently underexplored.
The current status of the shared service center research is shown in a first publication. Current projects focus on the success factors and the implementation of shared service center.
Focus on:
Last Publications
Monograph
Rolf Brühl: Controlling. Grundlagen der erfolgsorientierten Unternehmenssteuerung. 4. überarbeitete und aktualisierte Auflage, Verlag Franz Vahlen, München, 2016.
Editorship
Controlling (fonts series). Jointly edited by Prof. Dr. Volker Lingnau, Kaiserslautern, Prof. Dr. Albrecht Becker, Innsbruck.
Posts in Lexika
Brühl, Rolf: Sensitivitätsanalyse, in: Lexikon des Rechnungswesens. Handbuch der Bilanzierung und Prüfung, der Erlös-, Finanz-, Investitions- und Kostenrech-nung, hrsg. v. Walther Busse von Colbe, Nils Crasselt, Bernhard Pellens, 5. Auflage, Oldenbourg, München, 2011, S. 704-707.
Reviews
Hirsch, Bernhard: Controlling und Entscheidungen. Zur verhaltenswissenschaftlichen Fundierung des Controllings, in: Zeitschrift für Controlling und Management, 52. Jg., Heft 5, S. 350-351.
Working Papers
Basel, Jörn/Brühl, Rolf: Concepts of Rationality in Management Research - From Unbounded Rationality to Ecological Rationality, ESCP Working Paper, Nr. 57, Berlin, 2011.
Publications
Find an overview
Academic Articles
2022
BRÜHL, R.
On the responsibility of corporate actors for human rights in the supply chain
MANAGEMENT-REVUE, 32, 59-82
Academic Articles
2021
RICHTER, P., R. BRÜHL
Shared service implementation in multidivisional organizations
JOURNAL OF GENERAL MANAGEMENT, 46 (2), 73-90
Books
2021
BRÜHL, R.
Wie Wissenschaft Wissen schafft
ESCP Impact Papers
2021
BRÜHL, R., B. KAPTEINA
Fighting for democracy: Companies' sustainable investments in the political arena
ESCP Impact Papers, 2021-37-EN
Academic Articles
2020
RICHTER, P., R. BRÜHL
Ahead of the game: Antecedents for the success of shared service centers
EUROPEAN MANAGEMENT JOURNAL, 38(3), 477-488
Academic Articles
2020
JAHN, J., M. EICHHORN, R. BRÜHL
How do individuals judge organizational legitimacy? Effects of attributed motives and credibility on organizational legitimacy
BUSINESS & SOCIETY, 59(3), 545-576
Academic Articles
2020
MALMI, T., D. S. BEDFORD, R. BRÜHL, J. DERGÅRD, S. HOOZÉE, O. JANSCHEK, J. WILLERT, C. AX, P. BEDNAREK, M. GOSSELIN, M. HANZLICK, P. ISRAELSEN, D. JOHANSON, T. JOHANSON, D. Ø. MADSEN, C. ROHDE, M. SANDELIN, T. STRÖMSTEN, T. TOLDBOD
Culture and management control interdependence: An analysis of control choices that complement the delegation of authority in Western cultural regions
ACCOUNTING, ORGANIZATIONS AND SOCIETY, 86, Article 101116
Academic Articles
2020
FISCHER, T. M., K. -E. LUEG, L. SCHNECK, R. BRÜHL
Herausforderungen der digitalen Transformation von Shared Services und Shared Service Organisationen
ZEITSCHRIFT FUR BETRIEBSWIRTSCHAFTLICHE FORSCHUNG, 71(74), 1-18
Academic Articles
2020
BRÜHL, R., K. HOYER, K. HÖLKER, T. LAUX, R. LIEGLEIN, C. -P. SCHRÜNDER, S. TROSSBACH
Human Resource Management in digitalisierten SSOs
ZEITSCHRIFT FUR BETRIEBSWIRTSCHAFTLICHE FORSCHUNG, 71(74), 75-125
Media
2020
BRÜHL, R., J. JAHN, M. EICHHORN
Are corporate saints more credible?
Search faculty publication