Chair / Junior Professorship forInternational Entrepreneurship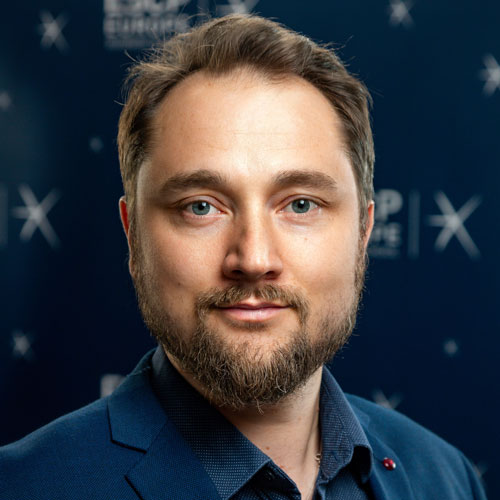 Entrepreneurship can be understood as a process of identifying, evaluating and exploiting entrepreneurial opportunities. Consequently the question how entrepreneurial opportunities arise should be at the heart of entrepreneurship research and teaching.
At the chair of international entrepreneurship we believe that cultural, economic, institutional and political differences among national contexts function as important sources of entrepreneurial opportunities. Hence, the awareness and understanding of the relevance of cross-country differences for opportunity emergence allows individuals to identify entrepreneurial opportunities more effectively and to increase the likelihood to engage in entrepreneurial action.
And we will be even more dependent on Technology and Operations Management in the coming future. We are facing an unstable global business environment and fierce international competitions, and above all, a home running out of its resources to sustain life. New technologies (such as green energy resources, big data analytics, autonomous vehicles, etc.) and novel operational strategies (such as cleaner production, green logistics, reverse supply chain management, etc.) would be the key to our sustainable development.
We therefore see our mission not only in conducting state of the art research on international entrepreneurship but also in inspiring students with the vision inherent in international entrepreneurship, to heighten their awareness of the entrepreneurial chances resulting from their various backgrounds and international experiences. The chair profits from its perfect location at ESCP, a university with internationality in its DNA as well as from the close collaboration with the European Jean-Baptiste Say Institute of Entrepreneurship.
- Junior Professor Dr. Matthias Mrożewski
Teaching
We offer the following courses:
Research
Research approach
At the chair of international entrepreneurship we are researching entrepreneurship and innovation using quantitative as well as experimental methods. By applying both micro and macro perspectives on entrepreneurship we not only analyse entrepreneurial individuals and firms but also focus on the differences in entrepreneurial cultures and innovativeness levels across regions and countries.
Research topics
The chair's research focus can be divided into three main areas:
1 Entrepreneurial decision-making
Entrepreneurial decision-making is important in every stage of the entrepreneurial process consisting of opportunity identification, evaluation and exploitation stages.
We foremost focus on the first two stages and analyse individual-level (e.g. attitude) as well as external drivers (e.g. market competition) of entrepreneurial decisions taken in the identification as well as evaluation stage.
2 Migration, culture and entrepreneurship
We analyse the role of a migration background and more specifically the cultural distance between a migrant's home country and his/her host country on the ability to identify entrepreneurial opportunities.
3 Regional and country-level entrepreneurship and innovation
Since the work of Schumpeter, entrepreneurship has been regarded as a concept that is in close relation to innovation. However, recent country level investigations show that technology innovation and new business creation can be regarded as two separate phenomena.
Our research investigates the influence of of entrepreneurship on country-level innovation, and furthermore, pays particular attention to the role of entrepreneurial opportunities available.
Focus on:
Recent publications
Edited Special Issue
VENUTI, F., GROMIS DI TRANA, M. and S. SCAGNELLI (Eds) (2019), Introduction to Financial Accounting: Concepts, Cases and Exercises - II edition, Giappichelli.
Book
DE BERNARDI, P., VENUTI, F. and A. BERTELLO (2019), Online and On-Site Interactions within Alternative Food Networks: Sustainability Impact of Knowledge-Sharing Practices, SUSTAINABILITY, Volume 11, Issue 5.
VENUTI, F., DE BERNARDI, P., ALFIERO, S. and M. CANE (2016), Does Board Gender Diversity Affect Corporate Reputation? Evidence From Italy's Most Reputable Companies, WORLD JOURNAL OF MANAGEMENT, 7 (1).
Chapter
VENUTI, F. (2014), L'economia delle Aziende Produttrici di Acque Confezionate, Giuffre, Milano.
Guest Speaker in a Conference
VENUTI, F., GROMIS, M. and S. ALFIERO (2014), Sistemi Di Rilevazione E Misurazione Delle Performance Aziendali - Casi Ed Esercitazioni, Giappichelli, Torino.
Publications
Find an overview
Academic Articles
2023
MESTWERDT, S., M. , J. MROZEWSKI, R. KIRSCHNING, R. MAUER
The role of reference points for entrepreneurs' strategic decision-making in sub-saharan Africa
FRONTIERS OF ENTREPRENEURSHIP RESEARCH, Babson College Entreprenership Research Conference (BCERC) 2022, 298-306
Academic Articles
2023
LEHMANN, D., M. , J. MROZEWSKI, R. MAUER
Driven by emotions: The moderating effect of socioemotional wealth dimensions on the link between entrepreneurial orientation and innovation performance in family firms
INTERNATIONAL JOURNAL OF INNOVATION MANAGEMENT
Academic Articles
2022
MROZEWSKI, M., J., R. KIRSCHNING
The role of entrepreneurial absorptive capacity for knowledge spillover entrepreneurship
Academic Articles
2022
MROZEWSKI, M., J., D. HERING
What makes migrants more entrepreneurial? Investigating the role of cultural distance and human capital
INTERNATIONAL ENTREPRENEURSHIP AND MANAGEMENT JOURNAL
Academic Articles
2021
MROZEWSKI, M., J., H. BUTZ
The Selection Process and Criteria of Impact Accelerators. An Exploratory Study
Academic Articles
2020
MROZEWSKI, M., J., E. SONTA-DRACZKOWSKA
Exploring the Role of Project Management in Product Development of New Technology-Based Firms
PROJECT MANAGEMENT JOURNAL, 51 (3), 294-311
Academic Articles
2020
MROZEWSKI, M., J., L. VON ARNIM
Entrepreneurship in an Increasingly Digital and Global World. Evaluating the Role of Digital Capabilities on International Entrepreneurial Intention
Chapters
2020
MROZEWSKI, M., J., J. KRATZER
Factors fostering creativity in start-up teams
In: Creative Success in Teams, Alexander McKay, Roni Reiter-Palmon, James Kaufman Academic Press
Academic Articles
2017
MROZEWSKI, M., J., J. KRATZER
Entrepreneurship and country-level innovation: investigating the role of entrepreneurial opportunities
JOURNAL OF TECHNOLOGY TRANSFER, 42(5), 1125–1142
Chapters
2016
MROZEWSKI, M., J., A. VON MATUSCHKA, J. KRATZER, G. FESTEL
TU Berlin – an entrepreneurial university in an entrepreneurial city
In: Academic Spin-Offs and Technology Transfer in Europe: Best Practices and Breakthrough Models, Sven H. De Cleyn and Gunter Festel Edward Elgar, 65–74
Search faculty publication
Team and contact
Junior Professor Dr. Matthias Mrożewski
Assistant Professor for Technology and Operations Management
mmrozewski@escpeurope.eu