Chair / Junior Professorship forTechnology and Operations Management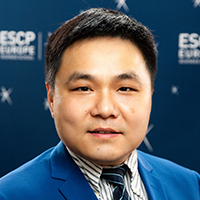 "It is the best of times, it is the worst of times, it is the age of wisdom, it is the age of foolishness…"
When the first assembly line was introduced to revolutionize production, it might have been difficult for even the smartest minds in that era to foresee the advancement of today's Technology and Operations Management. Over the years, they have greatly changed the world around us.
And we will be even more dependent on Technology and Operations Management in the coming future. We are facing an unstable global business environment and fierce international competitions, and above all, a home running out of its resources to sustain life. New technologies (such as green energy resources, big data analytics, autonomous vehicles, etc.) and novel operational strategies (such as cleaner production, green logistics, reverse supply chain management, etc.) would be the key to our sustainable development.
Would you join me to investigate and contribute to the exciting topic of Technology and Operations Management? – one day, we will all be proud of having worked hard for a more sustainable world for our kids.
- Junior Professor Dr. Chuanwen Dong
Teaching
We offer the following courses:
Bachelor in
Management (BSc)
Operations Management (core)
Supply Chain Management (elective)
Go to the programme
Master in
Management(MIM)
Operations Management (core)
Supply Chain Management (elective)
Go to the programme
Research
Research approach
We apply a wide range of research methods, including systematic literature review, Delphi studies, analytical modelling, and empirical validation. We are especially interested in quantitative operations management models, analysis, and algorithms.
Research topics
Sustainable Supply Chain Management
Shifting freight from fast (e.g., air, road) to slow (e.g., rail, waterway) transport modes can substantially improve the economic and environmental performance of logistics systems. Regrettably, even with technology and regulations developing over the last few decades, modal shifts have remained modest at best.
We argue that this is partly the result of a failure to take a holistic supply chain view of the transportation decisions, By jointly optimizing the entire supply chain including transportation, inventory management, production, etc., we can move from a "local optima" to a relatively "global optima", and reduce cost and emissions at the same time.
Supply Chain Digitalization
Facing various challenges in sustainably and digitalization, we will most likely be even more dependent on the support from various technologies in the coming future.
Over the years, related research in this field is rich. When the keyword "technology AND transportation" is inserted into Google Scholar, more than three million articles can be found. But the question is, what are the major emerging technologies in the field of supply chain management, and how will they impact firms' operations?
We have proposed a novel approach to combine the perspectives from academia, industry, as well as government, and converge to commonly-acknowledged emerging technologies. After that, we analyse their impact on supply chain management and discuss future research opportunities.
Physical Internet
How will tomorrow's logistics network look like? Will it be able to tackle the economic (e.g., profitability), social (e.g., congestions), and environmental (e.g., carbon emissions) sustainability challenges?
The Physical Internet (PI) is regarded as a paradigm-breaking concept to tackle the sustainability challenge. The concept originates from its metaphor, the Digital Internet (DI): Whereas the Digital Internet transfers digital data smoothly among users, the Physical Internet moves physical objects seamlessly through an open and interconnected logistics network.
Despite a novel concept, the research in PI is in an early stage. We aim to contribute to the PI research by developing quantitative logistics models to support its theory building and practical implementation.
Focus on:
Recent publications
Journal
Dong, C., S. Transchel, K. Hoberg. 2018. An inventory control model for Modal Split Transport: A Tailored Base-Surge approach. European Journal of Operational research 264(1) 89-105.
Journal
Dong, C., R. Boute, A. McKinnon, M. Verelst. 2018. Investigating synchromodality from a supply chain perspective. Transportation Research Part D: Transport and Environment 61(A) 42-57.
Journal
Dong, C. A supply chain perspective of synchromodality to increase the sustainability of freight transportation. 4OR - A Quarterly Journal of Operations Research 16(3) 339-340.
Journal
Dong, C., R. Boute, 2019. The Beer Transportation Game: How to decarbonize logistics by moving freight to sustainable transport modes. INFORMS Transactions on education. Forthcoming.
Publications
Find an overview
Academic Articles
2022
DONG, C., S. BHARAMBE, M. BICK
Why Do People Not Install Corona-Warn-App? Evidence from Social Media
LECTURE NOTES IN BUSINESS INFORMATION PROCESSING, 437
Academic Articles
2021
DONG, C., R. FRANKLIN
From the Digital Internet to the Physical Internet: A conceptual framework with a stylized network model
JOURNAL OF BUSINESS LOGISTICS, 42(1), 108-119 pp.
Academic Articles
2021
DONG, C., R. MANDAROUX, G. LI
A European Emissions Trading System Powered by Distributed Ledger Technology: An Evaluation Framework
SUSTAINABILITY, 13 (4), 21 p.
Academic Articles
2021
DONG, C., D. LI
Government regulations to mitigate the shortage of life-saving goods in the face of a pandemic
EUROPEAN JOURNAL OF OPERATIONAL RESEARCH
Academic Articles
2021
DONG, C., A. AKRAM, D. ANDERSSON, P. -O. ARNÄS, G. STEFANSSON
The impact of emerging and disruptive technologies on freight transportation in the digital era: current state and future trends
INTERNATIONAL JOURNAL OF LOGISTICS MANAGEMENT, 32(2), 386-412
Academic Articles
2020
DONG, C., S. TRANSCHEL
A dual sourcing inventory model for modal split transport: Structural properties and optimal solution
EUROPEAN JOURNAL OF OPERATIONAL RESEARCH, 283(3), 883-900
Academic Articles
2020
DONG, C., R. BOUTE
The Beer Transportation Game: How to Decarbonize Logistics by Moving Freight to Sustainable Transport Modes
INFORMS Transactions on Education, 20(2)
ESCP Impact Papers
2020
DONG, C
Mobile phone data as an opportunity to fight the pandemic
ESCP Impact Papers, 2020-03-EN
Academic Articles
2018
DONG, C.
A supply chain perspective of synchromodality to increase the sustainability of freight transportation
4OR: A QUATERLY JOURNAL OF OPERATIONS RESEARCH, 16(3), 339–340
Academic Articles
2018
DONG, C., S. TRANSCHEL, K. HOBERG
An inventory control model for Modal Split Transport: A Tailored Base-Surge approach
EUROPEAN JOURNAL OF OPERATIONAL RESEARCH, 264(1), 89-105
Search faculty publication
Team and contact
Junior Professor Dr. Chuanwen Dong
Assistant Professor for Technology and Operations Management
cdong@escpeurope.eu