Ethics, Responsibility and Sustainability at ESCP
Integration of ERS into ESCP's mission, governance, strategy and current operations
For several years now, ESCP Business School has worked towards a more sustainable approach on many of its fields of action, including teachings, research, processes, and governance.
Barometer for Ecological Transition
In recent months, ESCP submitted a questionnaire initiated for business schools and universities by "Pour un réveil écologique" (For The Ecological Awakening) and called "Grand baromètre de la transition écologique", which gives a comprehensive overview of our current sustainability policies and processes, as of July 2020.
The 40 questions document is an assessment tool of sustainability policies and actions. Thanks to the collaborative work of ESCP's departments, spearheaded by the Sustainability Transition team, the School was able to provide a thorough description of internal actions promoting sustainability. The document is attached.
More information about this project can be found here:
Sustainabiliy On Campuses
Education
ESCP is targeting to have all of its students trained on CSR and Sustainability. This goes through:
Research
ESCP is promoting academic excellence in sustainability:
Governance
The school is working to better integrate stakeholders in the school's sustainability processes, including students.
This process is lead by our Associate Dean for Sustainability position and a Sustainability Project Manager that act as focal points for the school (local representatives will also soon be identified)
Creation of the Sustainable advisory board in Berlin whose members include representatives from large companies, NGOs, ESCP professors and representatives of the school's administration
Processes
All of our campuses have taken actions to reduce their environmental footprint through energy saving, waste reducing and recycling.
Integration of ethics, responsibility and sustainability in the School's educational offerings
ESCP has developed innovative educational content related to ethics, responsibility and sustainability across its programmes. This is done through the development of dedicated programmes, as well as the integration of ERS content in
existing programmes
.
Professors actively involved in the teaching of the circular economy
Programmes with ERS
Specialised programmes on Ethics, Responsibility and Sustainability
Specialised Masters including content on Ethics, Responsibility and Sustainability
Generalist programmes
Three specialisations (each with 120 teaching hours) offered to our students on these issues: Re-Think (Paris), Social Entrepreneurship (Madrid), Sustainability (Berlin)
Integration in existing specialisations:
Development of a module on Art-Thinking for all students in the entrepreneurial track, centred on sustainability issues (Improbable Planète)
30-hour module on sustainability in the marketing major (Paris)
Various stand-alone electives on CSR, Sustainability & social innovation in the MiM programme
Starting in September 2019
"Designing Tomorrow: business and sustainability" is the first transversal seminar of Pre-Master's degree for students who join ESCP.
This seminar is based on two pillars:
A training seminar. Objectives: Become aware of the major climate and current issues; Understand the link between these issues and management by reflecting both threats and opportunities in new markets ; Identify levers of action accessible to managers
A field survey to be carried out in the first semester. Objective: Offer to students field investigation experience, in the light of major societal and climatic issues and their consideration by economic actors; the opportunity to formulate and disseminate proposals for action that can help address these major issues.
Pedagogical innovation
Re-Think
Since 2016, professors from various departments (humanities, management control, management, and supply chain & logistics) have joined forces to create a new specialisation called Re-Think: Social innovation, alternative business models and sustainability...
View more
This specialisation digs into major transformations of capitalism (ecological, technological, social and political) and management, and explores the development of alternative models.
Putting a strong emphasis on social sciences, this specialisation strives to balance reflection and action. The specialisation is organised around two central blocs.
The first block is devoted to developing critical thinking and reflexivity among the students through courses such as 'critical perspectives on capitalism' and 'the dark side of sustainability' (15 hours each).
The second block is centred on understanding and developing alternatives to mainstream management models through courses such as 'circular economy' (30 hours), alternative organisations (15 hours), tools & methods for social impact evaluation' (30 hours) and 'field-studies in alternative organisations' (15 hours).
This 120-hour specialisation is offered to M2 students in the MiM on the Paris campus. In 2018-2019, 30 students are enrolled in the specialisation.
Entrepreneurship meets art…and sustainability: Improbable Planet
In 2011, Sylvain Bureau (ESCP Professor in Entrepreneurship) and Pierre Tectin (artist) created a new type of seminar, for entrepreneurs to produce art in order to grasp social transformations and connect them to their entrepreneurial project...
View more
Since its creation, this seminar, called "Improbable", has attracted more than a thousand entrepreneurs and executives (Orange, La Redoute, Sacem, BPCE, Galeries Lafayette, Canon, etc.). The rules of the game: create a work of art in three days, working in small groups. The objective: to shake up entrepreneurial habits through the experience of artistic creation.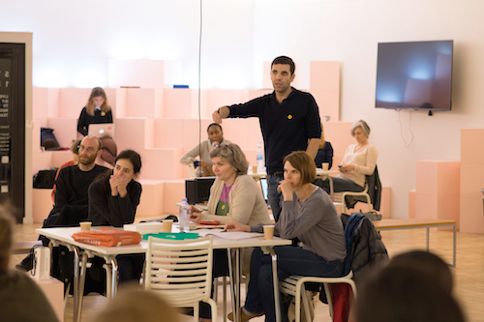 In 2018, Sylvain Bureau focused this seminar on environmental issues, for entrepreneurs to reflect on current business models, environmental challenges, and the bright and dark sides of technological innovation regarding these issues. In 2018 alone, more than 150 students produced works of art on different School campuses.
More information (in French): http://www.mouvement.net/fil-de-une/lart-de-lentreprise
Research on Ethics, Responsibility, and Sustainability
Ethics, responsibility, and sustainability represent a significant part of ESCP research output. Since 2015, there has been a significant rise in both the total number of articles published by faculty on these topics, accounting for more than 20% of the publications in 2018 (as of 15th of October).
Number of articles published in Ethics, sustainability & CSR
as a % of ESCP total research output
A dedicated research centre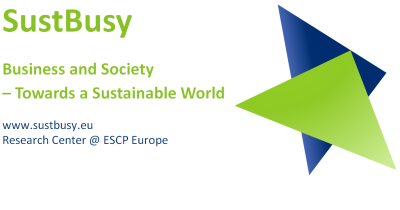 In 2013, the School created a dedicated research centre, SustBusy (Business & Society - Towards a sustainable world) led by the Berlin campus, to work on sustainable development. The research team is made up of 16 ESCP Permanent Professors from the Berlin, Madrid, Paris and Turin campuses, as well as doctoral students from our PhD programmes.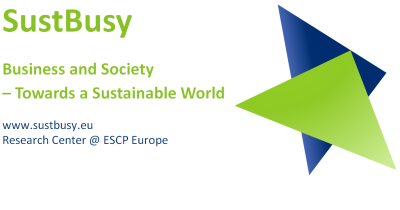 The School also holds a regular research seminar in Paris on Business & Society, which has hosted 20 external researchers since it was created in 2014
Circular economy: from pedagogical innovation to research
The circular economy constitutes an important area of development for research on Ethics, CSR and sustainability, and illustrates synergies between research and pedagogical innovation.
Since 2015
Since 2015, Valentina Carbone (Professor of Supply Chain & Logistics) & Aurélien Acquier (Professor of Sustainability Management) have developed a new 30-hour course devoted to the circular economy. Courses are designed through real-life collaborations including both professional partners (start-ups or established companies), public/institutional partners (eco-organisms or public authorities), the School's professors and students. Students are offered the opportunity to work on real-life management questions for start-ups, companies or institutional partners.Courses are part of the Master in International Sustainability programme, as well as the Re-Think specialisation. It is also being offered as a standalone elective in some programmes (MiM and executive MBA), reaching about 90 students every year. These pedagogical innovations have led to different research projects both on pedagogy and business model innovation related to the circular economy.
Since 2017
Since 2017, within the framework of the Horizon 2020 project, the SustBusy research centre has received €216K in funding from the European Union as part of a European research project entitled "the route to circular economy". From ESCP, the project is coordinated by Sylvie Geisendorf (Berlin Campus) and involves professors from various campuses (Berlin, London, Paris).
Since 2018
In view of the current development of research and teaching activities related to ERS, future orientations include creating a dedicated research cluster on sustainability and increasing resources and visibility on these topics.
Events / Community outreach
The School wants to position itself as a platform for innovation on ERS issues. To do this, the School must be a catalyst for debate on social innovation, sustainability, etc. These debates are led by professors, alumni and student societies.
Student Societies
Our students are actively involved in extra-curricular student activities related to ERS: several student societies are focused on social and environmental issues, and have developed professional activities in this context:
ESCP Alumni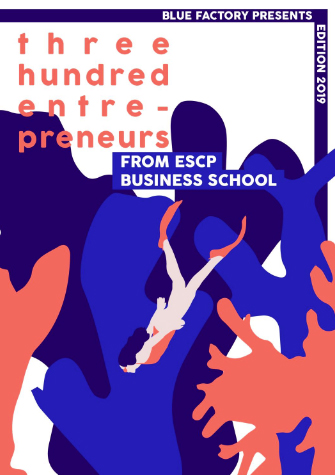 Directory
ESCP alumni have been active in creating companies centered on sustainability challenges. You will find several examples in the Blue Factory Directory here.
Dissemination of academic knowledge
Dissemination of academic knowledge to professional communities is also managed through various mechanisms:
Professional Conferences
The School hosts or organises various professional conferences (such as ASLOG – a professional logistics association, Lab RSE, Comité 21)
Circular Economy Morning-sessions
As part of the activities of the Circular Economy research chair, ESCP will organise "circular economy morning-sessions" (starting on April 2019) targeting professionals of the circular economy, journalists, consulting experts and academics, to be held every two months on topics about the circular economy.
Publications
As a contribution to public and managerial debates, professors regularly publish articles in theconversation and also produce video materials (through Xerfi) to disseminate knowledge.
SDG-oriented Career Week and conference
SDG-oriented Career Week and conference for the MiM on the Berlin campus (January 10th-11th / Allianz Forum & ESCP Berlin).
Participation in studies on higher education and integration of energy issues (e.g. Shift Project on higher education and carbon transition).
Extra curricular events
The School regularly organises extra curricular events related to ERS. For example, on the 18th November, 2018, ESCP and the NOISE ESCP co-organised a special conference with Mr. Muhammad Yunus.
Process of integration
Social Diversity programmes: students enrolled at ESCP as part of the Talent Spring Programme
Grants
Compliance with Ethics in different processes: research, recruitment
Berlin campus: Creation of a Sustainability Advisory Board that meets once or twice a year with members from businesses and NGOs in Berlin
Green Campus Initiative in Berlin / campus management initiatives launched across campuses
Formal commitments to ethics, responsibility and sustainability (e.g. UN PRME)
ESCP uses the UN's 17 Sustainable Development Goals as a framework to make sense of sustainability issues in its educational content and interactions with stakeholders. In 2018, the School concluded an exclusive partnership with the UN to participate in UN publications through professors' contributions concerning these goals. Likewise, ESCP took part in the 2018 ABIS Knowledge Into Action Forum in response to the call from the business community to academia to help develop competitive and innovative business models for the UN SDGs through research and knowledge development.
As a member of the European Foundation for Management Development (EFMD), we are committed to its ERS frameworks.
As a founding member of the French "Conférence des Grandes Ecoles", ESCP participates in the working group on sustainability and social responsibility, in tandem with other French schools and universities, and has used the "référentiel CGE" self-assessment tool in its approach to sustainability. The School is also a Member of "Comité 21", a multi-stakeholder platform bringing together business, NGOs and academia in France on sustainability issues.