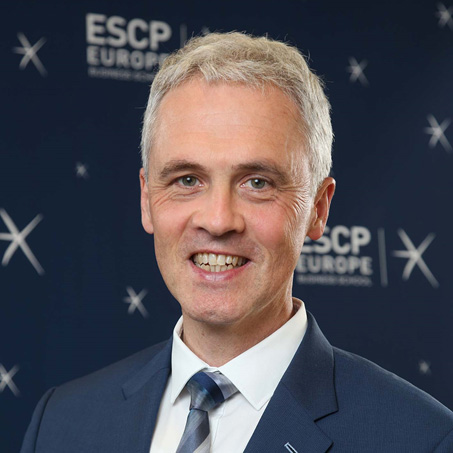 Marketing is the activity, set of institutions, and processes for creating, communicating, delivering, and exchanging offerings that have value for customers, clients, partners, and society at large" (American Marketing Association). The Berlin campus Chair of Marketing at ESCP educates students in all the school's programmes, undertakes exhaustive research activities, and interacts with the business community on an international level to promote the marketing discipline in how it is applied practically and in its further conceptual development. We put special emphasis on permanently integrating technological innovations, social changes, and current economic trends into our teaching and thinking. On our discipline and its methodology, we take a broad perspective, but have developed deepened expertise in areas such as services, sales and value in marketing.
- Prof. Dr. Frank Jacob
The team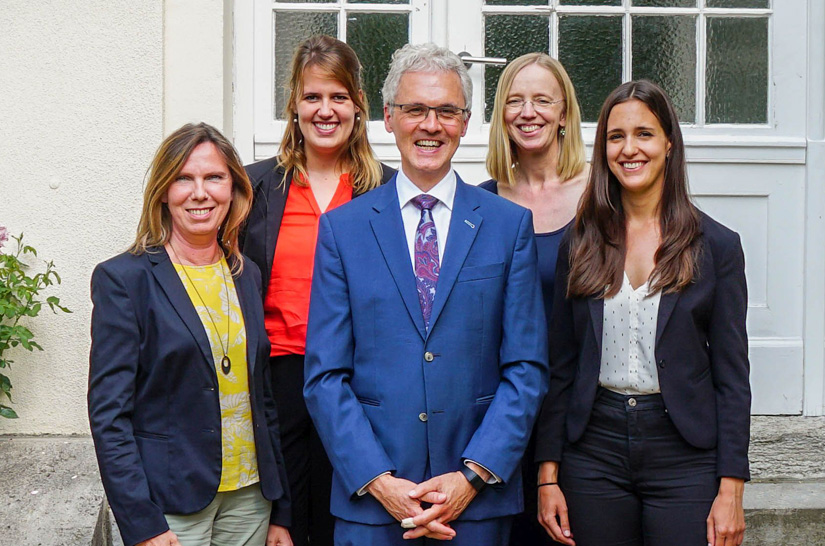 Teaching
We offer the following courses:
Additionally, Professor Jacob is teaching in various internal and external executive and customized programmes
Research
Research approach
The marketing discipline rests on two major pillars of analysis: the profound understanding of customers on the demand side of a market, and insights into the systematic implementation of customer directed activities on the supply side. For capturing the previous, we build on established theories of consumer psychology, organizational behaviour, and value conceptualization. For the latter, we closely monitor changes, innovations and trends on what companies in the ever-ongoing competition within the marketplace for customer attention and attraction. In the past, we often focused on the concept of customer integration, i.e. approaches designed to invite customers for collaboration and joint activities. Currently and for the future, we observe and sense interesting phenomena for marketing emerging from the all-encompassing digitization and the great power of the internet. In all our research, we take a clear stance for a solid substantiation of any new proposition put forth in extensive empirical work that follows state of the art methodology. We aim to create research output that is relevant for international research conferences and eligible for publication in world class research journals. Any of our activities was, is and will always be open for internal and external partners to cooperate.
Research topics
Investigating the concept of value-in-use
Value-in-use has become a major topic in marketing theory and practice, in which its emergence is closely linked to that of service-dominant logic (SDL). The central idea is that it is not tangible goods per se, but rather the use of these goods that creates the basis for economic exchange and contributes to the creation of value. This research project aims to investigate the value-in-use concept from both the customer and the firm perspective. Consequently, the objective is to gain an in-depth understanding of how customers perceive and assess value-in-use as well as how practitioners should adapt their marketing approach in order to convey value-in-use successfully.
Identifying shopping motivations and typologies in curated retailing
This project attempts to deepen understanding of a unique service innovation in the modern multichannel retailing environment that has gained attention, particularly in the fashion and apparel industry: curated retailing. Its central idea is to combine the best of both online and offline worlds – namely, convenient online shopping and personal consultation. Stylists support consumers in their shopping process by preselecting products tailor-made to their individual preferences. However, to date, little extant research addresses curated retailing, and knowledge of curated retail shoppers' motivations and typologies is still scant. With our research efforts, we intend to fill this gap.
Understanding and managing problem solving in the sales context
The contemporary portray of the modern salesperson is that of a problem solver for the customer. However, for different customer groups, different categories of market offerings and different marketing strategies, the nature, both, of a problem and its solution may vary a lot. This projects aims at better understanding underlying mechanisms and systematically spell out recommendations for sales management in the context of solutions selling.
Focus on:
Last Publications
Editorship
Kundenintegration und Leistungslehre, (with Sabine Fließ, Michaela Haase & Michael Ehret), Gabler, Wiesbaden 2015
Articles in reviewed journals
Book chapters & contributions
Trends für Marketing und Sales 2017, Pressemitteilung, ESCP, Jacob, Frank 2016
Articles in professional journals & press
Publications
Find an overview
Chapters
2023
JACOB, F., H., A. ROICK
Customer Success Management: Unearthing Dimensions of a Novel Job Category
In: Marketing und Innovation in disruptiven Zeiten, Kleinaltenkamp, Michael; Gabriel, Lorenz; Morgen, Julian; Ngyuen, Mi Springer Gabler, 347-362
Academic Articles
2022
HARTWIG, K. L., F. JACOB
Capturing marketing practices for harnessing value-in-use
JOURNAL OF MARKETING THEORY AND PRACTICE, 30(2), 137-153
Academic Articles
2022
JACOB, F., H., K. L. HARTWIG
A value-in-use oriented sales approach for digital services of technology companies
MARKETING ZFP - JOURNAL OF RESEARCH AND MANAGEMENT, 44(2), 24-43
Academic Articles
2022
BULAWA, N., F. JACOB
More Than a Snapshot: Dynamic Value-in-Use Emergence in E-Services
ELECTRONIC MARKETS, 32(4), 153-165
Chapters
2022
JACOB, F., T. AICHNER
Customer Participation and Commodity Marketing
In: Commodity Marketing, Enke, Margit; Geigenmüller, Anja, Leischnig, Alexander (eds.) Springer International Publishing
Academic Articles
2021
AICHNER, T., P. COLETTI, F. JACOB, R. WILKEN
Did the Volkswagen Emissions Scandal Harm the "Made in Germany" Image? A Cross-Cultural, Cross-Products, Cross-Time Study
CORPORATE REPUTATION REVIEW, 24, 179-190
Academic Articles
2021
HARTWIG, K. L., L. VON SALDERN, F. JACOB
The journey from goods-dominant logic to service-dominant logic
INDUSTRIAL MARKETING MANAGEMENT, 95, 85-98
Academic Articles
2020
JACOB, F., A. SEBALD
What help do you need for your fashion shopping?
EUROPEAN MANAGEMENT JOURNAL, 38(2), 319-334
Academic Articles
2020
JACOB, F., S. SCHAETZLE
Will a supplier's origin make a difference to its business customers?
INDUSTRIAL MARKETING MANAGEMENT, 87, 196-207
Chapters
2020
JACOB, F., K. L. HARTWIG, N. BULAWA
Co-creation und Wertorientierung im Verkauf
In: Perspektiven des Dienstleistungsmanagement, Roth, Stefan; Horbel, Chris; Popp, Bastian Gabler Verlag / Springer Fachmedien
Search faculty publication