Paris Doctoral Programme
Educate and train future top international researchers - ambassadors of ESCP research excellence, future peers and collaborators in research.
Join our unique programme in the vibrant city of Paris and become part of our dynamic Ph.D. students' community!
Doing a Ph.D. is a great intellectual journey, and the foundation of a professional trajectory. We have developed a four-year programme that is demanding but helps each student to reach international standards of research quality. Our Ph.D programme offers a great environment to do your Ph.D. Our Ph.D. students are provided not only with the indispensable academic and financial guidance but also with social and moral support. This supportive environment is a cornerstone for their academic identity.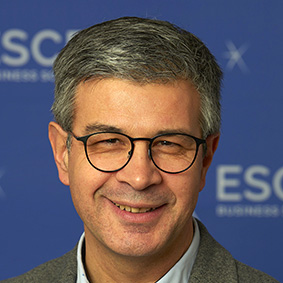 Prof. Régis Cœurderoy
Dean, Ph.D. Programme
Our programme values
Knowledge Diversity
Doing the Ph.D. programme gives an opportunity to invest in one of the five specialisation tracks. The students will explore several methodological perspectives. In addition, we also foster transversal initiatives across knowledge fields and methodologies. We value exchanges with PhD students from our Berlin campus and we actively support international exposure of research activities.
Research Collaboration
If research is sometimes considered as an individual, even solitary, activity, at ESCP the students will be part of a research community encompassing our six European campuses. During your four-year curriculum, PhD students will benefit from close supervision in departments and will learn through co-writing with the faculty staff. Your success is our success, and vice versa.
Professional Ambition
Doing the ESCP programme gives the opportunity to open new and ambitious professional horizons. Whatever the post doctorate objectives - joining the academic or the business research world-, we support ambitions to go "one step further". Joining a top university research team; boosting the R&D activities of a cutting-edge organisation.
Key facts
---
Supervisors
Professors habilitated to supervise Doctoral Research
Key Performance Indicators
Defenses since the launch of the programme in 2003
Number of enrolled students
Paris Doctoral Programme
Curriculum
The main goal of the Ph.D. programme is to help its students acquire the fundamental skills of a teacher-researcher.
Through these teachings, students work towards their thesis, a research project of great importance and of the utmost quality. Apart from the dissertation work, the doctoral programme provides a general and thorough research training, a chosen field of specialisation and a teaching and educational training.
Core Courses
(all students)
- Epistemology
- Research Design
Your choice among five specialisation tracks
Informa­tion & Operation Innovation
Accounting & Management Control
Management & Organisations
Three methodological tracks
- Econometrics
- Quantitative Methods
- Qualitative Methods
---
Professional Seminars
- Writing Workshops
- Art of Teaching
Informa­tion & Operation Innovation
Accounting & Management Control
Management & Organisations
---
Outside the walls
Develop your research and teaching skills
Present your papers in conferences
Go to a research visit abroad
---
Follow-up the thesis work
Progress Workshop
The doctoral students each present their progress in their research study at least once per year. The objective is to no evaluate the work but to help the student in his or her research orientation. This workshop gathers doctoral students, the thesis director, the programme director and other professors chosen internally or externally in accordance with the thesis subject.
Annual Assessment
Each doctoral student presents a general result of his or her activities (thesis, publications, teachings, assistance, etc.) and his or her projects planned for the following year. The objective is to validate the work done in the previous year and to prepare the stages planned for the following year. The participants are the thesis director, the programme director and possibly other professors chosen internally or externally. It takes place in September.
Pre Defence
With potential members of the jury (referees) about six months before the end of the project.
Visiting Opportunities
Increasing the academic excellence and network's strength of all PhD students is important to us. The Paris PhD programme welcomes visiting PhD students. Visiting PhD students, our faculty and our PhD students all benefit from the opportunity to share on common research interests.
What visiting PhD students at ESCP are offered:
The opportunity to interact with your ESCP faculty sponsor and with the PhD students of the programme
Free access to the PhD courses given during your stay
Possibility to present your doctoral research in a research seminar
Access to a workspace in the doctoral rooms (shared spaces with computers)
Access to the library and cafeteria
Note that we do not offer any financial support in case your application is successful.
Visiting
We would consider your application as long as your visit is supported by one permanent faculty member from ESCP. For your application as a visiting PhD student, we would ask for :
A support letter from your sponsor at ESCP,
A summary of your dissertation project,
An updated CV,
A scan of an ID,
A proof of registration in the PhD programme of your university.
The Dean of Paris PhD Programme will make a decision based on the pieces above and will inform you on the outcome.
Overview
Areas of Specialisation
Paris Doctoral Programme
Areas of Specialisations
When applying to the programme, you need to express your interest for one of our five specialisations.
Within one of these areas, you will develop your Ph.d. thesis topic based upon your research interests. For each area, you will find some examples of Ph.D. theses recently defended.
Finance
Corporate finance, asset pricing and banking
Students are trained to apply econometric methods but also to develop theoretical models;
Thesis examples:
"Anti-Corruption Laws and Firms Behavior: Lessons from the FCPA Enforcement Activity" (Olivier Greusard, under the supervision of Prof. P. Bunkanwanicha, July 19)
"Non-Regulatory Incentives and Bank Behavior: the Stock-market, Taxes and Social Capital" (José Martin Flores, under the supervision of Prof. C. Moussu, June 19)
Information & Operation Innovation
Management science and data analysis
Students are trained to tackle a variety of key issues like new technologies and emerging business models, value chain optimisation, business analytics or sustainability;
Thesis examples:
"A critical perspective on collective arrangements tackling wicked problems in global supply networks: The case of the Roundtable on Sustainable Palm Oil. " (Liliane Cabrini Carmagnac, under the supervision of Profs. V. Moatti & V. Carbone, Nov. 20)
"Perspectives of the Sharing Economy: Temporal Ownership Boundary, Self-cannibalizing Supplier, New Business Models & Data Policy" (Huihui Chi, under the supervision of Prof. Wei Zhou, May 21)
Accounting & Management Control
Social studies of accounting
Students are trained in qualitative and/or quantitative techniques and they unpack the control and performance management issues facing organisations;
Thesis examples:
"Gender and Accounting in the Saint-Gobain Group: Three essays on accounting as an instrument of domination and resistance to gendered norms" (Nathalie Clavijo, under the supervision of Prof. C. Dambrin, June 20)
"Of Metrics, Women and Men: The case of hospital doctors facing performance measurement" (Warda Ben Daali, under the supervision of Profs. O. Saulpic & P. Zarlowski, June 19)
Management & Organisation
Strategy, organisation, human resource, and organisational change
Students are trained in quantitative and/or qualitative techniques and tackle issues from competitive analysis to the study of individual behaviors;
Thesis examples:
"Cross-national Transfer and implementation of Human Resource Management Practices in multinational companies: A multilevel Analysis" (Alissa Hankache, under the supervision of Prof. M. Muratbekova Touron, Oct. 20)
"Organizing by secrecy: an epistemic approach of secret organizations" (Louis Vuarin, under the supervision of Prof. H. Laroche, Nov. 20)
"The distinctiveness of entrepreneurs' experience role in investment screening decisions: What does really matter? A venture capitalist – entrepreneur' dyad inquiry." (Anna Souakri, under the supervision of Prof. R. Coeurderoy, Dec. 20)
"Corporate Accelerators: Novel Organizations for Entrepreneurial Support – Toward a Process Theory" (Moyra Marval, under the supervision of Profs. J. Fendt & R. Mauer, Oct. 19)
Marketing
Consumer behavior, branding, planning and promotion, channel management, and digital marketing
Students are trained in quantitative and/or qualitative techniques to tackle issues pertaining to consumer, corporate and organisational phenomena.
Thesis examples:
"Luxury Consumption Practices in the Digital Age: Prosumers and Lurkers on Visual Social Media" (Marina Leban, under the supervision of Prof. B. Voyer, June 20)
"Effect of consumption-context and product attributes on social value perception of luxury clothes for Indian female consumers" (Raghav Manocha, under the supervision of Prof. R. Pandraud, June 20)
It is always more fruitful that your research issue fits with the research interests of the faculty.
We invite you to visit the webpages of our faculty.
A HDR professor (Habilitation à Diriger les Recherches) will be necessary to supervise a Ph.D. thesis (Download the list). However, we favor collaborative supervision mechanisms, in particular across campuses. We encourage you to carefully explore our full faculty profiles to have a global perspective of the many research opportunities the ESCP environment can provide.
Paris Doctoral Programme
Ph.D. Community
Areas of Specialisation
Admissions
Paris Doctoral Programme
Admissions
Requirements
Applicants to the ESCP PhD Program must hold a Master degree or equivalent and must have a solid knowledge of English.
The admission process is composed of 3 steps
The official online application process: completion of the application form by candidates, before the deadline specified in the Admission Calendar, and provision of the required documents.
Candidates selected by the admissions jury after a first screening will have half an hour to present their background and motivation to the interview panel made up of programme director and faculty members. Alternatively, a Video interview can be offered to candidates.
After the interview the selected candidates receive the admission decision of the final selection Committee. Admitted candidates must confirm their acceptance by the deadline indicated in the offer letter.
At the end of the process, only applicants with secure funding will be confirmed.
Selection Process
List of required documents
The official online application process: completion of the application form by candidates, before the deadline specified in the Admission Calendar, and provision of the required documents:
Motivation letter
Up to date resume
Research Statement (1500-2000 words)
3 recommendation letters (a minimum of 2 academics and 1 professional if relevant). You may download the template here
copies of diplomas and degrees,
transcripts of most recent degrees,
IELTS or TOEFL results as a proof of English language proficiency (required score: IELTS 7, TOEFL 100). Both TOEFL (Test of English as a Foreign Language) and IELTS are serving as a proof of a good working knowledge in English. Non-native English speakers applying to the programme are required to take the test unless they have a university degree from an institution located in an English-speaking country. Test score should not be older than 4 years to be acceptable.
However, by means of exception this particular admission requirement for the year 2021 is more flexible. This means that you can submit a TOEFL/IELTS score dating back to 4 years or more or an equivalent test score of your choice provided that it confirms your good working knowledge of English. If you have lived in an English-speaking country for a period of at least a year you can also be exempted from the test score submission requirement provided you submit a proof of such stay.
any research material that might be useful (dissertation, paper...) in .pdf format,
copy of your ID or passport,
1 digital photo,
application fees (50€) and payment agreement
Your research statement
The research statement (around 4-5 pages long) should give you the opportunity to present a research topic you would like to study. This research topic does not necessarily commit you once for all and leaves room forpossible re-orientations. It must however, give you the opportunity to make a first academic contribution - ie to present a topic with a research question, elements of theory to address your research question, and a first idea of your research design. Your research statement should specify the following points:
what your research issue is;
why this research issue makes sense (theoretical perspective);
why this research issue is relevant (empirical perspective);
what your research design could be.
This research statement really matters to optimise the match between your objectives and the requirements of a PhD thesis. Of course, we are aware that you are at the beginning of the process. That is why during your first year you are free to consolidate, modify and sometimes redraft your research project.
Your motivation letter
Your motivation letter will help the jury to understand better what your expectations are, and how you see your evolution in the programme and beyond. Entering a post master programme for four years is a huge decision. We need to be mutually convinced that it is really the right choice for you. Do not forget to justify your choice of specialisation or indicate whether you are still open to different options.
PhD Community
Fees & Financials
Paris Doctoral Programme
Fees and financials
Fees
Tuition fees: €8,300/year
We offer a full tuition waiver to Ph.D. students eligible for an ESCP doctoral scholarship.
However, a legal token registration fee of ± €400 per year for the Doctoral School applies.
ESCP scholarship
ESCP finances a significant proportion of admitted Ph.D. students with a scholarship guaranteed for 4 years. From the 2nd year, this scholarship is combined with a doctoral contract including teaching, tutoring and research assistance for a total of €23,000.
Each candidate can apply for this cost-of-living scholarship, but it cannot be combined with any other external income. These scholarships are granted on the basis of the excellence of the application.
1st year
2nd to 4th year
Scholarship
€21,500
€18,000
Doctoral Contract
€1,500
(conditional – based upon evaluation of candidate's background)
€5,000
External Fundings
CIFRE (Conventions Industrielles de Formation par la Recherche)
These agreements bring together three partners: a company, a PhD student and a University around a research project, which will lead to a doctoral thesis. The company benefits from an ANRT (Association Nationale Recherche Technologies) subsidy for hiring a Ph.D. student for three years.
Research Projects: Another possibility is the financing of the PhD scholarship by a research project developed in collaboration with one or several companies. The research project can be a stand-alone initiative or supported by one of our chairs at ESCP.
Financial aid from the French Government: In addition to the financial aid for which they are eligible in their country of origin, non-French students can seek grants from the French Ministry of Foreign Affairs. Requests should be sent to the Cultural Department of the French Embassy in the student's country of origin. PhD students can also apply for European exchange programme grants (Socrates, Erasmus, Phare). This aid cannot be combined with the ESCP scholarship.