Corporate Events
Opportunities to boost your visibility
Events help to increase your visibility and your employer brand. They provide unique opportunities for company representatives and students to meet and exchange information and advice are organised throughout the year.
Job fairs and recruitment days
Created exclusively for ESCP students and recent graduates, they have four main objectives:
Provide opportunities for one-to-one contact with motivated students who want to apply for jobs or internships in your company
Identify and select student profiles that best match the criteria required for positions available in your company
Give students information and advice on possible career plans, career development and professional objectives
Use the job fairs brochures and websites to reinforce your company's reputation among students from one of the best management schools in Europe
Broaden their network.
Design your own event
In addition to our Job Fairs, boost your presence with different formulas. From conferences to workshops, we will help you shape your own event at our campuses. Feel free to contact us to discuss your options!
Job fairs and recruitment days
The place to be for your company!
In Berlin
ESCP BERLIN Recruiting Days
The Corporate Relations & Career Development Team at the ESCP Berlin Campus hosts the Recruiting Days online and in-person every year to connect talented ESCP students with top employers. The fair showcases opportunities in a variety of industries, including finance, marketing, tech, and consulting.
Students have the opportunity to meet recruiters at their company booths, join sessions and attend 1:1 interviews with recruiters. The event is open to all students & alumni across the 6 ESCP campuses!
"We are always looking for new talents, bringing change and disruption, which requires a certain open mind to deliver 360 value to our clients. It's always a great pleasure to come back and experience this match with ESCP students in person"
Christopher Pietsch - Consultant Life Sciences, Accenture Strategy
---
"At Via, we are always looking for people who want to take initiative and drive change. That's why we think that ESCP is a really good match for us. We are really impressed by the students, how motivated and passionate they are. You can tell they have a really big entrepreneurial spirit"
Raquel Bordin - Talent Acquisition Associate Principal, Via
Attending Companiesin Recruiting Days 2022
AB in Bev
ABOUT YOU
Accenture Strategy
Accuracy
Allianz Consulting
Amazon
Archery Strategy Consulting
Axel Springer SE
Bain & Company
Bayer AG
BearingPoint
Capgemini Invent
Capiton AG
Deloitte
DNV
EOS
Ernst & Young
EY-Parthenon
Freshworks
Grant Thornton
Harris Williams
HDI Group
Henkel
Kearney
IWC Schaffhausen
Kienbaum Consultants International
Mazars
McKinsey & Company
NORD Holding
ODDO BHF SE
Ommax
Porsche Consulting
Procter & Gamble
PwC Deutschland
Q_Perior AG
RITTERWALD
Roland Berger
Siemens Advanta Consulting
Singular Group
Société Générale
Textron Aviation
The Boston Consulting Group
Unibail-Rodamco-Westfield Germany
Verdane Advisors
Via
Wayfair
Zalando
In London
ESCP London Campus Careers Fair
The ESCP London Careers Fair is the highlight of ESCP's UK-based careers events. This event gives companies the opportunity to meet our talented postgraduate students, most of whom will be seeking jobs and internship positions (in April, July and November) in business, management consulting, banking, marketing and the financial services.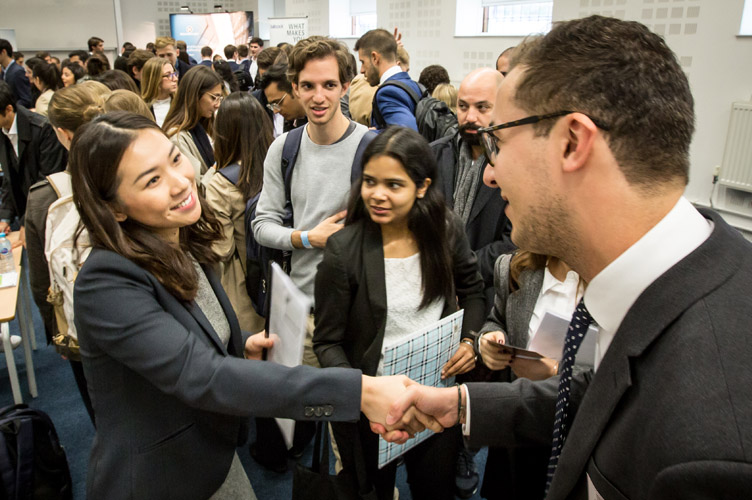 "I found the mix of students refreshingly different to what we find in other schools in terms of their approach, studies and background."
Gallup UK
---
"The event was well organised and we were very impressed with the profiles of the students. The idea of having a separate room for financially-oriented companies was definitely appreciated, and it worked very well with regards to the handling of the flow of students interested in our company."
GE Capital
In Madrid
Company Day
ESCP Madrid Campus Company Day is an event for networking and collaboration between the school, companies and students & alumni. A great opportunity for students and alumni to get in touch with major companies and to learn about professional opportunities offered by them. Local and international companies participate in it with the aim to find the outstanding talent for their actual and future open positions.
*Companies attending this event may vary.
In Paris
Finance & Investment Banking Recruitment Days – 10 & 11 October 2022 - Virtual
Investment banks are highly attractive employers for ESCP students. The multiple challenges faced by financial markets require new talent. Our European campuses' Recruitment Days have been designed to be an ideal space for fruitful meetings and exchanges between banks & finance departments and their future recruits.
The attending companies in 2021:
Audit & Consulting Recruitment Days – 13 & 14 October 2022 - Virtual
Two recruitment days that are giving students and alumni the unique opportunity to meet large companies of the sector and to explore possible career plans with them. Combining individual interviews and round tables, they are aimed at creating both a professional and a less formal atmosphere where students' and recruiters' needs are matched. The Audit and Consulting careers are always of great interest to our graduates. Our survey shows it remains their favorite sector after graduation.
The attending companies in 2021:
Fall Recruitment Days (all other sectors) – 19 & 20 October 2022 - Virtual
Luxury, Tech, FMCG, CSR - Environment, A unique opportunity to meet & find your future talents ! Large companies & start-ups are welcome to share with our international student community their internship opportunities through one-on-ones, and have them discover their businesses through live conferences and round tables.
The attending companies in 2021:
V.I.E. & Graduate Programme Day – To be determined - Campus Paris / République
Programmes for executives, job-oriented programmes, international perspectives, multidisciplinary paths, training programmes, individual follow-up... What are the skills and the behaviour expected from our students ESCP to integrate a graduate programme? How do they optimise his/her application and boost his/her career? More and more developed in large companies, graduate programmes help integrate future talents.
First edition took place in November 2016!
Annual Job Fair – 27, 30 & 31 January 2023
ESCP 3-days-jobfair enable around 110 companies to meet students and graduates from many different nationalities and European based to exchange ideas and discuss future possible collaboration. For students, the event is valuable for defining and developing their career plans, obtaining advice and information, learn about various career opportunities both in France and abroad. Future careers & projects are at the heart of the discussion.
In Turin
2023 Career Fair
ESCP Turin Campus is hosting its annual Career Fair. About 50 top international companies will participate in the 2023 ESCP Turin Campus Career Fair on the 2nd and 3rd of March.
These are days entirely devoted to job search for students and alumni of the training programs of the Business School. It is a major event to maximise the exchange between the business world and our students.
ESCP Turin Campus | Arnaldo da Brescia site
2nd – 3rd of March
Students will have the opportunity to meet recruiters at their company booths and build a strong network by joining the companies' round table sessions.
Attending companies
2nd of March
Accenture
Argos Wityu
Artemest
Bain&Company
Banco BPM
BIP
Burger King
Capgemini
Davines
Eaton
EY
Ferrero
Fincantieri
Generali
Haier
Jakala
KPMG
Kraft Heinz
Lazard
Mediobanca
Miroglio
Neulabs
Sella
U.G.A. Nutraceuticals
Valentino
3rd of March
AlixPartners
Amazon
Azimut
BearingPoint
BNP Paribas
BPI
BTO
CLN
ClubMed
Danone
Facile.it
Illimity
ING
IT Value Partners
ITT
Lavazza
L'Oréal
Luxottica
OTB
P&G
Protiviti
Sanlorenzo
TeamSystem
Unicredit
Vitale&Co
Contacts
---
Turin Campus
Erica Brignolo
Head of Corporate Relations
& Partnerships
+39(0) 331 773 57 73
Maria Turreno
Employer Branding
& Talent Acquisition Manager
+39(0) 342 398 74 94
2022 Career Fair | Connection Event - 3-4 & 8-18 Mar 2022
ESCP Turin Campus hosted its first phygital Career Fair. About 49 top international companies participated in the Connection Event, the 2022 ESCP Turin Campus Career Fair.
The job fair was divided into two parts:
ONSITE | ESCP Turin Campus | Arnaldo da Brescia site
3rd – 4th of March
Students had the opportunity to meet recruiters at their company booths and build a strong network by joining the companies' round table sessions.
ONLINE | TalentSpace
8th – 18th of March
Two online weeks dedicated to 1-1 chats with companies.
Attending companies
AC Milan
Accenture
AlixPartners
Amazon Italia
Amplifon
Artemest
Arthur D. Little
Aubay Italia
Azimut Benetti
Banco BPM
BNP Paribas
BPI SRL
Capgemini
CLN Spa
Danone
Davines
Eaton
Electrolux
EY
Facile.it
FINCANTIERI
Free2Move eSolutions
Generali
Illimity Bank
ITT
Jakala
Kering Eyewear
KPMG
L'Oréal Group
Lavazza Group
Luxottica
Mediobanca
Miroglio
Moncler
Montenegro
Negentropy Capital Partners
Neulabs srl
Pedevilla
Procter & Gamble
Protiviti
Reply
Santander Consumer Bank
Sella
Simon-Kucher & Partners
TeamSystem
The Adecco Group
TNP Consultants
U.G.A. Nutraceuticals
UniCredit
2021 Career Fair - 10-11-12 Feb 2021
ESCP Turin Campus hosted its first Virtual Career Fair. More than 40 top international companies participated in the 2021 ESCP Turin Campus Career Fair.
ESCP students and alumni had the chance to meet attending companies' representatives through Q&A Sessions, Company Testimonials, Round Tables, and Interviews.
Attending companies
Accenture
AlixPartners
Alten
Amplifon
APCO Worldwide
Azimut Benetti Group
BNP Paribas
Bonduelle
BPI
QSR PLATFORM - Burger King
Cellularline
CLN Group
Collins Aerospace
Danone
Davines
Eataly
Eaton
Electrolux
Elica
Endeavor
Facile.it
Fincantieri
Generali
Gruppo Montenegro
Hewlett Packard Enterprise
Illimity
Jakala
Lazard
Lavazza
Luxottica
Marelli
Mars Inc.
Mediobanca
Minsait - An Indra Company
P&G
Protiviti
Santander Consumer Bank
Snam
TeamSystem
The Adecco Group
Unicredit
Valentino
Vodafone
2020 Career Fair - 12-13 Feb 2020
The Job Fair internal to the Turin Campus is named Career Fair. These are days entirely devoted to job search for students and alumni of the training programs of the Business School. It is a major event to maximise the exchange between the business world and our students.
In the 2020 edition, more and more national and international companies participate in the Career Fair ESCP to find the ideal candidate for their open positions.
Given the high number of participating companies, the Career Fair was held for the first time in a new venue, the prestigious Contemporary Art Foundation Sandretto Re Rebaudengo, for two days. The event is open only to ESCP students and Alumni.
Attending companies – 12 February
Accenture
Alten
Amazon
Amplifon
Ardian Italy
Artemest
Arthur D. Little
BNP Paribas
Calzedonia Group
Campari Group
CLN Group
Davines
Eataly
Eaton
Electrolux
ERG
Ersel SIM
Exica
Fincantieri
GCA Altium
Gromart
Gruppo Montenegro
llimity Bank
In-recruiting
ITT
Jakala
Long Term Partners
Luxottica
Marelli
Malyda Risk Consulting
MammaPack
Mercato Centrale
Minsait - an Indra Company
Negentropy Capital Partners
Oaklins Italy
Online SIM
P&G
Protiviti
Raspini
Reale Mutua Assicurazioni
Santander Consumer Bank
SAP
See Your Box
Sella
Synesthesia
The Adecco Group
UniCredit
Valeo
Varroc Lighting Systems
Vinhood
Wayfair
XY
Attending companies – 13 February
ABInBev
AC Milan
AlixPartners
AlphaSights
Avio Aero a GE Aviation business
Azimut Yachts
Babcock International
Bearing Point
Bonduelle
Bosca
BPI
Caffarel
Capgemini
Cellularline
CNH Industrial
Collins Aerospace - Microtecnica
Costa Crociere
Danone
Deloitte
Doing
Elica
Excellence Consulting
Facile.it
FCA
FCA Bank
Generali
Hewlett Packard Enterprise
Intesa Sanpaolo
Italgas
Kering Eyewear
Lavazza
Lazard
L'Oréal
LVMH
Mars Italia
Mediobanca
Michelin Italiana
Miele
Miscusi
Moncler
NH Italia
OTB
Simon-Kucher & Partners
Snam
Société Générale
TeamSystem
Thales Alenia Space
Veepee
Vitale
Vodafone
Whirlpool
ZF Padova
Design your own event…
…with the Berlin Campus
Company Presentations
Companies have the opportunity to organise events and to hold company presentations at the ESCP Berlin Campus on a regular basis, either during the Recruiting Days or other occasions. Company presentations are the ideal stepping stone for graduates.
Workshops
We offer workshops to give companies the possibility to observe students and become acquainted with them in team-based exercises. Students can be pre-selected on the basis of the information (CVs) provided in the yearbook or chosen as a result of their application for participation.
These workshops are generally devoted to specific case studies in the areas of Marketing, Controlling, Investment Banking and Consulting, and more.
---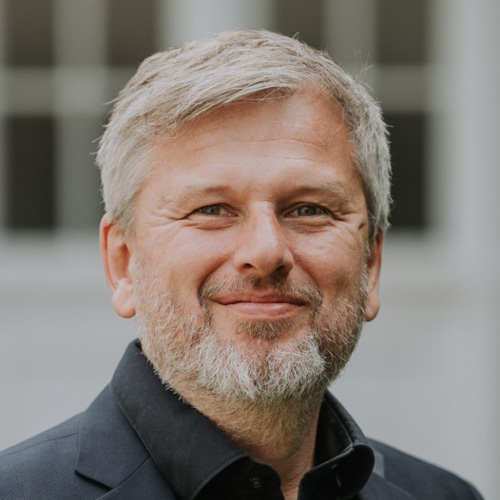 "One of the main roles of the Corporate Relations department is to act as an interface between our school and companies, promoting projects and events between them on a regular basis. The development of internationally oriented executives who are able to serve the requirements of companies adequately can only be achieved through intensive business contacts."
Jan Ehlers, Head of Corporate Relations
ESCP Campus Berlin
Contact
---
Berlin Campus
Jan Ehlers
Head of
Corporate Relations
+49 (0)30 32007 149
Michaela Wieandt
Careers Service
Manager
+49 (0)30 32 007 166
…with the London Campus
Company Presentations
Presentations are the classic way to introduce your company to the students, enabling you to promote your opportunities for internships and post-study recruitment.
They also allow you to share insights into the different job functions within your organisation and to differentiate the company and its organisational culture from that of your competitors.
Company Visits
Company visits have proven very successful for both the host organisations and our attending students.
Its a great way to invite your potential future employees into your working environment and give them a first-hand insight into the business' culture and environment.
Workshops
During their busy recruitment seasons, many organisations host tailored workshops at ESCP's London campus. These offer students the opportunity to gain vital information and useful insights into corporate culture in an informal and fun setting.
Coordinated in conjunction with the Corporate Relations and Careers team, Workshops are designed to help students understand the industry, get involved with practical sessions and prepare for the post-graduation recruitment process. We also host trading floor simulation and audit games at our on-campus simulation Trading Room.
---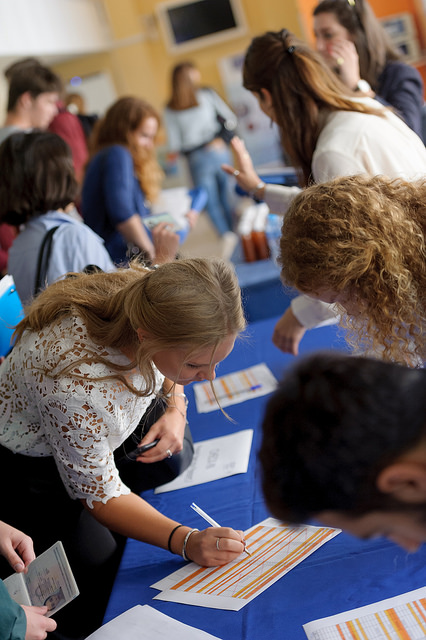 "The drive of ESCP's students is just one of the reasons our School is so remarkable. With this in mind, we work hard to provide a range of events that will inspire and encourage both the students themselves and the companies that are their potential future employees.
Because of the constraints of the students' timetable, most events are held in the evening, and generally tend to be on-campus. Usually, they are followed by an opportunity for students to meet more informally with company representatives in the student lounge.
Here at ESCP we are open to new ideas and will work closely with your company to help you design the right type of event."
Maria Tsianti, Senior Careers Service Manager
ESCP London Campus
…with the Paris Campus
Conferences
Business Leader Conference: a leader presents their company's strategy
Themed Conference: conference on an expertise theme of your choice
Company Presentation: presentation of your company in one hour: its professions, values, etc.
Company Presentation + Recruitment Session: company presentation followed by a half-day recruitment session (individual interviews with students –registration required)
Professional Round Table: three companies share ideas and information on a profession and its prospects
1 hour – 1 profession: your company highlights one profession
Multiplex /multi-campus videoconference: conference on a theme of your choice with interaction between students on all the campuses
Workshops
Career Service workshop: simulation of job interview, group interview, training for case studies, coaching.
Informal Meetings
Attendance at the Gala: reservation of a table for 10 students to have dinner at an exceptional venue
Informal Breakfast: Alumni from your company meet our students for breakfast
…with the Turin Campus
Economy21st
Economy21st is a programme of multidisciplinary lectures periodically organised by the ESCP Turin campus.
These lectures consist of participations and contributions of prominent experts and renowned business leaders: industry personalities and institutional influential thinkers.
Representing the opportunity of interaction and discussion on specific management issues, they are aimed at the exchange of experiences and the opening of new perspectives, contextualised in order to better understand the "XXI century economy". The lectures, primarily addressed to the Master students, are open to the public.
Company Visits
Company visits are an effective strategy for introducing your company to the Master students.
By inviting potential future resources to visit and presenting your company, you will have the opportunity to give them a preview of your organisation.
For these reasons, company visits have had remarkable success both for the companies that organised them and for the students who attended them.
Workshops
Workshops are seminars that offer students the opportunity to learn about corporate culture and gain valuable knowledge in an informal and creative environment.
They are organised by the Corporate Relations team and Careers Office to help students understand companies through practical sessions, useful for the postgraduate recruitment process.
ESCP hosts several workshops every year, with guest speakers holding strategic positions in international companies.
If you would like to collaborate with us at ESCP Turin Campus in organising any careers event, please contact Erica Brignolo.
Executive Club
The Executive Club is a cycle of events with the goal of inspiring and promoting the growth of Managers, Executives, partner companies, and the associations that revolve around our Business School.
The aim is to promote topics of interest that can stimulate economic and social action by acting as a source of innovation, creativity, strategic thinking and personal growth.
---