Cosmopolitan, sophisticated, bustling, energetic, vibrant…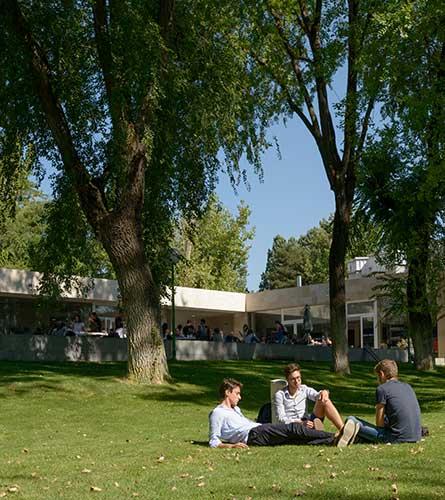 From Puerta del Sol and the Plaza Mayor to the Plaza de España, Malasaña, Chueca and the Bernabeu football stadium, it's not just the sheer size of the city that makes it stir.
It's the madrileño attitude - a love of socialising, cultural flare, and the warmth of its people. Every corner you turn reveals something to surprise and delight you.
International Environment
Madrid is home to some of the best business schools in the world.
The capital citiy offers a diverse and international community that provides a chance to study alongside students from around the world. It is also one of the most affordable cities for students in Europe.
A Hub of Innovation
The Spanish capital is one of the leading business and innovation centres in Europe.
Madrid offers great opportunities for students to establish professional contacts and gain relevant experience. At ESCP we strive to keep pace with the changing demands and trends of the economy, embracing new technologies and innovation to meet the needs of both students and future employers.
ESCP - Madrid
Madrid is one of the most visited cities in Europe, with an exceptional lifestyle, an incredible gastronomy and thousands of places to visit, including some of the best museums in the world.
ESCP's Madrid Campus, located 10 minutes away from the city centre in the exclusive neighborhood of Puerta de Hierro, welcomes 900+ students every year, and is at the forefront of the School's digital programmes, including MSc in Marketing & Digital Media, Msc in Digital Project Management & Consulting, Executive Master in International Business (EMIB, 100% online) or Custom blended Executive education programmes. In addition, there are Federal programmes such as Bachelor, MIM, MBA in International Management or MSCs in Hospitality or Real Estate.
Talking about Madrid Campus is synonymous of Vanguardia. Masters with digital orientation and digital developments for leading companies, where we care about people so that they can study what they like most at the best environment possible.
Madrid has been DIGITAL for a long time and is waiting for you with open arms. Are you going to miss it?
Campus Features
The Campus
Located in the exclusive neighborhood of Puerta de Hierro, the Madrid campus is only 10 minutes away from the city center.
The Madrid Campus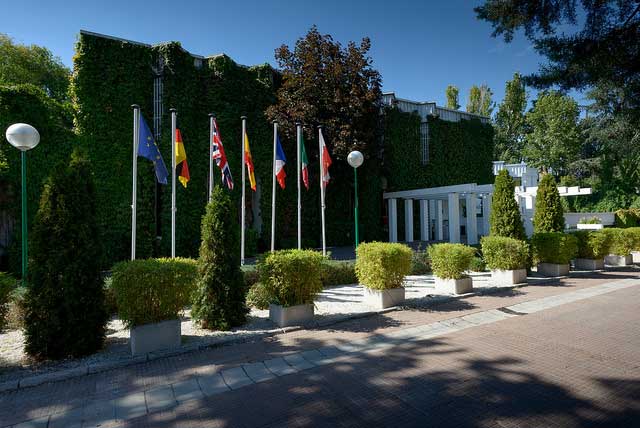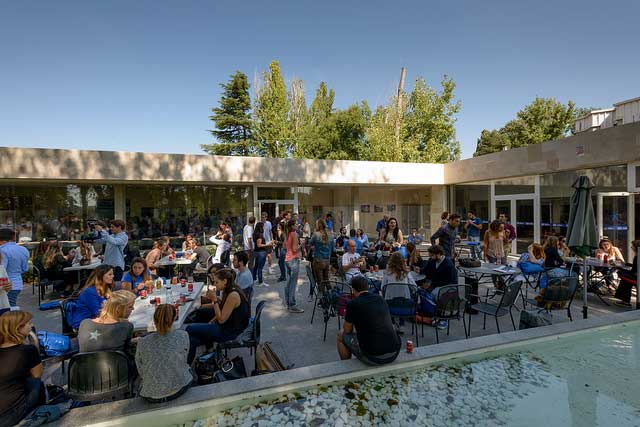 Facilities
The main building is surrounded by a 6,000 m2 garden that includes a beautiful terrace, and a grass meadow.
In the campus, there are comfortable multi-purpose rooms, a library, computer rooms, a cafeteria and a car park.
Madrid campus covers 2000m2
- 1 cafeteria
- 1 library
- 1 computer room
- 12 classrooms
- 2 amphitheatres
- Terrace and garden

Executive Education
An exclusive space for Executive Education has been opened. Just a few steps away from the main Madrid campus building, the Navalmanzano ExEd and Digital Solutions building is equipped with the latest technology to meet your needs.
Executive Education
The ExEd campus is a space created to meet the needs of our clients, multinationals, executives and professionals.
Our classrooms are equipped with the latest digital technologies which allow us to customise our learning techniques while improving the learning experience and quality of the programmes. We remove barriers of space and time by adapting each programme to the professional´s own pace and needs.
The Navalmanzano ExEd building is the perfect environment to pursue your path for life-long learning, reskilling and upskilling so needed in this complex ever-changing business world.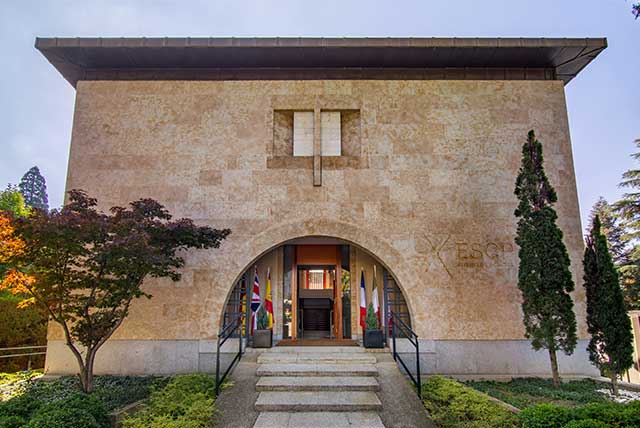 Cafeteria
Newly renewed, the Madrid campus cafeteria offers students not just great homemade meals, sandwiches and the famous Spanish "tortilla de patatas", but it's also a great space to relax, meet with friends or study and do team work.
Homemade meals every day.
Madrid's best asset: Paco and Victor! They will take care of you and make you feel right at home (or better than home) with their big smiles, kind words and specially, their home cooked meals everyday!

Student Life
A variety of opportunities for personal growth and development are offered at the Madrid campus through it´s Clubs and Societies. Join us!
The Madrid campus has several Student Association that you can join to make new friends, have fun and get involved! Want to creat a new Association or Club? We crave for new initiatives, so let us know about your project and let´s create new things.
Business Engage­ment
Training executives from the Public Administration and leading Spanish companies (Indra, Repsol, Iberia, REE, ATOS, Maxam...).
With the aim to capitalise on our international DNA, the way in which we conceive management, our capacity of training students in the latest trends, and, above all, with a positioning very clear of tailor-made training, we develop with companies top notch programmes and offer training solutions.
Digital Transform­ation
ESCP Madrid campus leads the School´s online programmes and blended solutions (EMIB -Spanish, English or French-, ATOS programme, Indra Open University, etc.)
The Executive Education and Belended Solutions department at the Madrid campus becomes a strategic partner with corporate universities & Companies were we are very specialized in identifying their needs through two fundamental methodologies. On the one hand, the on job training is a directly applied methodology to the needs of a professional to perform in his job. In order to do this, we conduct interviews with different levels of management with the aim of focusing the training for a certain profile from a 360-degree perspective.
Secondly, project based learning. A methodology from which we interviewed at the levels of address of the company so that the professionals can deliver a real solution that has a real impact on the ROI of this training.
Finally, coinciding with the digital revolution, five years ago we added a third methodological element: adaptative learning. That is, at the beginning of each cycle we identify the level of competence that each participant has in the each one of the technical or soft skills that you must have in your work centre and in function of it we design a custom itinerary using on job training and project based learning.

Learning Innovation
ESCP Madrid campus has created, in record time, one of the most innovative pedagogical digitisation models on the market, in order to meet the current needs arising from COVID-19.
Adaptive Model Blended Learning
We are carrying out an intense process of re-adaptation of our educational model through a revolutionary methodology: the "Adaptive Model Blended Learning" (AMBL).
The AMBL Methodology will allow us to reach our students in a much more effective way, guaranteeing a top notch user experience regardless of the situation we may experience. Basically, the AMBL Methodology allows us to go from a pure face-to-face environment to a digital (online) environment or a hybrid model as a mixed solution between both, in a few hours. Regardless of whether a student begins a class in person or remotely, or we have to change from one environment to another, we can guarantee that the quality of the classes, and both international and student experience will be maintained.

Maps and nearby attractions
No result