Research
With its strong European identity and the establishment of six major European campuses, ESCP is part of a strategy combining high-level academic excellence on the international stage and meeting the criteria defined for this purpose by international and national standards (Multi-Accredited: AACSB – EQUIS - EFMD MBA - EFMD EMBA), on the one hand, and the contribution to Europe's competitiveness and sustainable development on the other hand.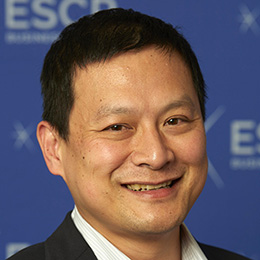 Pramuan BUNKANWANICHA
Associate Dean for Research
ESCP has a research strategy of scientific excellence and of knowledge transfer.
Our faculty's research not only gives rise to publications in the most prestigious international and national scientific journals but also contributes to nourishing, via reference works or "transfer" publications, both the professional community (companies, public authorities, professional associations, etc.) and the teaching content of all programmes in order to provide our students with the latest knowledge and insights.
Read more
The research at ESCP can be classified along three main axes: the classical axis of creating models explaining managerial practices or behaviours, a phenomenological axis aiming at a clearer understanding of the practices and beliefs of the business world, and a societal axis seeking to guide public policy and to offer a critical view of the professions and disciplines of management and economic sciences.
Headed by the Associate Dean of Research and the European Research Committee, research at ESCP is increasingly conducted through our various Research Centres, Laboratories, Chairs and Institutes. A "capacitating" policy helping faculty members to pursue their research and achieve their publication objectives is applied. Internal democratic and scientific evaluation processes help to support the best research projects within the three axes explained above.
Research covers fields such as classical business functions: finance, marketing, and strategy but also business history, energy management, entrepreneurship, health management, public management, responsible management, or the epistemology and critical analysis of the business world. A particular interest is put on intercultural research topics.
ESCP strongly encourages cross-campus research where teams of professors in our different locations work together on research topics. Faculty's research is also powered by our PhD students on our Berlin and Paris Campus. We also increasingly support transversal research conducted with other disciplines than management.
Pramuan Bunkanwanicha
Associate Dean for Research