Passion empowers people to make their dreams come true, guide them in their personal and professional growth and give them the energy to excel at their jobs. The story of how the career of a very passionate person begins can set an example for many students.
Therefore, we chatted with a very passionate young talent who's going places in the F&B world.
We interviewed Giacomo Vercelli, an alumnus of the Master in International Food and Beverage Management, currently based in Prague, about his ESCP experience and how what he learned helped him achieve his goals.
During his years at ESCP, he stood out as a truly enthusiastic and engaged IFBM student and active member of About Food, a student society founded in 2019 to help students better understand the potential and importance of the F&B sector.
Giacomo told us about the strategic challenges that F&B firms are facing as a result of the COVID-19 crisis, and gave us some insights on his Fast-Track Leadership Trainee Programme at AB InBev and a few pieces of advice for those who want to embrace a career in the F&B industry.
What made you decide to embrace a study path and a career in the Food and Beverage industry?
I believe that we, as Italians, have an innate passion for food and beverage. During my childhood, my grandfather used to take me into his homemade wine cellar to show me the bottling process and told me the stories behind every bottle he owned. I can still clearly remember the joy in his eyes while he was telling me these stories and it is the reason I decided to build my career in this specific industry. The opportunity to tell the stories, as my grandfather did, and grow professionally from this was my starting point. When I was 17 years old, I started to look for universities specialised in management in the F&B industry and I moved to Parma to study food management. During my bachelor, I became even more passionate about this sector so I decided to do a course to become a wine sommelier, too. With these two achievements, I was sure that I was going in the right direction and so I scaled up and moved to a more international environment by joining ESCP Business School.
During my studies I had the opportunity to work for amazing companies such as Grappe Francoli, Lindt, Lavazza and Mars and meet inspiring people who helped, supported and taught me all the things I had learned at that point. The good thing is that I am still in contact with many of them and get to have a chat or ask for some advice.
What were the highlights of your MSc in IFBM experience? What key skills did you develop during your ESCP studies?
The IFBM Master, and ESCP in general, happened in the best moment possible for me. These two years changed my life completely and allowed me to grow both professionally and personally. I believe that there are three things that influenced me particularly.
First of all, the practical approach to learning, that closely accompanies the theoretical, that the school offers. Every year there is a consultancy project for which students must solve a business problem in a company. This is a great way to learn how to apply theory to practise, understand all the business issues and how to build a plan and manage people. Moreover, during the year, the school offers many visits to F&B companies during which students can really see what happens in a company and enrich their experience.
The second thing regards the people. ESCP has a strong network of top talents with an international background. This can lead students to build and leverage these connections, learn from the best and make long-standing friendships.
Lastly, the master helped me to develop a set of soft skills that have become quite important for my future. During these two years, I was able to develop adaptability and flexibility in undertaking new challenges and living in different countries. Furthermore, I developed leadership and team-building skills.
You were an active member and project manager at About Food student society. How did this experience enrich you?
About Food Society was a good opportunity to learn change management and personal reinvention. The society was founded to create events that would merge the F&B industry and business. However, after a couple of months, we had to reinvent ourselves because of the pandemic. I was in charge of managing the change with the support of Matteo Faccioli, Gilberto Bosso, Lorenzo Macciocchi, Edoardo Piubelli, Mattia Dililla and others to increase our social presence. We launched the format called "Into the minds of managers" by interviewing entrepreneurs and managers from the F&B sector. To mention a few, I had the pleasure to speak to Matteo Lunelli (CEO Cantine Ferrari), Giada Zang (Mulan Group), Domingo Iudice (Founder of Pescaria), Marco Mottolese (Founder of Foorban) and many others. I believe this experience helped me, first of all, to increase my creativity and way of thinking. Secondly, it was nice to learn more about how social media works and lastly, I discovered how difficult it is to keep people engaged and passionate about a project.
Your Master thesis investigated the strategy changes in the Italian food and beverage landscape caused by COVID-19. Can you tell us what you have discovered?
Unfortunately, COVID-19 was and still is part of our life. So, I decided to learn how the crisis impacted the strategies of the F&B Italian firms. To fully understand the situation, I knew that reading the literature and articles was not enough. I decided to go deeper and interviewed managers from the industry to get specific and accurate insights. This was probably the most difficult part, but I am grateful to all the people who spent time to help me with this. There are 4 interesting points I would like to share with you about my thesis:
The COVID-19 was an accelerator of digitalisation. It brought to light all the positive aspects of digital tools but also the negative ones, particularly those linked to data security. Moreover, the crisis boosted the omnichannel strategy of companies creating a 360-degree experience for consumers, that will remain and grow after the crisis.
Communication is an important aspect which companies should take into consideration for a restart. The crisis has emphasized the fact that firms should focus their efforts on issues such as sustainability, transparency, security, gratification, good for others and good quality-price ratio. This is the only way to keep consumers and increase their loyalty towards a brand.
The value of "Made in Italy" is something untouchable. Some people thought that the current crisis, particularly strong in Italy, could affect the power of this brand. On the contrary, there was an opposite trend, especially in Italian consumers who decided to support local companies. This outcome should tell us that we must take advantage of the power of our products and the power of "Made in Italy"
When a crisis occurs, especially if it is considered a black swan, it is better to use strategies based on personal experience, trial and error and flexibility rather than apply previous models. This is not because the models are not valid but, in most cases, they are not the perfect models for that situation.
You are in the Fast-Track Leadership Trainee Programme at AB InBev. Can you tell us more about this graduate programme and your career rotation experience? What challenges did you face in the projects you worked on?
Being part of the largest brewery company worldwide is already something great but, being part of this programme is very gratifying. The programme, as the name suggests, is a fast track to scale the company and become a future leader. The programme consists of two six-month rotations with two big projects in addition to my usual tasks. I am currently working in logistics as inventory deployment senior specialist for the Italian market but I am based in Prague. I am managing orders, stock levels and the replenishment of some of our brands (Birra del Borgo, Tennent's and Perfect Draft portfolio). I am also working on a project with other two trainees and the analytics team. The final goal is to build a machine learning model to predict the production of HLs for the following week in all our European breweries. This can have a huge impact in terms of reducing the cost of logistics and service level to our customers by giving correct insights to our sales team about the correct quantity released. This shows how, at AB InBev, we love to go the extra-mile and undertake big challenges. The most difficult part for me will be to work on data analysis and learn how to build a house (clear, useful and meaningful data) from Lego cubes (huge amount of unclassified data). At the end of the one-year programme, I will become a team leader and manage processes and people at a very young age.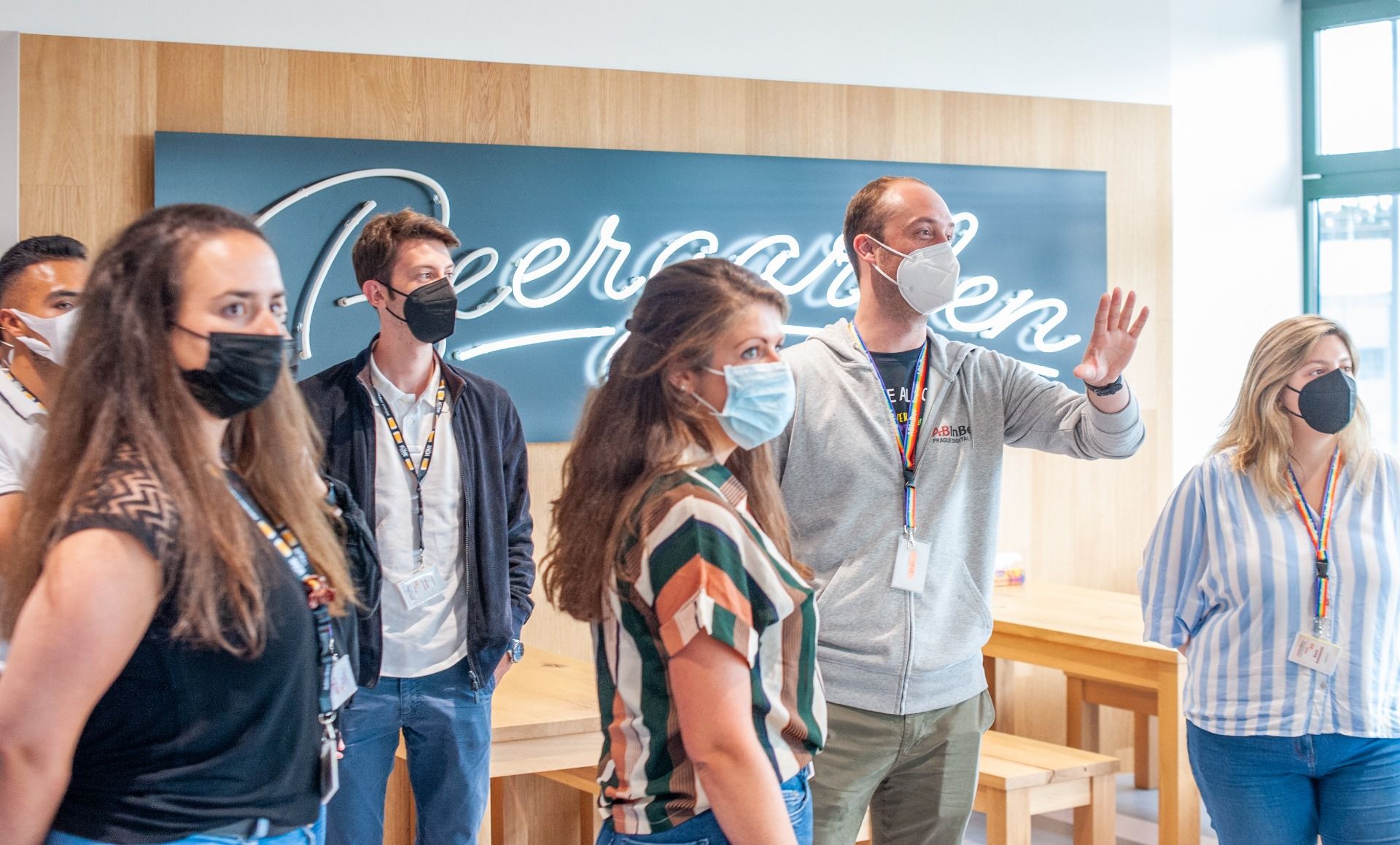 What are your suggestions to the current and future students of the Master in IFBM?
When you join an environment such as ESCP, you are starting something that is going to change your life. At the beginning it is normal to be scared of the new approach, new people and new habits. Based on my experience I can give some advice to current and future students. Firstly, do not stop at what you learn in class but try to go the extra mile, develop and build on your passions because this will make the difference in the long term. Secondly, ESCP offers a strong network that you should leverage as much as you can. The network is an important turning point for your career both on a professional and on a personal level. Many students I met at ESCP became my close friends and I know that if I travel around Europe, I will always have someone to see. Thirdly, you as students should try to practise all the theoretical things you learn at school, as much as you can. This will help you in your first work experience because you already know what it means to bring results, deal with stakeholders and with people in your team.
Lastly, don't be scared to dream big, follow your passions and tell your story – you must be interesting and interested. I have recently launched a mentorship programme for students in which I will guide them from a school to a business environment, leveraging their strengths and giving them a long-term view.
Where do you see yourself looking forward?
This year has been quite intense with my thesis, internship, start of the graduate programme and living in two European capitals, Berlin before and Prague now. The pandemic we are experiencing is also not helping but I am quite confident about the near future. I am proud of what I have achieved in 2021 but I see every year as a new starting point to get better every day.
I have already set some goals for 2022, both professional and personal. I will learn as much as I can in the graduate programme to be ready in August to become a team leader. I will keep working on personal branding by leveraging my connections, my Linkedin page and telling my story through interviews like this one. Moreover, I have planned to run the Prague marathon in May and help students grow and find an internship thanks to my mentorship programme.
If I have to look a bit further, I see myself in 3-5 years on another continent (US, Asia or Africa) in a managerial role in some top F&B realities and then coming back to Europe, probably Paris or Milan, for a position in top management, most likely in Marketing.