The popularity of street food has grown tremendously in recent years, and pizza startups are ten a penny, but there is a new pizzeria in Turin that's very different thanks to two ESCP Alumni, Carla Ferrari and Gennaro Generoso.
A few months ago, they opened Uagliò, a new concept of a Neapolitan pizzeria, where customers can sit and watch the pizzas being made with only the best ingredients.
Carla and Gennaro met at ESCP Turin Campus during their studies, where she obtained a Master in International Food & Beverage Management and he an MBA in International Management. She is a French chef who is passionate about Italian cuisine; he is a Neapolitan businessman and food lover: a partnership made in heaven!
From their collaboration, a perfect combination of marketing skills and culinary expertise, they gave life to their first dream: a brand-new street food restaurant in the heart of Turin.
After months of hard work, their successful startup has generated loyal customers and many satisfied pizza addicts.
Why did you choose to open Uagliò in Turin?
Turin was both a sentimental and a strategic choice. We met here, but apart from the sentimental factor Turin felt like the perfect compromise for a first business: size-wise not too big- thereby limiting rent expenses and making micro-influencers more reachable -, open to new concepts and above all enjoying a target public with higher gastronomical expertise than the average.
What is "pizza a portafoglio"?
In English it is translated as "fold pizza" or "wallet pizza": You basically fold the pizza in four and eat it starting from the top as a sandwich. It is actually a century-old tradition from the Naples area where people usually eat it while having a walk.
What makes your pizzeria stand out?
We aim to differentiate by offering high-quality product sourced from small producers combined in original recipes. Thanks to Carla's experience as a chef, we developed a short pizza menu with seasonal ingredients, adding toppings and sauces to the pizza as if it were a proper dish. The result is a memorable pizza with a great taste and an instagrammable look.
We also aim to create iconic pizzas, to be the flagship products of our menu in order to create high customer retention. To achieve this we invented exclusive and fun names to make our pizzas unique.
We are also trying to meet the expectations of the Millenials: consciousness about what they put onto their plates has to meet economic and speed of service requirements. That is why our pizza has to taste great obviously, but we also have to provide transparency about the supply chain just as we provide transparency about the preparation. Key to this is having an open kitchen that adds a unique experience to the product.
How did what you learned at ESCP help you to achieve your goals?
Coming from a cooking background on one side and a sales background on the other, the marketing knowledge acquired during our time spent at ESCP was certainly decisive in the success of the company's launch. From a wider perspective, the business model derived from a customer-oriented approach learned at ESCP. We decided to balance our costs by focusing on what matters most to our target customer. That is the reason why we are investing in small eating spaces, no table service, thereby reducing rent and HR costs but at the same time focusing on the quality of the product and investing in marketing strategy for our potential and returning customers.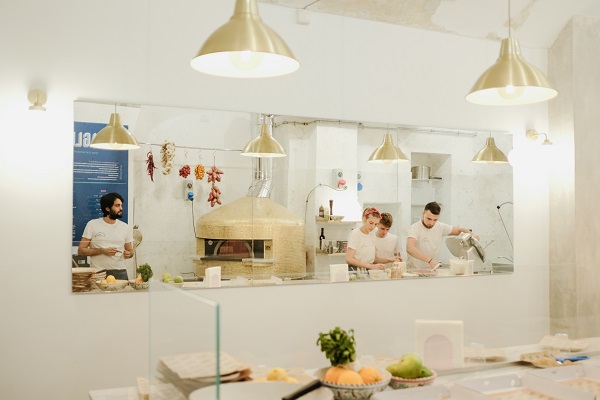 What were the challenges faced by your company in these first months of activity?
The two main critical challenges have been:
People management, being able to attract and quickly train personnel and react even quicker to team issues in order to ensure a pleasant working atmosphere and efficient productivity
To accept and adapt to the random factors, certainly what you don't see on business plans: how the rain is going to affect my business, my delivery partner is late in activating the service, one of the providers made a mistake measuring the furniture, coronavirus is spreading in Italy… so many events that are out of your control as a person and as an entrepreneur that you need to learn to deal with.
What next for Uagliò in your dreams?
Having to face the day to day life of Uagliò, our main dream is to be able to break down all the processes in order to ensure a future growth throughout Italy and being able to focus on major strategical aspects with smooth operations. The rest is all about new flavours of pizza, fun collaboration and getting closer every day to the image of Uagliò we have in mind and the spirit we want to spread.