Student societies are an essential part of the experience of studying at ESCP. Student life on each of the campuses is shaped by the initiatives and activities offered by several student associations. One of the newest, started in Turin, is the About Food Society.
In Turin, ESCP Business School's DNA is inherently cross-cultural and European, but, at the same time, it is characterized by a strong link with the Italian business community and "Made in Italy" excellence. One of the key academic areas of the Turin Campus is Food and Beverage Management.
The F&B sector is a pillar of the European economy. One of the main ingredients of the Italian way of life is the focus not just on excellent food but on its pivotal place in the culture and economic activity of the country.
In this sector there are huge managerial opportunities and challenges and many emerging new trends, which will impact significantly on the F&B industry in the next few years and they require skilled professionals, who are ready to seize opportunities and manage companies wisely.
ESCP prepares future-oriented managers who are able to anticipate problems, challenges and trends in the F&B industry with the specialised Master in International Food and Beverage Management and also with the new Master in Management's Specialisation in Food and Beverage Management.
In this context, the About Food Society was created by students to give extra opportunities to better understand this vibrant sector. We explore the new society and its activities in this interview:
Why did you found the About Food Students' Society?
About Food was created to channel the passions and aspirations of the founders. We wanted to create something new and different from all the societies already present at ESCP Turin Campus. We were all really pleased that ESCP initially helped us through the process of creating our society, and is still helping us almost one year later. We hope to rapidly become ambassadors within the F&B market, helping students to better understand the potential and the importance of this sector in Italy.
What does the About Food Society do?
Here at About Food we are food lovers, but first of all we are business students. Our goal is to fully understand what it means to work in the F&B industry today, with a clear focus on the Italian market. Our mission is to merge the managerial aspects with the qualitative elements of the Italian Food and Beverage industry, by organizing events and company visits with our partners. The aim is to give associates the practical touch on how a food and beverage company works and operates daily. To do so, we also create everyday contents, we write articles with an international student prospective and we interview managers to bring real stories to give some insight on the meaning of working in the F&B industry.
What kind of students are attracted to your society?
Surely people who are able to eat at least two pizzas for dinner. Jokes aside, we think that every student's association needs motivated and proactive people. Willingness to work has to replace the opportunity to earn money. Since we try our best to give students a first concrete opportunity to work and practise the theory studied in class, we need students who able to organize and manage events in partnership with the biggest companies of the Italian F&B industry. Basically, we usually attract people who are similar to effective team members: students from different backgrounds and programmes but with the same passion.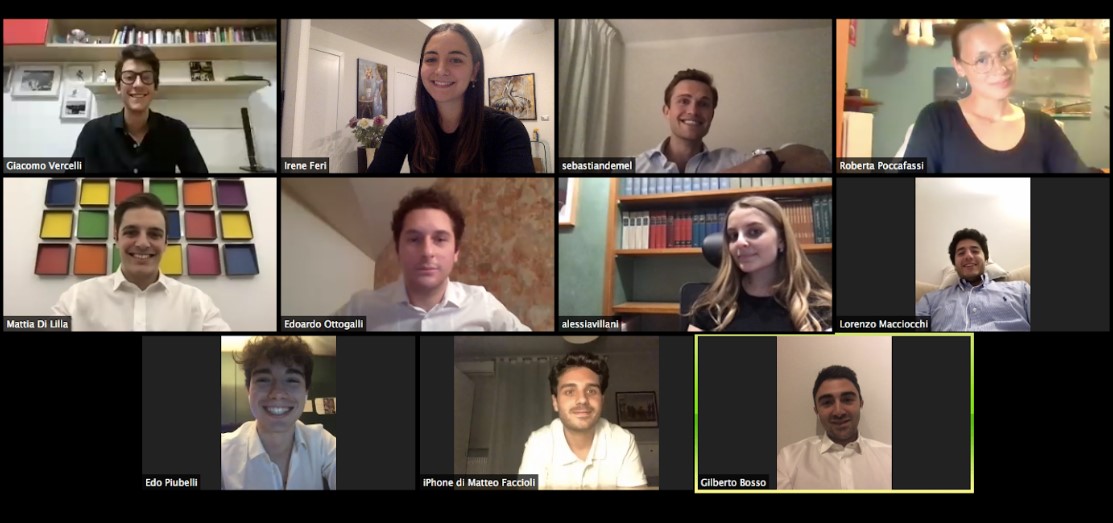 Why should students get involved in your activities?
As already mentioned, About Food was mainly created because of our personal need: we wanted to improve our understanding of what working in the F&B industry means. This is surely the most interesting aspect of our society. Moreover, we are an example of students willing to do more work than what is required by the school itself, which is really appreciated by recruiters. Lastly, we are here to work hard, without forgetting how to have fun. About Food has a long way to go and needs more motivated people, that is why we decided to open more positions for new applications, starting from September 2020.
What are your next projects?
We will keep leveraging social media to get to September with increased brand awareness and a stronger position among all the Turin campus associations. As probably most of you know, on our social network pages we choose a different topic each month: May is wine month. Unfortunately, we cannot reveal our next topic but you can follow us to discover more. Talking about medium and long term projects, we will soon start organizing events and company visits again, which is our core business. We have many ideas about events and a new opening in a new campus. Only time will tell us more!