Two ESCP Master in Management alumni are building the future of e-commerce with their startup Shop Circle. Luca Cartechini, CEO and Co-Founder, and Gian Maria Gramondi, Co-Founder, are among the 300 personalities under 30 selected by Forbes in Europe in 2022.
The fast-growing company, founded last year, is a tech startup that raised $65 million in equity and debt financing and reached over 40,000 merchants trusting their apps. And they are just getting started!
Forbes has recognised you and your company as one on the fast track to revolutionising the eCommerce industry, listed among the 30 under 30 2022 in Europe in the "technology" and "big money startups" category. Congrats! It's a fantastic result! What's it like to be a Forbes honouree?
The EMEA Forbes 30 under 30 list is very competitive, full of young and talented professionals from Europe, the Middle East and Africa. It's a great honour for us to be a part of this, especially as we got featured with other incredible founders in both the "Technology" and the "Big Money Startup" list.
We just returned from the Forbes 30 under 30 Summit in Israel, which was an amazing experience. Overall, Forbes invests a lot in the award and it's a great opportunity for us to foster our network and be inspired by some of the brightest young talents on the planet.
Your tech startup achieved outstanding results in less than one year: you have raised $65 million in equity and debt financing. What led you to the creation and success of Shop Circle?
It was a natural match and partnership. We met at ESCP Master in Management in 2015 and since then we have continually been collaborating on various projects.
Luca was from the world of enterprise financial services and VCs, and Gian Maria from the e-commerce world, hence we decided to create something that complemented our unified skills. That's how Shop Circle was born! We believe that the secular shift to online shopping has only just begun. With e-commerce penetration being less than 15% in many developed countries and less than 10% in several developing countries, there is still enormous space for growth. With Shop Circle, we empower millions of independent brands to build experiences that consumers will love while providing e-commerce sellers with the tools they need to scale their business.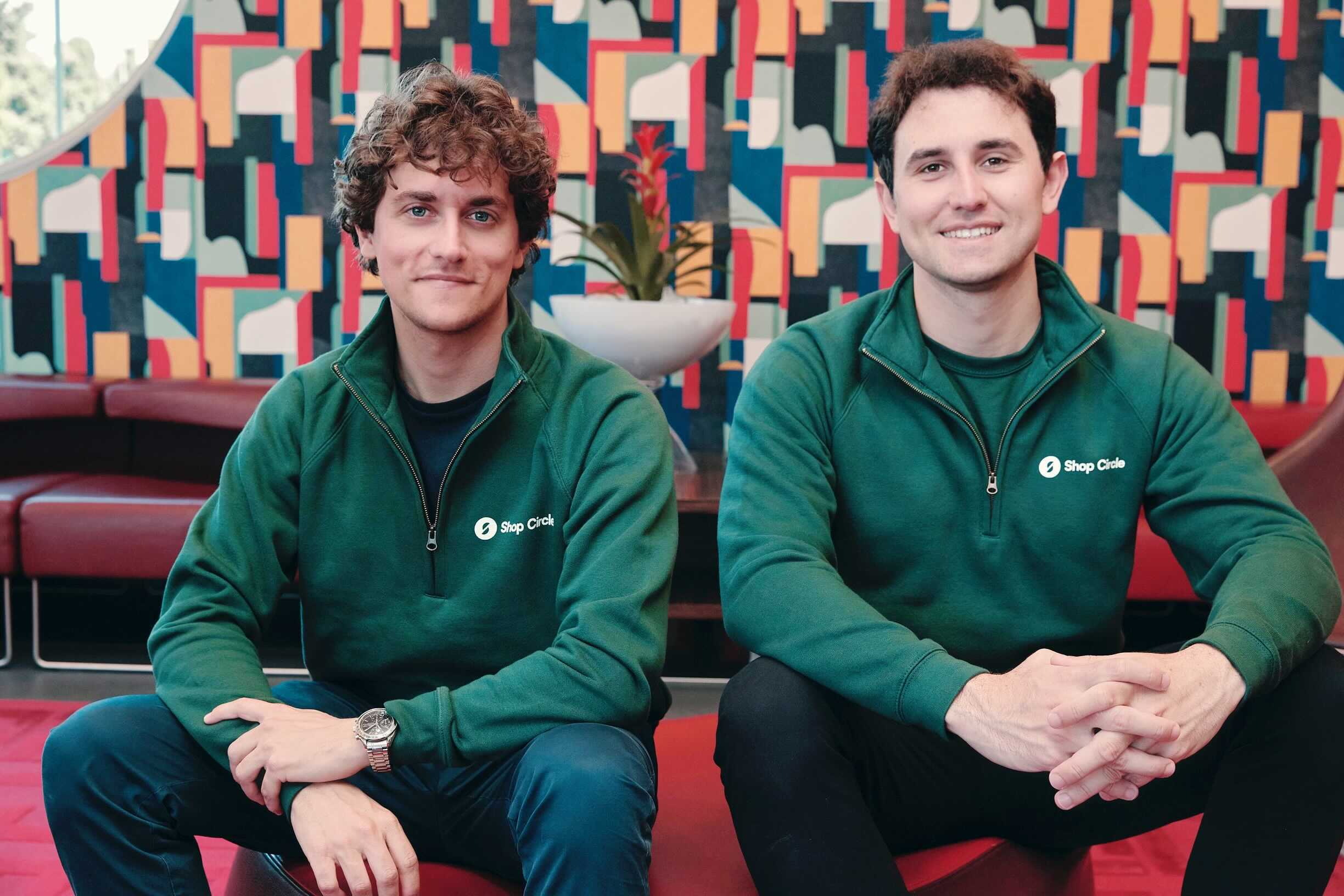 What is Shop Circle's vision?
Shop Circle's vision is to become the first operator of e-commerce tools.
We want to be recognised as the best provider of tools for online merchants. By expanding and scaling up our offer, we strive to be the most loved and cutting-edge provider of e-commerce apps in the industry. We want to be the go-to solution for the global community of entrepreneurs looking to achieve next level growth. We will be the world's best partner for e-commerce entrepreneurs.
What is your view on the future of e-commerce software?
We strongly believe e-commerce is a secular trend and, for online brands to grow and further expand, they will need to build their own stack of advanced tools helping them achieve their goals. This ultimately means that e-commerce tools have a long-term future of steady upward trend with no signs of decline - the best tools will prevail and there will be some consolidation.
Leveraging the best tools in the market is the fastest way for e-commerce merchants and brands to grow their business and compete with the more well-known brands, with multimillion budgets.
In parallel, e-commerce merchants and brands are also becoming more and more sophisticated. Automation, excellent customer support, and constant development will be increasingly crucial to keep software relevant over time.
Finally, more opportunities for developers building e-commerce apps are coming in the new era of commerce, in particular in the integration of online-to-offline experiences and automation. We're extremely bullish on the future of e-commerce software!
In what way did what you learned at ESCP help you achieve your goals?
ESCP was the foundation of our work experience. Its practical and work-oriented approach was vital for our journey until now. In addition, we met there, and we have about 10 employees from ESCP.
Now, we are in the phase of giving back. Luca is teaching at ESCP Business School as we believe academic entrepreneurship is often discouraged in Europe and often taught by professors who were never previously entrepreneurs themselves. Of 150+ venture capital-backed European unicorns, only four are university spinouts. We need a radical cultural shift. Luca aims to offer the opportunity to get into the mindset of the most successful entrepreneurs in Europe, inviting them to class and leveraging a practical approach as he believes that entrepreneurship is rarely learnt from textbooks.
Do you have any tips for young entrepreneurs out there aiming to make an impact with their tech startups?
Yes, a few:
Age really is just a number. Being young and closer to a trend is often an advantage to start a tech startup.
Work for something you're passionate about. In our case we wanted to superpower e-commerce merchants and that's what we love doing.
Find good people. If you want to create a great business, it is less about you and more about your team.
It's all about execution. The world is full of great ideas but results only come through best-in-class execution.
Prove them wrong and be resilient. You will constantly receive non-constructive feedback from people that understand little or nothing about your business so convey the criticisms into motivation and move on.
Focus and dedication are key. Presumably, the most important, focus on one thing at a time and master it.
What's next for Shop Circle?
By year-end, we will be serving approximately 100k merchants by operating 30 products across all the major e-commerce categories.
Our goal is to provide every online merchant in the world with all they need to run their e-commerce businesses.
The other important element for us as an organisation is to shift from startup to scaleup. We want to leverage all the best practices to implement them across our entire suite of softwares to allow all of them to grow consistently.
Finally, we aim to have a 100-person team by year-end and our priority is to build a cohesive culture, making Shop Circle one of the best remote companies to work in the world.