Among the young talents recognised by Forbes Italy on its annual "100 Under 30" list, we are thrilled to see a MIM Alumnus: Alberto Cresto, Class of 2016.
While still studying at ESCP Business School, he joined a strategic consulting firm specialising in DeepTech. Since then, he has worked on creating three investment funds, invested in over 30 companies in Europe and North America, and become Principal at Lunar Ventures in 2019, supporting early-stage DeepTech software startups.
We had a chat with Alberto, recognised as one of the best young Italian talents, who are reshaping the way we live and work by spreading their brilliant ideas all over the world.
Forbes Italy named you one of the most talented young leaders who is changing the face of venture capital, listed among the Italian 100 under 30 2022. Bravo! It is a fantastic result!
What is it like to be a Forbes honouree?
It was a very humbling moment to see myself featured in the magazine. I actually did not know I had made the list, no one gave me a heads-up. Then the full page with my picture… It was more than unexpected! The most rewarding part of this recognition has been how proud it made my family and close friends. They have seen me taking a few bets throughout my career and were always extremely supportive. The last one was joining Lunar Ventures in 2019 when it was still a pitch deck. Building Lunar from the ground up with my partners Mick, Luis and Elad was the most rewarding and enriching experience of my life. I owe them a lot of credit for the professional I've become. It took a lot of work and perseverance, and most of those efforts were made under the radar, until our public launch late last year that got picked up by TechCrunch. Now Lunar is becoming an awesome brand, and this recognition from Forbes is just a reflection of the outstanding work the team has collectively done.
Personally, I do not feel any different from before: I am used to working with founders. They are the most exceptional and driven type of professional out there. Everywhere I look around me there are people who are better than me. This has been a constant source of inspiration throughout my career and the best way to remind myself that where I am today is just a starting point and not a destination. I am sure the best is yet to come.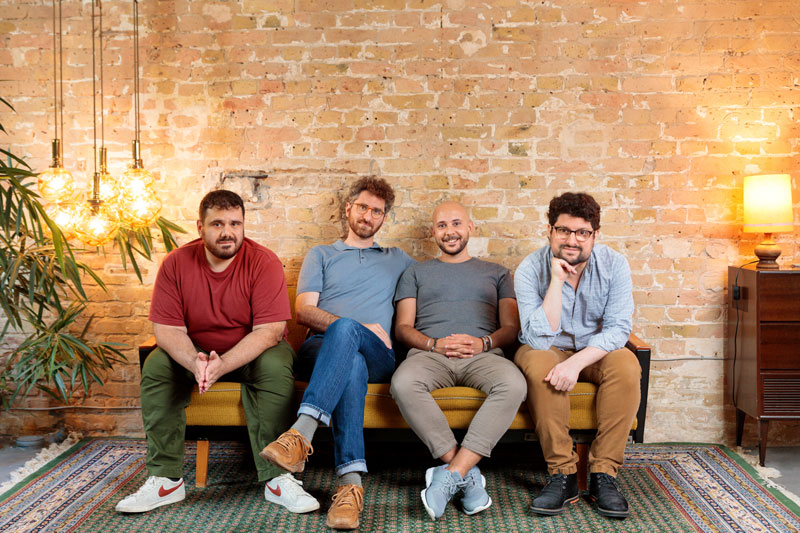 Since 2019, you have been Principal at Lunar Ventures, a team of technical investors committed to the European DeepTech ecosystem based in Berlin. How did you arrive there? How did you start on this career path?
Since I started working, I've always liked innovation, technology and finance. I had a chance to explore these passions with my first internships at ESCP. The very first was with Accenture Strategy. My project involved the launch of a connected car platform. It was enabling automotive OEMs to generate recurring revenue streams with smart services. It made me realize how technology was deeply transforming industries. When I moved to London, I joined Northbright Capital, a small advisory firm advising large corporates on high-tech acquisitions, partnerships, and VC investments. Finally in 2016, in the middle of my last year of studies, I started working for a Swiss/American advisory firm specialised in buy-side, sell-side M&A, new business development and VC investment for corporate clients – with a very strong focus on industrial B2B technologies. I had joined them as an intern, stayed full time, and was promoted first Associate and then Associate Partner. During my tenure the firm started making direct investments, created a VC practice and then raised a fund. I led most of that effort, which is how I fully transitioned to VC.
At the end of 2018 I felt I wanted a more entrepreneurial journey. I met my current partners and learnt about their vision for Lunar. It immediately resonated: technical founders were not finding many technical investors, leaving open a blue ocean for a firm like Lunar. It took me a few months to decide to join them. I wanted to have the time to get to know them on a personal level. It was a big bet and I wanted to make a conscious and well considered decision. In March 2019 I decided to pull the trigger. Since then, I worked on all aspects of building a VC firm: fund structuring, fund raising, making investments, hiring team members, managing the portfolio and more. It was a wonderful 360° experience, and a very rewarding journey from 0 to 40M under management.
In what way did what you learned at ESCP help you achieve your goals?
For me the biggest learning at ESCP was that you can actually do much more than what you'd think. Before then I had no idea of what my career opportunities were and what was the best way to prepare for them: the school was an eye-opener. It also taught me to be open minded, proactive and approach any task with a positive attitude. I am still learning plenty of stuff on a daily basis and it's never enough. The only thing that really matters is your attitude and mindset. ESCP students have a very distinctive set of skills in that regard.
It's very easy for me to say that joining ESCP was the best decision I made when I was a student, and that I wouldn't be where I am today without it.
You are an experienced startup investor who has led over 30 deep tech investments. What kind of mindset do you need for a successful career as a DeepTech venture capitalist?
It's a hard question. There're many types of successful VCs out there coming from very disparate backgrounds. I think that at a fundamental level it takes a lot of curiosity, empathy and willingness to take risks. You need to be open to learning about new topics constantly, and go fairly deep fairly quickly as well. You need to be perceived as a trusted, life-long partner to the founders you work with; understand their struggles and be ready to help them at any time. It's very important to appreciate that they are on a life mission and that building a company is the most exhausting project one could undertake. As a VC you might believe or not believe in what some founders are doing but you need to be extremely respectful of their time and mission at all times. Finally, you need to be very comfortable with taking risks and be able to calculate them as efficiently as possible.
What advice would you give to a young talent interested in becoming a Venture Capitalist?
To build a diverse background. Technology is being rapidly adopted in and disrupting almost every industry and sector. The VC industry is adjusting accordingly to become more and more specialised. It used to be dominated by finance professionals but it's going to change rapidly. Also, start doing the work before trying to join a firm: develop relationships with a network of founders, angels and funds; do sector research and spot early trends, look for exciting companies. And when you arrive at the interview show them you can add value from day one.
What's next for you?
More of the same. Building Lunar was quite a ride, but we are still at the beginning. In 2023 we will raise our next fund, do more investments, hire more people. We want to build the best DeepTech brand in VC. I find the vision as exciting as it was four years ago, and I am heads down into making it a reality.