We were delighted to see among the young disruptors recognised by Forbes Italia in its annual "100 Under 30" list, an ESCP Alumnus: Federico Dalpozzo. He has been selected as one of the young talents who are leading the way in the Marketing and Advertising sector.
Federico joined Google in 2018, at a very young age. Today, at only 24, he works in the Google EMEA HQ in Dublin in the Accelerated Growth Team with Italian Startups and Venture Capitals.
Federico, who completed his studies at ESCP only a few weeks ago, had a chat with us about this significant accomplishment, tech companies, and his career.
First of all, congrats on this outstanding achievement. What was the first thing that went through your mind when you heard that you were among the 100 under 30 selected by Forbes Italy?
It was a wonderful surprise, very unexpected. I am honoured to be part of this list, I did not think such a recognition could come, especially so soon, since I am the youngest in my category. Humbled and honored to have reached this milestone at the age of 24.
At just 20, you started your own business. What inspired you?
While I was at University, I realised that I was spending too much money on printing. That's why I decided to find a solution to this problem, to make prints for free. Over time I developed this "problem solver" approach: facing a problem is always the best way to find a solution. I was very young, and in some ways this helped me, since I was not overthinking, driven by the enthusiasm of young people, my only goal was to make things happen.
In 2018, you joined Google, and now you work in the Google EMEA HQ with Italian Startups and Venture Capitals. How and why did you choose that career path?
Since the beginning of my professional experience I have always loved the startup ecosystem. That is why I'm really glad to work with startups nowadays in Google, too. At a certain point I realised I needed to take a step up in my professional experience and nothing less than a big corporation could satisfy this need. I had a clear idea of the companies I wanted to work in and apply for, and luckily it went well with Google!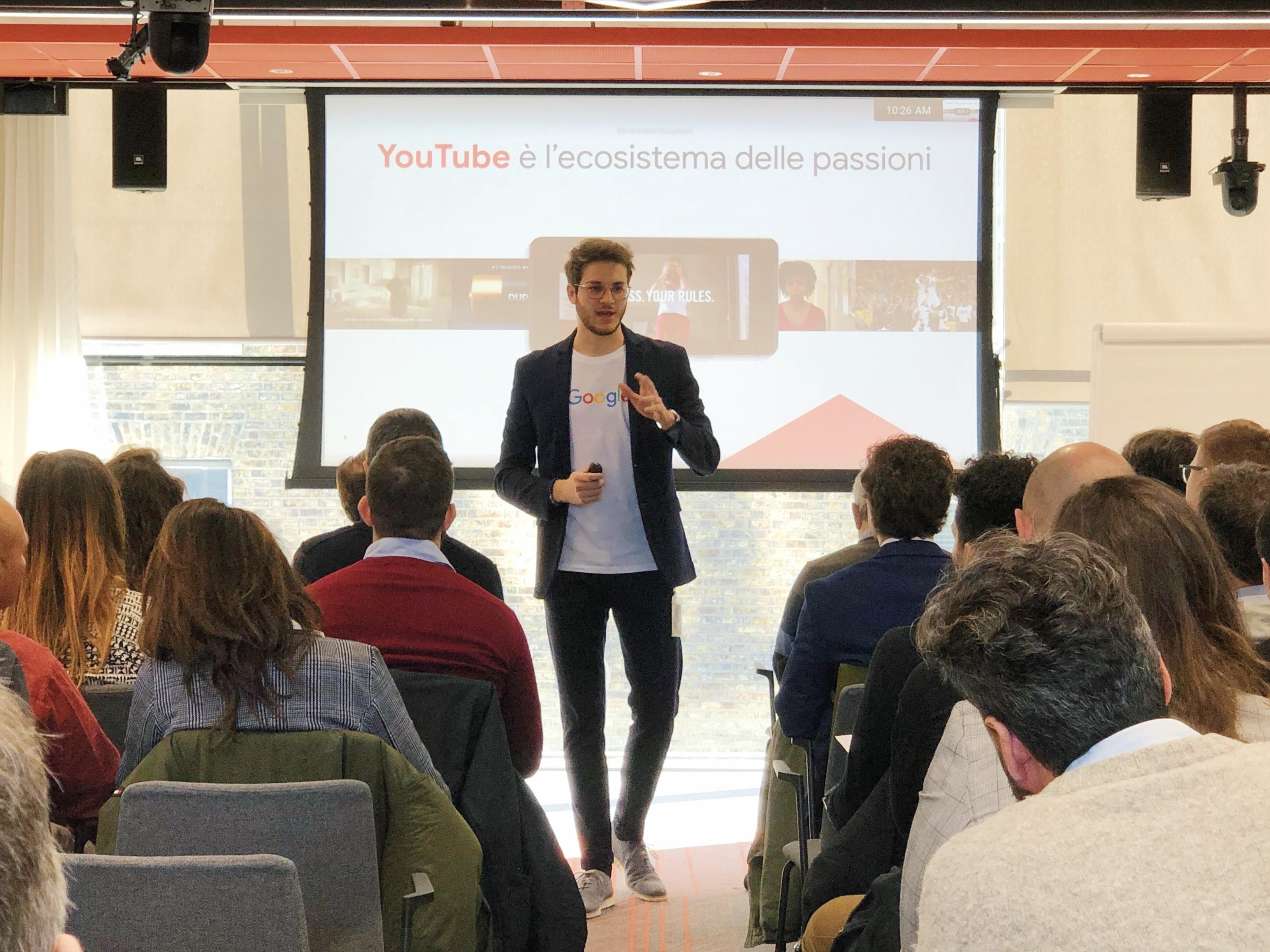 In what way did what you learned at ESCP help you achieve your goals?
I loved the practical and international approach of ESCP. The practical side of the classes helped me apply my studies to my daily working life. On the other hand, the international approach of this University is the best to open your mind. Indeed, interacting with other cultures is something that makes you grow a lot, and at the same time it is something we should not take for granted!
What advice would you give to young talents who would like to work in one of the Tech companies?
It is difficult to outline the perfect path. Just to give you an example, my colleagues are all from different backgrounds, each has his or her own story. It is very important to create the right connections in the world that interests us, the value of the network is essential and it has counted a lot for me. Linkedin helps with this, it is very easy to meet people and propose a chat to see if the company we would like to work for and the position are exactly what we expect.
At the same time, it is very important to build experiences: work, life, training, experiences abroad, internships, start-ups, working while you study. The enterprising person who has been able to put more "colours" in their resumé is always rewarded!
Then you have to work a lot on your attitude, changing it and going towards creating these opportunities with a lot of enthusiasm and proactivity. Finally, a little luck is always helpful!
What's next for you?
Well, I think about returning to Italy in the long term. By going abroad, you begin to become more and more aware of the beauty of your own country and you get to a certain point where, as a key aspect to take into consideration, there must be also the quality of life. Living abroad, seeing other cultures, I've always been in love with many places, but I fell even more in love with my own country. Therefore, in my career, I foresee a return to Italy.
I would still like to have other experiences abroad, at least for another six years, keep on growing and enhancing my experience in other countries. I would like to move to Asia or America, either Singapore or New York, where I can see something completely different from the European world. Nevertheless, in both countries they have closed hiring from abroad, due to the pandemic crisis, and this makes a move impossible for me right now. We must take into account the context and be flexible, have a clear point of arrival but then adapt it along the way.
Where do I see myself? I would very much like to undertake an entrepreneurial path, my launching and managing my own business. If this turns out to not be possible, I would like to cover important management roles at the decision-making level.