MSc Big Data and Business Analytics Hackathon 2021
From the 15th to 19th of March
Michelin, Criteo and ESCP organised a Hackathon on the theme of IoT and connected society with emerging GDPR regulation
For the fourth edition of the MSc in Big Data and Business Analytics' annual Hackathon, students worked on four real-life cases with Michelin and Criteo. Students were challenged to find novel business models and analytical solutions with emerging IoT technologies in the connected society that was facing new GDPR regulations. Twenty-one teams had four days to leverage their technical and business skills to come up with creative solutions to the cases. The fifth day of the Hackathon was reserved for pitching the ideas to a jury!
Four Real-Life Cases
Michelin: Tyre Mining Maintenance
Tire maintenance is crucial in the mining industry, and productivity relies on tires that carry extremely heavy loads, over rough terrain, every day. As part go this project, students had to create a new business for Michelin Consulting & Services, combining existing data (and new data sources) and providing new and relevant KPI's for tire maintenance management.
The winning team's solution is a mobile-based application that provides the maintenance manager with all relevant information regarding a tire's maintenance on one centralised platform. The key feature of the application is the tire's health monitor, an indicator of the remaining useful life of a tire, which the team developed using machine learning. In addition, the students leveraged the data at hand by providing meaningful insights through dashboards and KPIs integrated within the application.
Michelin: Track Connect
Michelin Track Connect (MTC) is an application that helps circuit drivers achieve their optimal driving performance. The goal of this project was for students to answer three key questions: In what ways can MTC be monetised? What should the growth strategy for MTC be? How can MTC monetise its data assets?
The winning team proposed three ideas. The first is to develop a dangerous driving risk alert, which could detect crashes and dangerous driving behaviour in real-time. The second idea is to sell insurance packages for race-day events through the MTC app by partnering with insurance partners. The third proposal involves providing insurance companies with data from MTC users to help them increase the accuracy of their risk assessment models.
Michelin: Truckfly
The Truckfly application supports truckers throughout their journey. Amongst other features, it provides truckers with up-to-date information on where to refuel, eat and rest along their route. For this case, students had to think of ways to grow/pivot Truckfly's business and generate stable revenues.
The winning team delivered a Competitive Analytics Dashboard where business owners and business managers can gain a competitive advantage given the exclusivity and granularity of Truckfly's data assets. This Competitive Analytics Dashboard offers real-time data analytics about the industry and regional competitors, the trucker customer segments, and also, the main characteristics a business should have to maintain attractiveness and visibility in the market. All of this is possible by implementing statistical and machine learning algorithms, such as clustering, random forests, forecasting and market basket analysis.
Criteo: Contextual targeting
There is increasing pressure to limit the online tracking of users. Thus, the advertising ecosystem is shifting towards contextual targeting. As part of this Criteo case, students were challenged to design a contextual targeting product to connect advertisers to publishers and reach users (using limited user data).
The winning team used keyword matching to categorise and assign advertisers with relevant publishers. It also drew data from multiple other sources, like Google Trends, to enhance the matching process.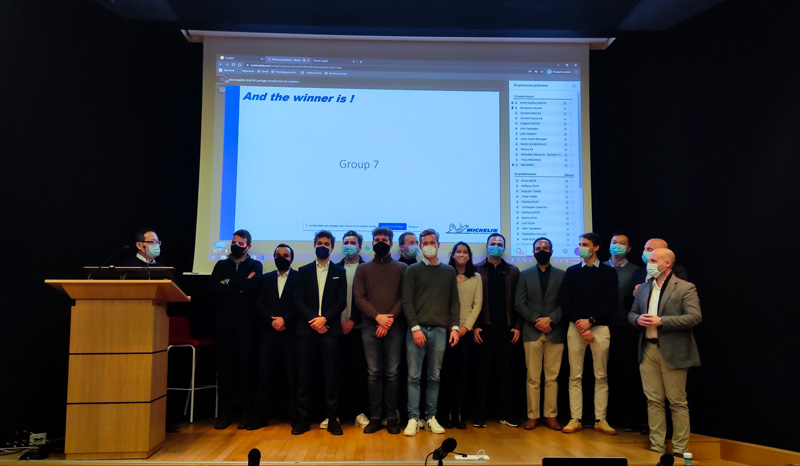 The jury, made up of ESCP professors, Michelin representatives, tech partners and Spinfi members, awarded a prize for each of the three subject areas.
Michelin Cases: Winning Teams
1st Prize Michelin and 1st Prize Truckfly: Noelia Venet, Francisco Javier Leiton Jimenez, Liwa Aboumrad, Zoe Le
1st Prize Tyre Mining Maintenance: Luis Vasconcelos, Xavier Campagne, Tony Achkar, Anthony Daye
1st Prize Track Connect: Mouaad Benelhirche, Ugo Carotti, Edoardo Maschio, Edoardo Tarallo
1st Prize Academic winner: Simon Probst, Alexander Lund, Leonardo Nespolon, Nicolaus Norden
Criteo Cases: Winning Teams
1st Prize: Fanrui Lian, Annie Chien, Alex Melennec, Yun Zhang
2nd Prize: Marie-Isabelle Schönborn, Chiara Höppner, Florian Drummen, Youssef Braham
3rd Prize: Cassandre Sillere, Edoardo Brizi, Guillermo Rubio Lopez, Yiyu Chen
Jury Members
Michelin
Benjamin Levrard
Sebastien Masseret
Gregoire Rosay
Caroline Wies
Martin Journois
Yohan Benque
Ramya Gajula
Jean Dejonghe
Criteo
Laurent Molter
Camille Lehujeur
Spinfi
ESCP Business School
Prof. Howard Zhong
Prof. Louis-David Benyayer
Prof. Wei Zhou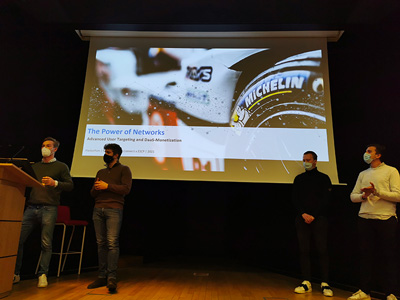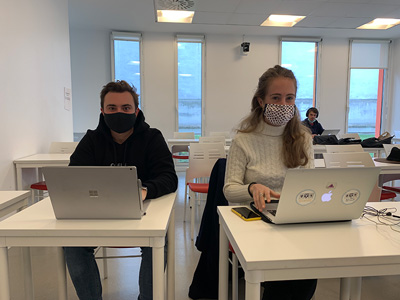 Students Testimonials
"The Criteo Hackathon was a unique opportunity to leverage our data analysis skills to face an emerging issue concerning data privacy on the internet. Within a week, in teams of four, we created a solution using Natural Language Processing and Neural networks to identify the best advertiser for an online publisher in compliance with the GDPR and CCPA. This experience was exciting and very formative in terms of teamwork, analytics and problem-solving skills. It definitively gave me more confidence for future challenges in business analytics!"
Youssef Braham
" The Michelin Hackathon was an amazing experience that allowed us to apply our knowledge and put the data at the service of real business objectives! Our team developed a solution to offer a competitive advantage to Truckfly's clients, based on real-time and granular data. We were very happy to bring value to Michelin and are definitely excited for future data challenges!"
Noelia Venet
" The Hackathon was an exciting opportunity to apply our business and technical knowledge to a real-world problem. Despite the challenges posed by Covid, our team which was partially on campus and partially remote worked incredibly well together! We really enjoyed the project and learned a lot about the advertising industry, model building and teamwork!"
Chiara Hoppner