From thriving eCommerce platforms to "super-apps", from "smart & connected manufacturing" to the diffusion and adoption of 5G technologies, China and Southeast Asia lead innovation at multiple levels.
ESCP widens its students' horizons in many ways. To deal with the complexity of Asia's business ecosystem, one of our "Coffee Chat with Alumni" was dedicated to "New innovation hubs: China and Southeast Asia" with Dr Pietro Borsano, Faculty member in Entrepreneurship and Core Business, School of Integrated Innovation, Chulalongkorn University, and ESCP Business School Alumnus.
After his insightful testimonial, we had a stimulating chat with Pietro, exploring the innovation trends reshaping the world's most dynamic economies, the critical point for foreign companies to win Asian markets and the implications for tomorrow's European business leaders.
Which are the trends reshaping the world's most dynamic economies?
East Asia's economic success over the past 50 years has been transformative. High rates of growth have propelled countries in the region from low-income to middle-income, and even, in a few cases, to high-income status.
To different extents, most Asian economies (with few exceptions – Japan, Korea, Singapore,) are facing an innovation imperative, as a recent report by the World Bank put it.
First, productivity growth has declined since the 2008–09 global financial crisis. This, and rapid population aging in several countries, is putting pressure on the region's growth prospects, narrowing the opportunities for reaping demographic dividends.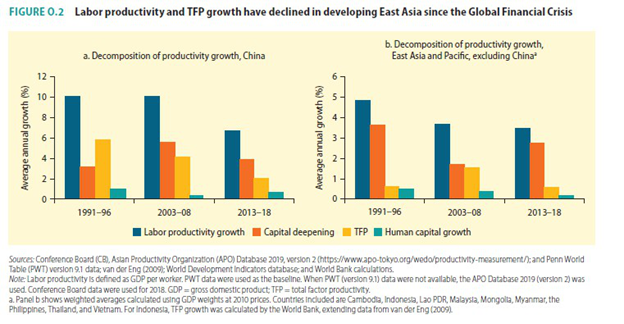 Second, the uncertainty about the future of the global trading system, and rapid changes in technology are all challenging a key engine of growth in the region: export-oriented manufacturing.
After the COVID-19 pandemic, there is a pressing need for new modes of production (towards increased adoption of automation and smart manufacturing technologies) and a shift towards an enhanced role of services in the overall economic output of emerging Asian economies. Keep in mind that all these economies are already strategically positioned in the global supply chains – their goal is now to move up in value creation, focusing on technology-based products.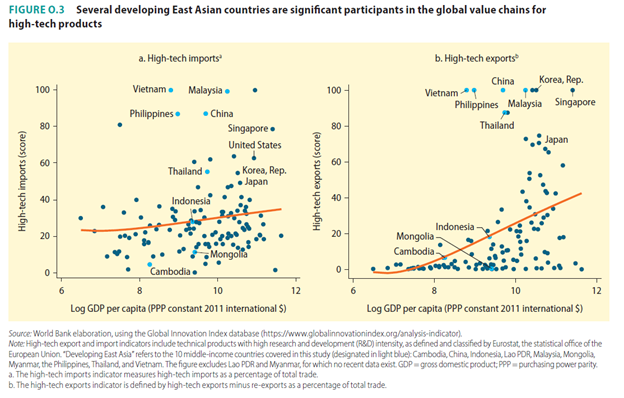 Finally, an emerging trend I am observing right now is, several of the successful innovations and innovative business model adopted in China, which is a catalyst for innovation in the region, are progressively adopted in Southeast Asia as well. The new frontiers of technological advancement in emerging Asia will be reached through a wider adoption of innovations by its growing middle-class.
Since November 2020, China and Southeast Asia have been in a comprehensive free trade agreement, the Regional Comprehensive Economic Partnership (RCEP), promoting free trade across 15 Asia-Pacific countries. What effect will this FTA have on both global and Asian trade?
In the last decade, in Asia there has been a push for more regional integration. Differently from the new TPP/CPTPP (which was America-led), the RCEP is more "ASEAN-centric" – in fact, it was originally launched in 2012 by ASEAN, the Association of Southeast Asian countries.
It includes all ASEAN member states and the countries that have free trade agreements with ASEAN, i.e. China, South Korea, Japan, Australia, New Zealand, and – originally – India, However, India dropped out in 2019.
The RCEP emphasises the comparative advantage of its developing economies; nonetheless, it can be defined as a "relatively ambitious" treaty (Michael Plummer, 2021). It consists of 20 chapters, with tariff cuts on 92% of products and cumulative rules of origin for Asian supply chains. More significantly, this is the first free trade agreement among the largest and most advanced Asian economies: China, Japan, and Korea.
These are some of the likely outcomes of the RCEP.
First, the RCEP will promote regional trade to grow more than the trade with the rest of the world, in the context of a continued China-America trade war.
Second, integrated East Asia (China, Japan, Korea) will compete with the US and the EU in both scale and technology.
Third, ASEAN will keep its strategic role in global value chain, led by the advanced East Asia that will keep a manufacturing base in Southeast Asia.
What are the implications of the RCEP for the European business leaders of tomorrow?
For me, the new RCEP rule of origin is the key implication for European business leaders.
The RCEP has its own rule of origin for the products which have been manufactured, or have been finished (for at least 40%) in one of the RCEP markets. European businesses can export intermediate goods and finish them in the most favourable RCEP country, for the remaining 40% of the product -- this can be done through local partnerships, or by investing directly in the country.
On top of this, European leaders should bear in mind that the EU has free trade agreements with four RCEP countries, i.e. Japan, Korea, Singapore, and Vietnam, which can be used to make inroads into RCEP markets, by adding local value on intermediate goods. Just to give some figures, Italy exported USD 43bn towards RCEP market in 2019, of which USD 23bn were intermediate goods.
In China and Southeast Asia, e-commerce has developed enormously in recent years. What future trends do you foresee for this industry?
eCommerce in Asia obviously benefitted from the pandemic in terms of larger user base, but it was extremely innovative even before this crisis.
Let me give you some keywords of the innovative eCommerce models and strategies, which are already a reality in Asia – I have conducted some academic researchers just recently on the state-of-the-art of this industry.
"Shoppertainment", the idea behind bringing shopping and entertainment together to deepen connections with audiences, especially younger millennial consumers. For example, live streaming (sell products through fun and innovative live experiences) lead to customers engagement, increasing the number of sales, more clicking on the app, and more visitors.
"Gamification", or in-app games, which provide a more interactive way for consumers to earn rebates and points to shop on the platforms. The eCommerce platform Shopee, which has the tech giant Tencent among its investors, offers a superior gaming experience.
"Omnichannel" – we heard a lot about this concept, however, now Alibaba Group in China (through Fresh Hippo markets) and its subsidiary Lazada in Southeast Asia have successfully created on-the ground shops, where shoppers can see the products and try them out, and if they want to make a purchase, they can use the mobile application to scan the QR code, check the price and submit the order online. Items will be delivered at home.
"C2M can benefit all stakeholders" – Pinduoduo, a new fast-growing Chinese eCommerce platform has been built exactly following this strategy, benefitting consumers, merchants, and partners through its C2M (Consumer-to-Manufacturer) model. The C2M model allows consumers to directly connect to manufacturers or farmers through a direct sales channel when purchasing products. It helps improve the value-for-money proposition of the merchandise on Pinduoduo's platform, providing affordable and better-quality products to consumers.
"Group Buying model". Pinduoduo employs this strategy to provide cheap products to customers at a wholesale price – this is how Pinduoduo gained a large user base in a relatively short period of time, by creating a "community-based" form of eCommerce.
How relevant could the Chinese and Southeast Asian financial sectors become?
This is one of the hottest topics at the moment. However, differently from eCommerce, the industry is still under "disruption" and it's more complicated to foresee which new digital standards and business models will emerge.
I can mention a few tendencies worth further analysis.
Adoption of digital payments. With its main digital-wallet providers Alipay and WeChat, China is at the forefront of this innovation's adoption. Interestingly, Alipay was initially created as an eCommerce enabler, since China had a lower credit card penetration compared to the West. As of 2020, a reported 98% of urban Chinese consumers use their digital wallet for daily purchases. When I am in China, I myself buy anything, from restaurant meals to shopping malls, from street stalls to noodle shops and Didi taxi (an equivalent of Uber) with my WeChat e-money.
Other digital alternatives. In Thailand and Southeast Asia in general, mobile banking has taken off recently and through QR code-based payments a mobile phone is now enough for every transaction, ranging from a single bottle of water at 7-11 ($0.50) to the lunch at the office's canteen or the much more expensive purchase of a car. I honestly forgot the last time I withdrew cash from the ATM – which I used to do quite often for every small purchase. Car hailing apps and food delivery apps are also fully integrated with the banking system and they aim at creating a "superapp" (like WeChat in China), which includes a fully-digital wallet.
Regulatory changes. With the halt to the multi-billion-dollar IPO of Ant Group, the financial subsidiary of Alibaba Group, the Chinese regulatory environment related to financial technology is rapidly changing. It will be essential to see in detail the new legislation, as soon as it will be officially enacted.
Digital currency? One more thing on my radar: the studies currently conducted about the creation of a digital-version of official currencies. Once again, China is ahead of other countries in designing its digital yuan.
In 2015-2016, you co-founded a boutique management consulting firm, Advising Asia - Business & Legal Consulting Co. Ltd., specialised in the internationalization of SMEs. How hard is for Western companies to get into Far East markets at this moment? How will Asian companies develop their business in the global markets in the next future?
In the aftermaths of the US-China trade war and the Covid-19 pandemic, we are entering a new phase of globalisation. Several European SMEs still have a competitive advantage in terms of technology content and engineering capabilities, however, to enter Asian markets they need to deploy new strategies.
If they are in consumer products, a strong digital foothold is essential, through Asian social media channels and with localized content marketing.
In general, the old export-led model is about to end. Companies will be required to "shorten" their value chains and be closer to their end customers. European SMEs should now invest directly in RCEP countries and build a truly local presence as well. Another key point for foreign companies to win Asian markets is to provide a superior, responsive service in any market they are serving, through local offices and teams. I am nonetheless aware that several SMEs are more conservative and they do not have this "scale-up" mindset.
The same goes for Asian companies – they will need to grow more international, also in terms of corporate culture, to be able to detect new trends and avoid political "traps", in the highly polarized world of today. Huawei, for instance, has a tremendous corporate culture and it is one of the reasons they were able to operate in multiple countries.
What attracted you to work in Asia?
It was thanks to ESCP Business School in the first place!
During my studies at ESCP, I attended an exchange semester at the School of Management of the Asian Institute of Technology (AIT). Afterwards, as soon as I qualified as an attorney-at-law in Italy, I wanted to gain some work experience in Southeast Asia – considering that my father, a director with a multinational truck manufacturer, has been expatriated in China since early 2013, where he clearly experienced the potential of Asian markets.
In my first working experience in Asia, I was fortunate to be involved in several exciting consulting projects with Advising Asia - Business & Legal Consulting, which exposed me to the complexity of international business patterns. I was equally fortunate to have a great and experienced mentor there, Carlo Gardella, who has some 20-year experience in executive management roles in Asia.
You are an academic at the School of Integrated Innovation, Chulalongkorn University, but you have experiences also as a management consultant and a lawyer. Would you encourage young talents to diversify their profile in this way?
I would not call this only a "risk diversification" in an age of rapid changes, but rather the application of a transdisciplinary approach to my professional career.
Transdisciplinary means connecting the dots, by employing different disciplines and non-traditional perspectives to address the same problem. Whilst my major focus is now on building an entrepreneurial/intrapreneurial education curriculum and ecosystem for our undergraduate students, I draw on my other professional experiences as well. Entrepreneurship is itself based on "project management" concepts, tight deadlines, and milestones, which are typical of management consulting; the customer obsession that entrepreneurs should have is the same that consultants usually adopt when dealing with their corporate clients. Plus, start-ups and innovation-oriented academia rely on "network effects" and, thereby, negotiation is definitely a fundamental skill to build such ecosystems – here, my legal education comes in handy.
To conclude, I would encourage young talents to pursue transdisciplinary academic and professional careers – even experts in a specific field will be required to connect and cooperate with experts from other fields much more extensively in the near future.