Reinventing Work Chair, BivwAk!
Award for student research work
Students of the digitalisation specialisation from ESCP Business School Master in Management Programme presented the findings of their research about hybrid work in front of a jury of experts.
9 Key Topics
Focus on
How has hybrid work affected time management?
Knowledge sharing in a hybrid environment
Monitoring time in the digital workspace
Health and wellbeing in a hybrid environment
Top-performing teams in a hybrid context
Creativity in hybrid environments
Friendship and personal relationships at work
Building Trust in a hybrid team
Engagement at work and generational differences
This challenge is the final step of a 30-hour course delivered by Professor Emmanuelle Léon, Scientific Director of the Reinventing Work Chair.
We warmly thank our jury of experts (see you all in 2024!)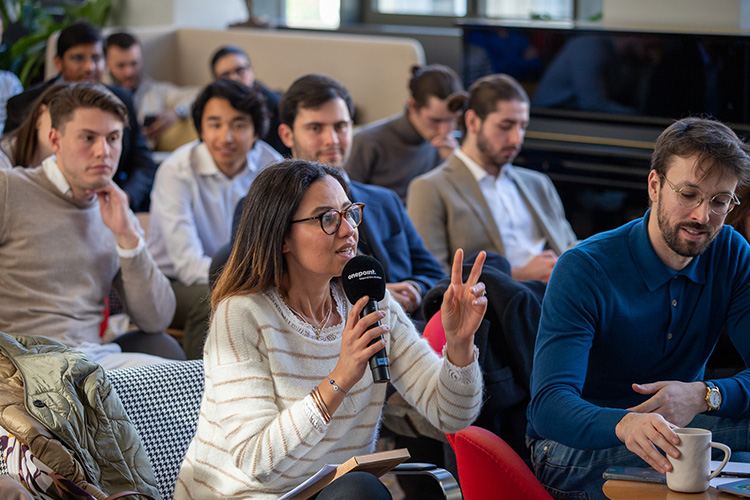 "The winner is"
One group has been awarded by the members of the jury with a prize from the Reinventing Work Chair, BivwAk!
"How has hybrid work affected time management"
We congratulate:
Lovisa Martinelle
Andrea Mirtillo
Peter Schulz
Giulia Zanatta
"How has hybrid work affected time management"
Learn more about their findings
"For this paper, we carried out primary research to develop new valuable insights on this specific topic. We carried out a survey and an interview at Ski&Boot, an Italian middle-size company. The survey was carried out among employees and department managers and allowed us to dive into their perception of what works and what doesn't for a hybrid work policy.
We found that most valuable elements for employees to enhance their time management are flexibility, planning and coordination. People inside the organization believe that hybrid work is indeed improving the way they manage their time to complete their tasks, with a positive impact on work-life balance.
Following the survey, we interviewed the chairman at Ski&Boot for a global idea on how to manage hybrid work in the best possible way. The key element pointed out by the chairman is that each company has different needs, and the model should be designed coherently. Ski&Boot is a manufacturing company which requires a lot of work being done at the office. However, it can still benefit from integrating hybrid work into the business.
Hybrid work can particularly improve time management for meetings or tasks that require low interaction and result in more work being done in less time, as Charmain explains."