Taking up the challenge with a remotely final stretch!
Edouard MICHEL, Human Resources & University Director of the Manutan Group highly appreciated this collaboration.
"We have been happy to start this new partnership with ESCP. We were proud to host the ESCP "Design thinking" students led by Anna Glaser at DREDA, our European HQ. Entrust strategic business projects to new generations is for Manutan really inspiring and the students demonstrated a high level of work and challenging ideas. Those students who will be the "leaders of tomorrow" are, for sure, our "talents of tomorrow". This partnership is just a beginning between Manutan and this prestigious school which is ESCP", he said.
Jury's members were: Corine WAROQUIERS, CEO & Co-Founder Storymakers, Quentin BITRAN, Interdisciplinary Designer, Anna GLASER, Assistant Professor ESCP, Thomas CHAMPENOIS, Human development projects manager of the Manutan Group and the 8 project sponsors from the Manutan Group: Léa MAURAND, Group Private label manager, Julien POISSON, Group Replenishment director, Marco VERDONKSCHOT, GM of IronmongeryDirect, Jérôme BRAUD, GM of Rapid Racking, Albert VAN DER ZWAN, Marketing Director of Manutan NL, Caroline DELATOUR, Quotation manager of Manutan France, Henri ADREIT, Group IT & Digital director, Laurent MICHEL, Marketing Manager of Casal Sport.
---
Difficult task for the Jury to select the 3 winning teams among the 14 "on competition" who have been working on 8 different projects since January.

The Design Thinking Excellence Prize goes to the team that has been dealing with "Flawless digital experience for quotations with a chat feature" and that was sponsored by Caroline DELATOUR, Quotation manager of Manutan France. Congratulations to: Sophie PILLET, Manju MANJU, Ajinkya Jayant CHOPADE, Abhishek SHARMA, Facundo WEGBRAIT and Manuel RITZ.
"Very nice experience to see such motivated students! From a personal point of view, it was also very interesting for me, because to explain the stakes of quotation management is not so easy. Feedback from the students was innovative, and they were concerned by the topic and really tried to find very customer-oriented solutions, particularly digital solutions. They confirmed ideas to develop new customer digital experiences", said Caroline DELATOUR.
The Best Video Pitch Prize goes to the team that has been dealing with "What kind of sustainable new business activities can Manutan create?" and that was sponsored by Albert VAN DER ZWAN,
Marketing Director of Manutan NL. Congratulations to: Hao Ran YU, Somya GUPTA, Aditya BHARDWAJ, Gurpreet Singh WALIA, Florencia Victoria DRAGONE KESTERNICH and Isotta MORMILE.
Albert VAN DER ZWAN enjoyed the experience in sponsoring a project with ESCP students. "They were able to thoroughly understand the assignment and the context without much guidance. They came up with good new business ideas that got me thinking. Manutan should definitely continue to sponsor ESCP students."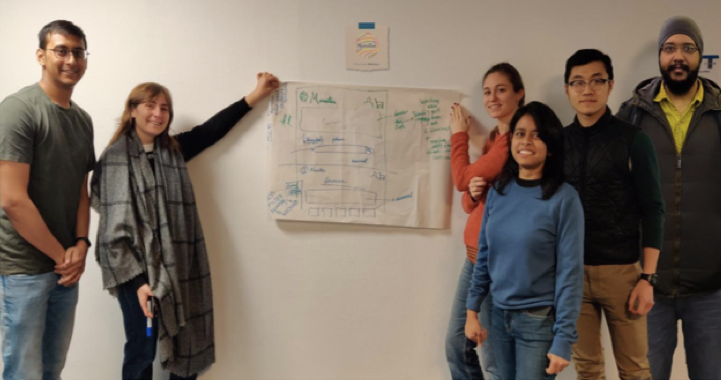 The Business Solution Excellence Prize goes to the team that has been dealing with "How can Manutan make its Private Label Business more Socially Responsible ?" and that was sponsered by Léa MAURAND, Private label Manager of the Manutan Group. Congratulations to: Kendall CONNELLY, Ravi Anand JHA, Srikar Kamesh KOMPELLA, Harry MCCANN, Erika SofÌa GARCÕA GARZA.
Lea MAURAND liked the fact that external people brought her new ideas that are invisible when one is working every day on the same subjects. "I am convinced that students have a huge faculty to bring different & more modern ideas to the company. I personally wanted to bring students something new, a new experience. But they also brought me a new experience and innovative ideas. At the end, I think we both have learned from each other, and I really appreciated this. Students reinforced some ideas by giving me more sense and concrete elements and brought new ones that I could not even imagine. We'll do our best to implement their ideas! The Covid-19 distance between us did not stop us. It seemed important to me to professionally manage the final stretch after all the work they've done before for Manutan. We mainly exchanged by email, a final visio where they explained me in detail their choices, and I have relied on their report to have a 360 view on their project."
Congratulations to all the 14 teams!
---
How students went through this challenge?
"Despite the isolation phase generated by the Covid-19, students gave an ample proof of their high agility and amazing commitment. They started the projects in January, but because of the Covid-19, they had to finalise the projects remotely across various time zones, ranging from America over Europe to Asia. I'm very impressed how they navigated through this very special design thinking process. Valuable results have been presented to Manutan and students were very happy to work for a real client! This shows that building bridges between students and companies is an enriching experience for all", explains Anna GLASER.
---
Let's see the students' feedback:
Why did they choose to attend the Design Thinking course?
For Manuel "Design Thinking is crucial for every student in management. Design Thinking enhances student's problem solution skills and their creative confidence to find human centric solutions for complex real-world problems. In my case, I signed up to get a new perspective on the method from another academic context and because ESCP enables us to work on the project with a highly diverse team. »
Srikar Kamesh was also already aware of Design Thinking as a practice before joining the course. He got interested after watching a TED talk by Mr. David Kelly, but has never applied the methodology before.. "Luckily I had the opportunity to experience the process myself through this program."
What did they learn from the project's process in terms of new skills you have developed or enhanced?
The biggest takeaway for Srikar Kamesh is : "Do not rush to an answer! Spending more time in understanding or empathizing helps us to frame the problem more accurately. Defining the problem right is winning half the battle."
The 3 main lessons for Manuel are: "showing empathy first to better understand the problem, not thinking too early about the solution and working in multicultural teams. »
Somya explains "we had different perspectives based on the experiences but one thing we all learnt was to gain customer perspective and always design the product keeping the end customer in mind. »
What did they learn from the experience of finalising the project remotely with your teammates and sponsors?
Srikar Kamesh learnt a lot from collaborating with people from different time zones. "It was a very insightful experience that required us to communicate effectively to ensure the work got done."
Somya points out "the role of trust in your teammates, which is key."
What is the role of such projects in the pedagogical process?
"It is a great opportunity for all the students to work on a real business case of an established company. Students can deal with real data and insights, which also means to face some challenges you would not experience in an academic case study. Moreover, the students get to know a new company and new business. This definitely increases the learning experience and the motivation of all students." explained Manuel.
"Such projects give students the right combination of responsibility and freedom. While we were responsible for our projects, we also had the freedom to formulate, explore and implement out of the box ideas while making mistakes and correcting ourselves along the way", enjoyed Srikar Kamesh.
---
Design Thinking courses is supported by Manutan and the Jean-Baptiste Say Institute