Welcome to Manutan as corporate partner!
In line with its objective to constantly conquer new talents to prepare for the future, Manutan, the European leader in e-commerce specialised in B2B distribution, has concluded a sponsorship agreement with ESCP Business School - under the aegis of its Foundation - to support the Design Thinking course.
The course is supported by the Jean-Baptiste Say Institute.
For Professor Robert Sheldon, co-coordinator of the course together with Anna Glaser, "Design Thinking is a method of innovation really action-oriented. What could be more natural than associating a company that will offer our students extraordinary learning grounds. I'm looking forward to this partnership with Manutan, whose entrepreneurial culture will be rich in lessons."
The Design Thinking course, is one of over 100 offered in the Master in Management programme. A record 82 students enrolled this semester.
Students Harry and Mia, both from Ireland, "were not so familiar with the Design Thinking process, but are eager to learn more about the strong potential of this method of innovation!".
Luis Fernando from Colombia learns as much as he can about innovation, as it a skill he wants to develop. "Before starting the course, I knew what Design Thinking was but now I'll learn how to use it".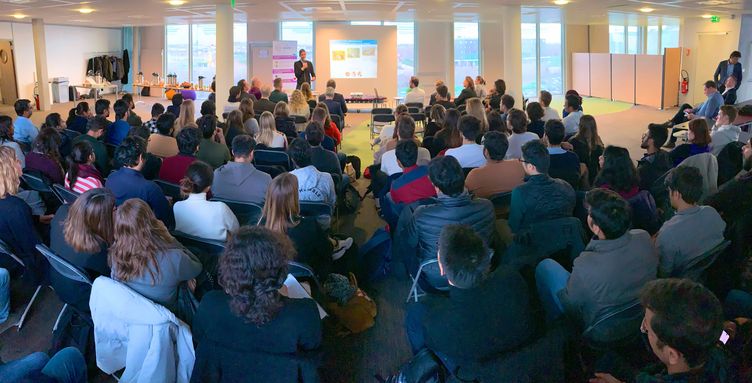 On 29th January the students were invited to an experiential learning at the European headquarters of Manutan, a company certified as "Best Workplaces" by Great Place to Work institute.
A 4-hour session as a deep dive into Manutan's culture, designed by Edouard Michel, Group Human Resources & University Director, who kicked off the day. "This collaboration with ESCP students was very refreshing thanks to their incisive and challenging questions!".
Manutan CEO Xavier Guichard explained to the students how the family-run company founded in the 1960s has become an European leader in B2B e-commerce. "Created with an entrepreneurial spirit, we still believe that business is done by people", he explained. "In a highly competitive market, transformation and agility are key. It is therefore crucial for us to be in contact with the new generation, who are the leaders of tomorrow. That's the reason why we opened our doors and shared the exciting challenges we are facing such as defining new business activities and improving existing products and services".
Twenty-some managers from Manutan (including the 8 sponsors of the 8 course projects) were in attendance.
Professor Anna Glaser, warmly thanked them all. "At ESCP, we believe it is essential to build bridges between companies and the academic world. When students meet companies it is always an enriching experience. And this company-located session shows once again how generous companies are in offering field experience".
A first part of the study trip was dedicated to the visit of the site: the Corporate University, the Sales and Marketing departments and the warehouses where 2000 orders come in daily.
The students then split into 14 groups, and met with the project sponsors to get insights to better understand the issues around the 8 projects provided by Manutan.
Students practiced the Design Thinking method, whose 1st step is about empathy: questions which explore and identify problems related to the case at hand.
"At this stage of the Design Thinking course, we are still in the problem definition phase. The time for figuring out solutions comes later," reminded Anna Glaser. This is no simple feat for students who have been trained, from their early age, to find a solution as soon as they face a problem.
"We are used to behaving that way: we have a problem? Let's find a solution! But with the DT method, the challenge is to start with the collection of as much as data we can by questioning, questioning and questioning again. We had to turn off the 'solutions' side of our brain so we wouldn't hamper the exploration process. A great new experience and way of thinking", reported Lucia from Argentina and Florencia from Germany.
Are you curious to know which team will be awarded "Best Project" and "Design Thinking Excellence"?
Look for the results after the presentation of their projects at the end of March.