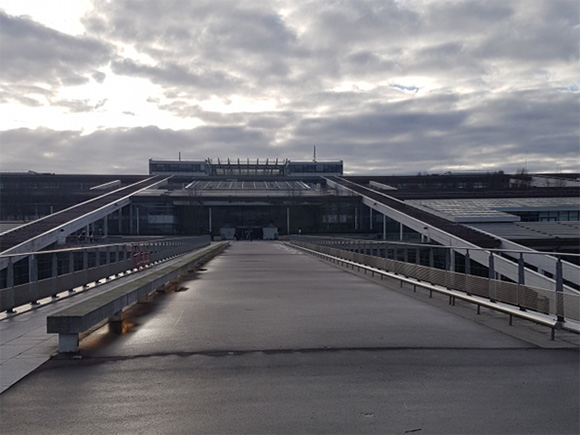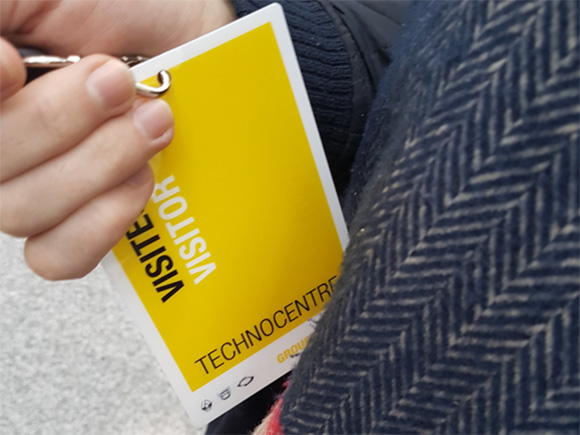 Lucky Students!
A special journey was also designed for them to meet the HR team and experts in leading edge innovations.
The Renault Technocentre
Located in Guyancourt, The Technocentre covers an area of 150 hectares, half of it landscaped and 425,000 square metres of buildings.
Opened in 1998, its purpose is to bring together everyone involved in a vehicle project, grouping all the relevant technologies and expertise at a single site.
Some 13,000 people are employed at the Technocentre, working on all the stages of a vehicle project from preliminary studies to the final prototype ready for assembly at a plant. Their goals include making innovation the core of development, continually improving quality, cutting costs and delivery times, and supporting the international expansion of the Renault Group's models.
The Technocentre's size and strategic importance are unique. A victim of its own success, the Technocentre is regularly asked to open its doors but all demands cannot be satisfied: ESCP MBA in IM students were very lucky to have been invited to access the site.
A 4-hour deep dive into "Drive the future", designed by Béatrice Foucher, VP Talent Management at Groupe Renault.
For Béatrice FOUCHER, VP of Renault Talent Management, "it's crucial for Renault-Nissan-Mitsubishi Alliance to keep in touch with the new generation, with the leaders of tomorrow. That's the reason why we opened our doors and shared the exciting challenges our industry is facing, such as digitalization, autonomous driving or electrical vehicle. It was a great pleasure to contemplate students' interest, their curiosity, their enthusiasm. This was also refreshing and stimulating to answer to their very relevant and challenging questions!"
A first part of the journey was dedicated to presentations from HR managers and experts: Béatrice FOUCHER – VP Renault Talent Management, Mélanie ALEXANDRE – Head of Corporate Human Resources Communication, Eva PEREZ – HR Project Leader, Naeem HATIMI – Alliance HR Director for Autonomous Cars & Mobility Service, Elie ELBAZ – VP, Digital and Connected cars, Bruno VANEL – Program Director, Electric Vehicle Platform EV2020 and Nicolas FREY – Program Director, Autonomous and Connected cars.
Véronique Tran, Professor at ESCP and Associate Dean of the MBA in IM and Pascale Martin Saint-Etienne, MBA in IM programme Director warmly thank the Renault teams who involved in this learning expedition. "At ESCP, we strongly believe it is key to build bridges between companies and the academic world. When students meet companies it is always an enriching experience. Students had the opportunity to listen to very inspiring presentations. They can better understand what the Renault Group stands for in terms of human capital and how diversity and multiculturalism are part of the DNA of a French company that became an international Group. Passionate managers took the floor to present big challenges in a sector undergoing full transformation. Autonomous, connected and electric cars were at the heart of the discussions. We all learned a lot!"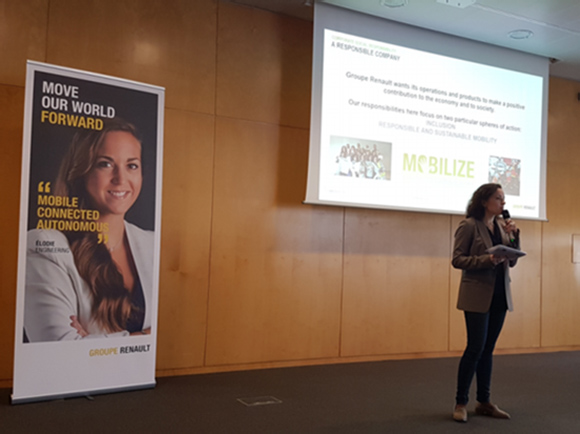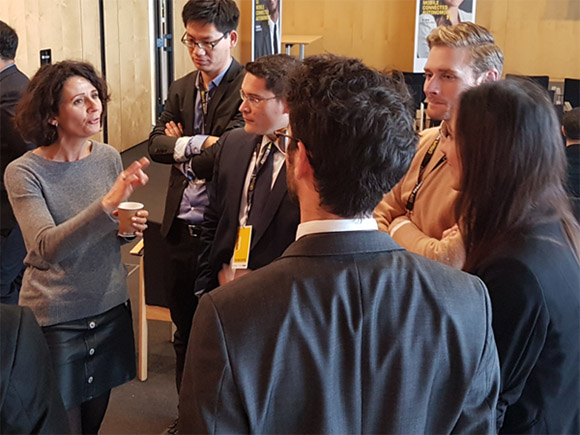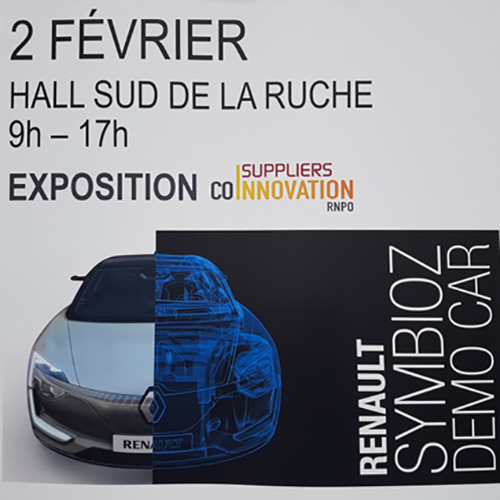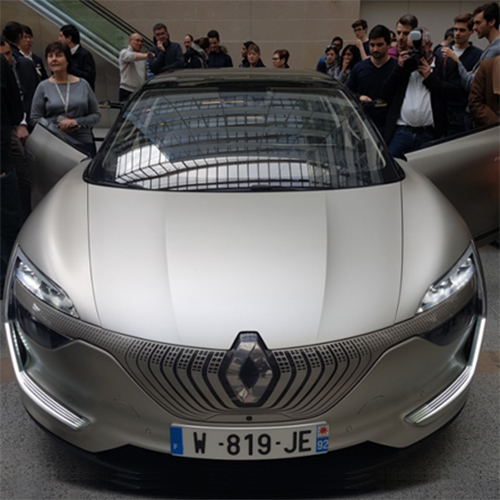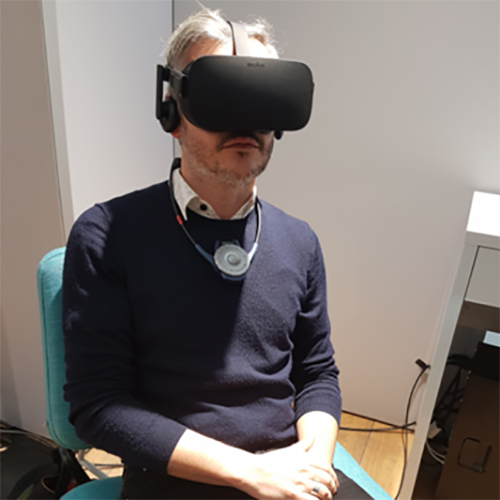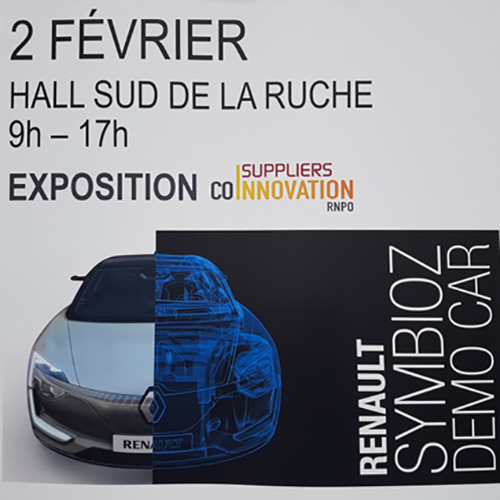 Students were then introduced into the "Ruche", the heart of the building, where a dedicated workforce invents the vehicles of tomorrow.
The date was perfectly chosen as the Symbioz concept car was showcased.
There is only one single Symbioz in the world and students were fortunate enough to sit in it! They also experimented with the VR game Renault developed in partnership with Ubisoft to make the Symbioz experience even more powerful for the driver of the future.
This company visit was really unique. What students enjoyed the most are "the eye-opening experience" and the "top notch experience":
"I entered expecting to learn of a large yet traditional automotive manufacturer; I left inspired by a digital innovator."
"It was an impressive journey with an attractive Group which tackles challenges with agility and inspiration."
"It was a pleasure to see women in top positions in a field which most of the time is affiliated to the men's world."
"I experienced my journey at the Renault Group as an enriching drive that pushed forward the limits of our minds by demonstrating to us that it was possible to pave the way for great innovations in the transport and the energy industries, while placing at the core of their development strategy the most creative machine of all times : human beings."
Your visit at technocentre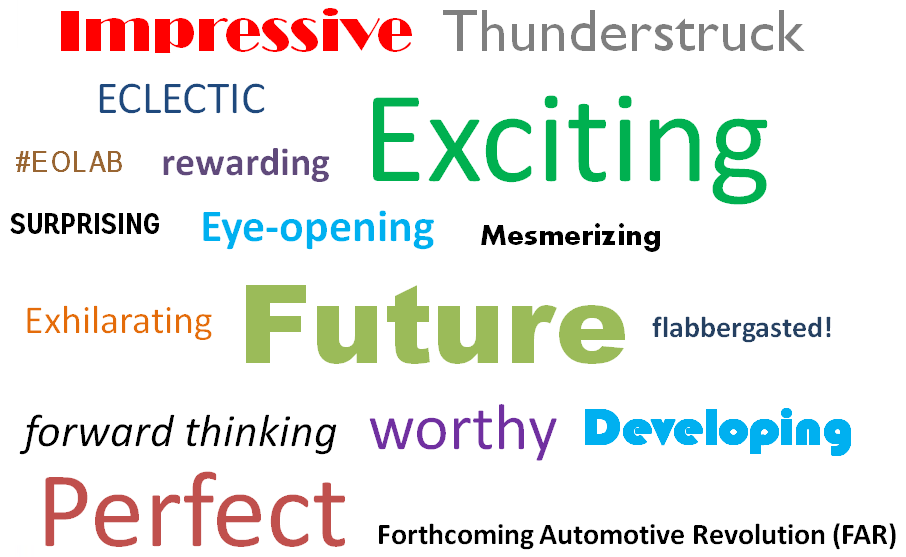 Groupe Renault is also partner of ESCP, within the Intercultural Management chair