Projects focused the future of plastics involving partners such as Citeo and Deloitte.
In our VUCA world, especially now, one thing is certain: responsible and collaborative leadership are key competencies to lead and manage companies which will contribute positively to the resilience of our societies.
That is why ESCP business school integrates ethics and sustainability principles at the heart of course content: course on circular economy plays a key role as it promotes sustainable business models, enabling shared value among partners and preserving natural resources.
Last semester, 45 Master of Science in International Sustainability students attended the 30-hour course "Circular Economy: towards sustainable business models". Within groups of 5 to 6, they worked on projects focused the future of plastics involving partners such as Citeo and Deloitte.
Usually, the jury session is an opportunity to bring companies partners at the ESCP to meet the students… This year, due to the Covid crisis, the format has evolved revealing great capacities for perseverance and creativity among our students!
"They were supposed to present their work in groups but due to Covid crisis, we asked them to produce videos in addition to classical documents, to facilitate the final jury work," explains Professor Aurélien Acquier, scientific co-Director of Deloitte Circular Economy & Sustainable Business Models Chair. "The results wowed us! I'm grateful, proud and a bit jealous of our students' video editing skills".
"New consumption & logistics trends : the case of bulk" developed by Kai Van Harten, Kira Loy, Benan Urgun, Bénédicte Ramon, Lea Macia and Marco Bertoletti's work, won the first prize. One of the results of the study is to show that, paradoxically, the use of bulk is not necessarily the best solution to reduce the volume of plastic waste.
"As shown by our students, real life is a bit more complex than what it looks. Why? Because removing the primary packaging (the one directly wrapping a product, as in bulk) has significant impacts for the previous actors involved. All steps in the supply chain need to be assessed, secondary and tertiary packaging need to be tackled as well. This detail makes a huge difference when it comes to assessing the total packaging impact of bulk selling", explains Professor Aurélien Acquier.
Check out their presentation here.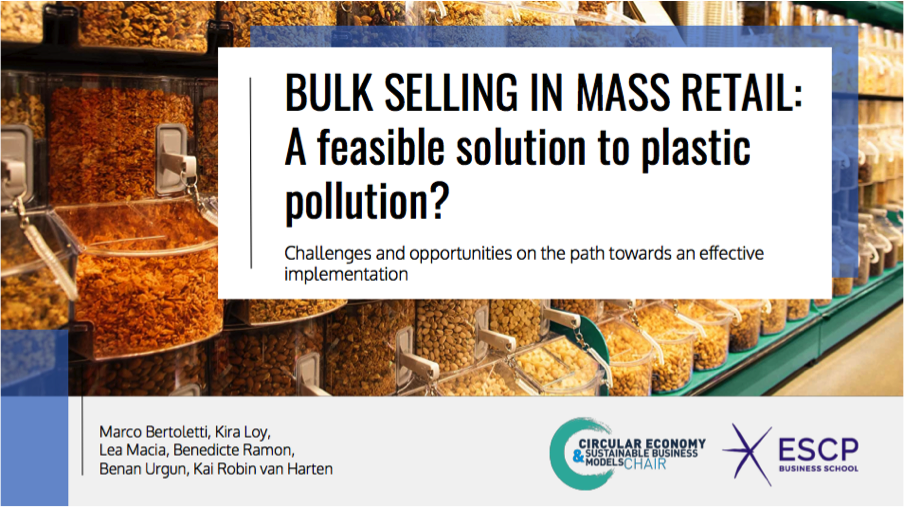 The second Prize went to Valentina Gregorcic, Marie Meyer, Florian Purschke, Manon Septfons, Baptiste Therin and Eugenie Zervos for their project: « Plastic Perception and use among young generations (recyclable, single use plastics): practices, perceptual barriers to phasing out and drivers for change ».
Watch their video to see the results of their online survey among young people all around the world.


These projects also provided an opportunity for students to make links with other teachings, such as supply chain or strategy courses.
"For us Professors, it is great when you connect fields and come up with transversal and multidisciplinary approaches. Our students are ready for the challenges of the real professional life!" says Professor Valentina Carbone, Scientific co-Director of the Deloitte Circular Economy Chair and adds "In these difficult circumstances, we highly appreciate their involvement and ongoing interest in their projects."

Congratulations to all the other teams who tackled topics such as :
- E-commerce, marketplaces and circular economy: marketplace or distributors? Legal and accountability issues of platforms
- E-commerce, marketplaces and circular economy: the bright and dark side of e-commerce: environmental impacts of physical flows in e-commerce
- Beyond plastic: eco- innovations and best practices within Fast Moving Consumer Good companies
- Beyond plastic: chemical recycling startups and their sustainability potential
- Zero plastics campus @ESCP Europe: analysis and recommendations for the French campuses