Inpirational talks and networking
Professors Aurélien Acquier and Valentina Carbone brought 70 students from the MiM sustainability Rethink specialisation and from the MSc sustainability management to Deloitte, for a stimulating session, codesigned with Philippe Kuch, one of the most involved Deloitte managers in the Chair activities.
Sophie Lethimonnier, HR Director France, opened the session with a presentation of the ESCP Deloitte Circular Economy Chair, which promotes Circular economy, sustainable Business models and raises awareness among students, and among Deloitte collaborators on sustainability issues.


She left the floor to several partners who pointed out current and future challenges in their areas linked to sustainability.
Olivier Perrin, Partner, Consulting Practice, and Emmanuel Gadret, Partner, Audit Practice each explained that they work more and more with Deloitte Sustainability Practice. Audit is experiencing a deep and challenging transformation: "financial information is less and less predictive of long-term evaluation, we are more and more interested in CSR / Circular information embedded in the financial information that is published. A more holistic approach is the new direction Audit is taking. The delivery model is changing too: audit requires a lot of travelling, but we recently successfully explored remote audit process."
Sébastien Manelfe, Partner, Financial Advisory, recalled that "sustainability is now at the top of the agenda, when dealing with M&A operations. Doing business and managing the transaction value chain nowadays, we must be aligned with clients looking at green KPI's (…) We are expecting people like you to help us building new offers addressing sustainability issues"
Marie Georges, Partner Risk advisory, who manages the Sustainability Practice with 120 people involved, helping companies handle risks (regarding regulation changes, cyber, reputation, climate change, increasing social inequality). She spreads sustainability commitment throughout all the practices; "we need this diverse expertise to help companies change their business models from purpose to operations in order to have a positive impact on the planet and society"
Cyrielle Senechal-Chevalier, Manager in the Risk Advisory Practice, and part time staff for the Deloitte Foundation, explained how Deloitte offers opportunity for consultants to spend some hours every month on projects that are meaningful for them, such as working for social entrepreneurs. "We aim at inspiring our clients, helping them to change their mindset".
Agathe Viano, both Senior Consultant within the Technology Practice and Responsible for Environmental Policy, pointed out the main topics that have been addressed to reduce the company's footprint. Travelling, use of plastic… she helps employees to rethink the way they work within Deloitte and its clients' offices.
Then "speed-consulting" sessions took place to challenge the student groups. 30 Deloitte consultants coached 14 student group works on the future of plastics, packaging issues. These projects are developed in partnership with the ESCP Deloitte Circular Economy Chair.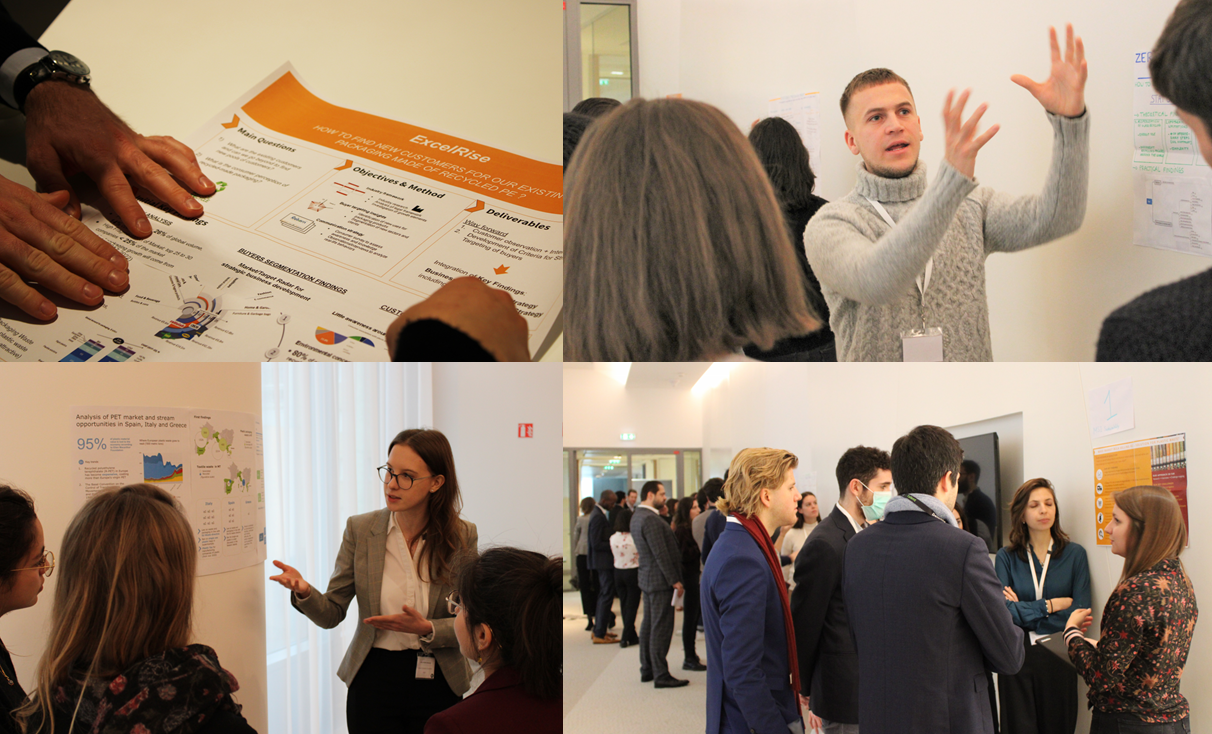 For Professors Aurélien Acquier and Valentina Carbone, "It was a really great experience. Inspirational talks and friendly and competent advise to our smart students."
Kai van Harten, MSc. International Sustainability Management student enjoyed the experience: "It gave me insights into how Deloitte is tackling #CircularEconomy and #Sustainability challenges. My group and I got to present and discuss our current findings relating to the research topic of plastics waste reduction, with managers and consultants with expertise in the respective fields. These discussions allowed us to gain additional insights into these areas and provided us with a better understanding on how to advance with our project."