Master of Science (MSc) in
Marketing and Digital Media
A first step in a successful and international professional career.
Objectives of the programme
The MSc in Marketing and Digital Media aims to equip students with the skills and knowledge to succeed in an international, cutting-edge career in marketing. To do so, the programme focuses in how to apply key strategic marketing aspects in an increasingly digital and globalised world.
The programme includes an International Seminar in Silicon Valley, two terms of courses in Madrid, one term in the London or Berlin campuses, and one term of professionalisation to complete the master thesis and a company internship.
Key aspects of the programme
A postgraduate programme accredited by the French Conférence des Grandes Écoles*
A multicampus programme that brings together leading professional perspectives and intercultural experiences
A combination of courses, seminars and workshops with a strong focus on the development of digital, analytical, communication and development skills
A "learning by doing" programme to develop your professional skills, network and career
A personalized experience with a world-class faculty, professionals and staff members
*ESCP declares that the MSc in Marketing & Digital Media is a private ESCP diploma. This Master does not lead to an official diploma in Spain (law 84/2004 BOCM)
Student background (Class of 2019)
We are aware that creating greater multicultural awareness and inclusion help students not only to have a better vision of marketing topics but also to thrive in an exponentially diverse world.
Students on the MSc in Marketing and Digital Media programme are from more than 20 different nationalities and have being selected based on their international exposure, professional and academic backgrounds.
Diversity in classroom will prepare students to adapt to an evolving world, work in teams and embrace those different from themselves.
Management/Business: 41%
Marketing/Communications: 27%
Engineering: 4%
Technology and Computer science: 3%
Economics: 1%
Languages/Literature: 4%
Political Science: 3%
Arts, humanities and Social Sciences: 10%
Commerce: 3%
Hospitality Management: 3%
Other: 1%
---
---
Open-Mindedness and Diversity
The interaction with teachers from more than 20 nationalities guarantees a greater depth in multicultural learning. Students of the MSc of Marketing and Digital Media come from various countries and have different backgrounds: engineers, doctors, pharmacists, students of literature and law, etc. They form a group of multicultural participants, which makes exchanging and working in groups all the more enriching.
Aware that you all have your own identity and personality, the programme aims to make you curious and versatile to help you succeed in your future professional life.
This Master has trained more than 600 participants. They now occupy strategic and operational marketing positions and communication in a variety of companies worldwide.
Alumni Testimonials
"Studying with people all over the world gives you a broader way of thinking- this is a crucial point when working at PUMA. With the workgroups, I develop patience and comprehension. The case studies made me work more strategically. ESCP (MDM) gave me the tools and the confidence that I use in my job daily."
Marta Rodriguez Sainz
PUMA European PR Manager
Class of 2016
LinkedIn
"The MSc in Marketing and Digital Media experience equipped me with the right skills and wide-based knowledge of the opportunity for digital in business, helping me become a confident marketer and optimistic about technology."
Domenic Boni
Associate Product Marketing Manager at Google
Class of 2016
LinkedIn
Scientific Director
---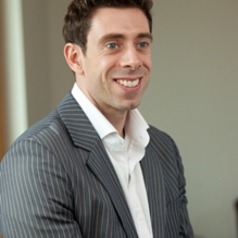 Héctor GONZÁLEZ
Associate Professor in the Department of Marketing
PhD in Marketing by the University of Bradford School of Management, UK
Research areas: cross-cultural consumer behaviour, body image & consumption, and human-robot interactions.
Executive Director
---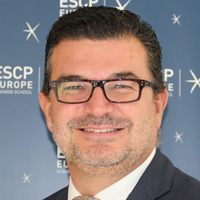 Niko MUÑOZ
Senior Teaching Fellow in the Department of Marketing
PhD in Business Administration by the Pontifical University of Comillas (ICADE)
Research areas: Digital business strategy and business model, Digital marketing & integrated marketing management, Changes in consumer´s, Digital media management.
About the ESCP MSc
The choice of a Full-Time MSc corresponds to a professional project and gives young graduates and young managers a combination of high-value skills sought by recruiters.
This programme provides academic expertise and presentation of the best professional practices. Our goal is to train experts who will be rapidly able to progress in a globalized world. Choosing a "Full-Time Intensive" format allows, at the end of a short and dense tuition, to have an immediate access to decision-making leadership positions.
Master of Science (MSc) in
Marketing and Digital Media
Curriculum
Our programme targets your expertise
The MSc in Marketing and Digital Media (90 ECTS) will teach you what is required in highly competitive international and digital markets.
The aim of this Master is to ensure that students master the wide range of marketing and communication tools and develop specific management skills to meet current business needs.
This full-time programme takes place over 9 months (15 months including internship and thesis) and is divided into four terms. You have to be proficient in English to follow these courses.
A full-time programme
The programme begins at the end of September and is organised as follow:
Course Modules
9 months of theory classes, study of expertise, and practical cases
The courses address both theory and real-life applications. They are taught from the end September to June by ESCP Faculty and successful professionals. Are also included numerous meetings and seminars with professionals in this sector.
Term 1
Sep-Dec – Madrid
Data and Analytics for Decision Making
Introduction to Digital Marketing
Brand Building
Strategic Marketing Decisions: Business Game
Customer Experience
Finance for Marketing *
Digital Project Management for marketers *
Digital Analytics 1: Website design and coding project I
Digital Analytics 2: Google analytics
Digital Talks I
Effective Communication & Cross-Cultural practice
Personal Development
Career Workshop
Master Thesis Seminar
Madrid- Live Case Study: L'ORÉAL
* Elective Courses
Term 2
Jan-Apr – Madrid
Communication 360
Integrated Mk Communications and Advertising in the Digital Age
Media planning and buying negotiation *
Robots and AI in Business *
Branded Content
Creativity in Communication
Social Media Mangement
Mobile Strategy
Pricing & Customer Value
Research Methods for Marketers
Digital Analytics 3: Website design and coding project II
Digital Analytics 4: SEM & SEO
Digital Analytics 5: Google Adwords
Madrid- Live Case Study: WAVEMAKER
* Elective Courses
Term 3
Go-To-Market Specialization Tracks
Apr-Jun – London or Berlin & Madrid
London
Digital Transformation and Entrepreneurship track
Digital Fashion and Luxury track
Berlin
Big Data & Analytics track
Madrid
Strategic Planning for Consultancy Projects
International Consulting Project and Closing Seminar
Term 4
professionalization
Jul-Dec
The aim of the international seminar is to give you a comparative perspective on managerial and cultural practices, to meet with professionals in the field abroad, to attend lectures and visit companies. The international trip to Silicon Valley, San Francisco (U.S.) is a great opportunity for you to get in contact with top notch companies in the area like:
Google (and Youtube)
Airbnb
Electronic Arts
The Great Place to Work
DDM Advertising Agency
Gyro Communication Agency
Organge FAB
Sony
Startups
Note:
Company visits change each year.
Based on a learning by doing methodology, the MSc in Marketing and Digital Media gives the students a hands-on chance to deal with real-world company challenges, get familiar with business reality and a collaborative approach by working in groups from different educational backgrounds and nationalities.
The ICP
The international Consulting Projects (ICP) are real life projects commissioned by companies, which allow the students to put into practice the concepts and digital marketing tools learnt in class as well as fostering their skills and professional behavior for an international and multicultural business context.
Organized in Teams
Students, organized in teams supervised by professors, are assigned to a company's challenge or real life marketing problem. Those projects are business initiatives that our partner companies want to address. Students need to analyse in-depth companies' requirements and find solutions and propose actions plan that solve the company's requirements.
Examples of Projects
Projects can cover a range of areas including marketing, consumer research, new product development, data analysis, optimization, forecasting, and project management and decision analysis. Examples of project done in the past are: A data analysis to predict future commercial opportunities for a media planning agency. A Plan to target into new markets for international expansion for a fintech, a social media platform or a newly lunched product. Guidelines to design innovative point of sales activities for a FMCG company. A marketing plan for a B2B company in specialized consulting services. A marketing plan for a B2B company in big data analysis.
Professional mission
A professional mission in the form of an in-company internship of at least 4 months.
From mid-April to end December, you must complete an in-company internship of at least 4 months (though often lasting for 7-8 months). ESCP assists you in locating internship opportunities and networking with companies.
The internship is an opportunity for practical application of the theoretical concepts learned from courses, with an eye to establishing a career. In many cases, corporate employers consider the internship as a trial period for a permanent position.
The Corporate Relations Department
The Company Relations Department is dedicated to gather placement offers from many companies. The department also organises a series of fairs involving firms, giving you many opportunities to make contact.
The Professional Thesis is the best way to develop and put into practice the learning and skills the students have acquired during the programme in order to go further with the topics they are interested the most in the marketing field.
An original research
The professional thesis is an original research of a particular topic that is developed utilizing quantitative, qualitative methods and digital marketing tools to explore a specific communication trend, event or phenomenon.
Supervised by a member of Faculty
Students receives a supervision by a member of Faculty or expert in the relevant field during the development of their professional thesis. Students are oriented to select a topic of personal interest or one highly related to their profile and analyse how the issue relates to broader concepts and to other sectors and types of companies in order to draw valuable conclusions
In final
At the end of the programme, a written thesis is submitted and the best projects are invited to the campus for awarding them by their special contribution to a particular field.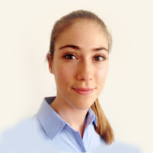 Testimonial
Viktoria Pioch
Junior Product Manager at L'Oréal
Class of 2017
"At ESCP, I did not only benefit from a dynamic, international and high-quality learning environment, but also from a global network that encourages innovative thinking and academic exchange. In this regard, I highly valued the programme setup which combines lectures, professional seminars and live case studies to help students to develop marketing concepts, make strategic and operational decisions and support the trends in digital marketing. With my experience at ESCP, I now feel ready and confident to start my career."

Testimonial
Charles FRICKER
Web Marketing and Operations at StudentBackr
Class of 2015
"It's pretty simple! When I came to ESCP with my generalist BBA, I wanted to specialize and acquire more knowledge in order to work either for a big tech company or a startup. Through the year, I got to learn the last digital marketing methods, met and worked with start-ups, evolved in a dynamic Spanish environment and made new friends and lived in Madrid. At the end, I got an internship in innovation for a big bank and now I am working for StudentBackr, a tech startup. Plus, I feel great! What else?"
Master of Science (MSc) in
Marketing and Digital Media
Careers
Placement Report
Job Survey conducted among graduates from the class of 2016.
98%
are currently working
less than 3 months after graduation
90%
have a job
in an international dimension
Salary
€31,000 average annual salary
Sectors
50%
Communication/Advertising
10%
Commerce/Distribution
10%
Energy
10%
Consulting
10%
Information technologies
10%
Agribusiness
They held positions of…
Product Manager
Project Manager
Brand Manager
Direct Marketing Manager
Sales Promotion Manager
Advertising Director
Marketing Research Manager
Event Planning
Customer Service Manager
Press Relations
Communication Director…
Companies Hiring
Bouygues Telecom – Vinci – L'Oréal, Danone – Nestlé – Coca-Cola – Renault – Unilever – Guerlain – Clarins – Club Med – Wonderbra – Dim – Moët & Chandon – Publicis – DDB – TBWA – Crédit du Nord – Société Générale – Microsoft France – Johnson & Johnson – Pfizer – Sanofi...

Testimonial
Guillermo MOLINA
Account Manager (LCS) at Google
Class of 2013
"When I decided to study the ESCP MSc in Marketing & Digital Media I sought greater expertise in this field and added value for my future. Indeed, after almost an unforgettable year, I learned to think like a professional and apply what I learned while having one of the best years of my life. Our professors were professionals in their respective fields; they make you think like a pro and teach you to adapt to the world of business. This Master gives you the opportunity to learn Marketing focused on running a business from the point of view of a manager. It is a good opportunity not only to consolidate prior learning, but also to reinforce and learn new approaches in this field. In addition, the Master's multiculturalism allows you to work and compete with the best students worldwide. Teamwork is essential. This Master, without a doubt, has changed my vision for the future and gave me access to world-class companies"

Testimonial
Marguerite LITTAYE
International Project Manager at L'Oréal
Class of 2014
"After a nine-month internship in L'Oréal Portugal as Assistant Product Manager, I realized that I needed to acquire more skills for the career I wanted to follow. I decided to do my Master at the ESCP Madrid campus and I was not disappointed; classes were taught by international professors with different and complementary experiences, all experts in their fields, with careers in important agencies, consulting firms or companies. Access to the ESCP network of French companies, made finding my internship easier than I expected. After six months in the Marketing Development Department at L'Oréal, I was hired as a Project Manager for a brand that has recently been purchased by the group: Puma. I recommend this MSc in Marketing & Digital Media to everyone. They will have to be ready for a hectic year and willing to give the best of themselves for a year! It will definitely prepare you for your entry into the working world!"
Master of Science (MSc) in
Marketing and Digital Media
Admissions
IMPORTANT
The admission teams are working hard to maintain admission exam schedules as originally planned, in light of the special circumstances created by the COVID-19 pandemic.
For the time-being, candidates are advised to remain focused and proceed as normal. We are doing everything possible to minimise the impact the current circumstances will have, while continuing to maintain the highest health standards.
Our teams will remain available to reply to your questions, and will be in touch as soon as new information becomes available.
Admission requirements
A Bachelor or Master degree in any field of study
Minimum 180 ECTS
Advanced English level: C1

TOEFL IBT: 100
TOEFL written: 600
TOEFL computer based: 250
IELTS: 7
Toeic: 800
Average age 23-32
12 months of professional experience is recommended
International profile
Real motivation to join the Master and for a high-level career in this field
Procedure
Applications are examined in the order of their arrival; they must be submitted as early as possible. We have rolling admissions. After the application package has been reviewed by the Admission Committee, the candidate will be notified whether he/she will be invited for the admission exam and individual interview.
Step 1: Application form
Applications are made online. Please ensure that you take plenty of time with this form and answer all the questions there in as fully and thoughtfully as possible.
The main elements of the application include:
Detailed professional experience
Personal statements (Cover Letter)
2 letters of reference (online form available in the application) - at least one of them has to be from a professional experience
An updated CV
English language test result (if applicable)
Copies of passport and university transcripts and degrees.
Please ensure that all required supporting documents are scanned and uploaded during the online application process.
Please note: you will still need to submit the originals to the admission team. For full details of the application requirements, please see the online application. An application fee of €130 is required to cover processing of the application.
Step 2: Personal Interview & Exams
Written tests
A multiple choice test of English proficiency
The numerical & verbal reasoning test
Students holding a TAGE-MAGE or a GMAT score and a TOEFL or a TOEIC listening and reading score or IELTS score (taken within the last two years) do not take the ESCP written tests and must submit a copy of the results of these tests in their application file.
Candidates whose written application and admission exam are accepted will be invited for an individual interview, which plays an essential role in assessing the abilities and motivation for joining the program. Interviews take place from November to September each year.
Step 3: Confirmation
Admission decisions are sent out by email and post within two weeks of the Admissions interview.
From the moment of notification, students have a maximum period of 30 days to pay the registration fees and thus, confirm their place.
Admission Calendar
We have admission sessions every month as is indicated below *:

Application
Sessions
Application
Deadline
Admission
Session
November
8 Nov 2020
19 Nov 2020
December
29 Nov 2020
10 Dec 2020
January
10 Jan 2021
28 Jan 2021
February
7 Feb 2021
25 Feb 2021
March
7 Mar 2021
18, 19 & 23
Mar 2021
April
4 Apr 2021
15 Apr 2021
April
18 Apr 2021

28 & 29
Apr 2021

May
9 May 2021
20 May 2021
June
23 May 2021
9 & 10
Jun 2021
June
13 Jun 2021
24 Jun 2021
July
4 Jul 2021
9 Jul 2021
(*)We'll have admissions per month only if we have slots available.
Careers
Fees & Financials
Master of Science (MSc) in
Marketing and Digital Media
Fees & Financial
Application Fees
A payment of €130 for application fees payable to CCIP ESCP.
Please note that this is non-refundable.
Fees
The fees for the academic year 2021/2022 are set at €20,350 (for all students, both EU and non-EU)
Early bird rate: 10% discount until March 31st.
Information on the payment methods for both the programme fees and application fee can be found in our online application form.
The programme tuition fess include:
In-class modules at ESCP Madrid & London/Berlin
A tutor guided International Consultancy Project
Learning materials
Career orientation & workshops
International Seminar travel and accommodation costs
Fess do not include:
Travel, accommodation and living costs for sessions in Madrid, London/Berlin are not included, nor the diets or extras during the International Seminar.
Loans & Bursaries
A programme such as the MSc in Marketing & Digital Media is perhaps the most significant investment that you will make in your professional life and your future. Below are some options to help fund your time at ESCP.
BBVA: Offers two loan options for ESCP students
Option 1: Master and Courses Loan
Loan holder: student or parent
Maximum amount: up to € 75,000
Interest rate: Euribor + 4%
Repayment period: up to 8 years
Fixed Opening Commission: 1,50%
Option 2: Master Blue Loan
Loan holder: student or parent
Maximum amount: up to € 50,000
Interest rate: First 6 months (Euribor + 0%), rest period (Euribor + 6%)
Repayment period: up to 10 years
Total lack of capital and interests: up to 24 months
Banco Sabadell
Highlights of the ESCP´s agreement with Banco Sabadell offers two ways of financing our degrees:
Tuition loan. Interest-free, short -term loan up to 18,000€, to be repaid in 12 months
Loan. Long-term loan to be repaid in a maximum of 10 years following the loan applications.
Bank Sabadell reserves the right to refuse the loan if, at the time of submission of the loan application, any circumstances pertaining the person(s) applying for the loan come to light that could alter decision regarding whether to grant the loan.
FUNED-CONACYT Scholarship
Provide complementary financial aid and shorlarships for Mexican students who wish to pursue their master´s degree abroad in top ranked universities.
Students obtain FUNED Financing + CONACYT Scholarship + ESCP Scholarship.
Important
Any decisions regarding the loan itself are made by the banks in question and ESCP does not have any say over or responsibility for their final decision.
Conditions and requirements are set by each bank and/or institution; students are responsible to go over them directly with the bank/institution. ESCP does not guarantee that the loans will be granted.