ESCP Business School and Sopra Steria Next signed a partnership to prepare tomorrow's leaders for the challenges of business transformation


ESCP Business School and Sopra Steria Next have announced the signing of a three-year partnership agreement. The world's oldest business school and Sopra Steria's digital transformation consulting firm are joining forces to prepare tomorrow's leaders for the future challenges of business transformation.
Business School and Sopra Steria Next have set two priorities: co-innovation and foresight to enrich teaching strategies and provide feedback:
- In the era of digital disruption, the conditions for a successful digital transformation that are ethics, trust, sovereignty and corporate responsibility;
- The new competitive models of tomorrow's company based on the conviction that tomorrow's company is no longer what it produces but what it promises to its customers and employees.
This partnership is based on 3 axes:
Employer Brand: Promoting Sopra Steria Next's business lines to ESCP Business School students in order to encourage them to join the consulting firm at the end of their studies
Pedagogy: Sopra Steria Next's involvement in the "Digital Transformation: Understand, Contribute, Manage" specialization of the ESCP Master in Management
Proximity: Alongside the teachers and students of ESCP Business School, Sopra Steria Next wishes to be associated with a certain number of existing or future educational initiatives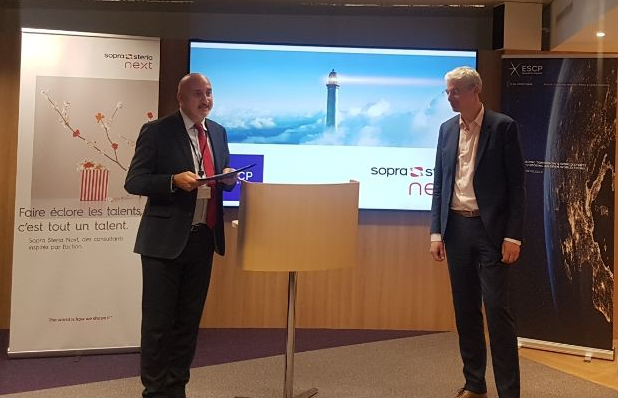 Simon MERCADO, Executive Vice President & External Relations, ESCP Business School, says "I am delighted with this partnership, which puts Sopra Steria Next at the heart of our partnership network and in close connection to our teaching, talent and research. Partnerships of this type constitute a bridge between business and academia and allow for joint initiative on topics as decisive as digital transformation and responsible leadership."
"At Sopra Steria Next, we support innovative approaches and teaching methods that help train tomorrow's leaders in the challenges of business transformation, particularly digital transformation. We are therefore very proud to enter into this partnership with ESCP Business School," concludes Philippe CLAPIN, Director of Sopra Steria Next in France.

Professor Yannick MEILLER, in charge of the Digital Transformation specialization adds: "digital transformation is having a profound impact on society, economy, work as well as on the daily lives of individuals. Regardless of their country of residence or their first jobs, every ESCP student will have to manage this transformation - the biggest challenges are still to come. Some of them will be at the heart of this Digital Transformation - for example the students of the specialisation I am responsible for. In order for our students to become actors of the digital transformation – and in fact actors of all the transformations that will unfold in our world in the coming years and decades – it is important to get used to consider new perspectives, new ways of apprehending management, always with a critical mind. For example, thanks to the support of Sopra Steria Next, the students of the Digital Transformation specialization have discovered what permanagement is."