WHILE CROWDS WERE RUSHING TO THE 2019 EDITION OF VIVA'TECH, A HANDFUL OF HAPPY FEW GOT THEIR TICKET FOR AN INCREDIBLE JOURNEY THROUGH ART & ENTREPRENEURSHIP: THE ART THINKING CONFERENCE
Pr. Sylvain Bureau designed the Art Thinking method, defining it as a method to create the improbable with certainty. Creating the improbable - an unpredictable and implausible situation which can still make sense - makes it possible to go beyond current reality and challenge mainstream values and taken-for-granted assumptions.
To teach this method, Sylvain Bureau and Pierre Tectin (artist) developed the Improbable seminar. Since 2011, over 50 Workshops have been run in 10 countries (France, Germany, Spain, the USA, Japan, Finland), gathering 1500 participants (from companies like Orange, Canon, La Redoute, Galeries Lafayette, BPCE, Sacem…) and 300 Art Works created...
During this three-day workshop, Executives develop key competences needed for the years to come according to the World Economic Forum: critical and creative thinking, entrepreneurial leadership, active learning, emotional intelligence… Through the creation of a piece of art they also rethink their taken-for-granted assumptions and their practices.
Workshops are organized in unique locations like the Centre Pompidou in Paris, the BetaHaus in Berlin or the Block House in Tokyo. This method has already been re-used by world leading institutions like Stanford University or HEC Montréal. Some of the pieces created were exhibited at the Galerie Papillon (see the on-line exhibition) and some are curated on a recently set up Instagram account (see Art Thinking Collective).
The Jean-Baptiste Say Institute amplified the innovative creative approach by organizing the very first Art Thinking Conference, a 3-day long experience, from 16 to 18 May 2019, with workshops, conferences and events that enabled experts as well as curious newbies to discover, learn and/or practice Art Thinking:
16th May
The journey started with a masterclass run by Pr. Sylvain Bureau, on 16 May at the Ecole Pro Centre Pompidou.
He introduced the Art Thinking method and the Improbable workshop.
Marion Laporte, Director of the Ecole Pro, gave the key to Room 3:8… and the masterclass took place inside this amazing piece of art by Leopold Banchini.


Sylvain Bureau explained how learning to unlearn is one of the objectives of this seminar. Some competencies change or become obsolete, which requires questioning what made you successful as an individual and/or organization. In other words, the question does not address doing better what you do, but challenges the values that guide what you do. More than just having ideas, executives need to develop a critical mindset that allows them to apprehend complex problems like climate change, technological or business disruptions.
After this Masterclass, the participants were invited to enjoy the vernissage of the Improbable workshop organized by Groupe BPCE managers. It was an outstanding opportunity to discuss with these managers who endorsed the role of artist for 3 days, and to get their feedback showing the power of this method: "move away from agreed models", "change your perception", "let yourself be taken elsewhere", "leave your comfort zone"...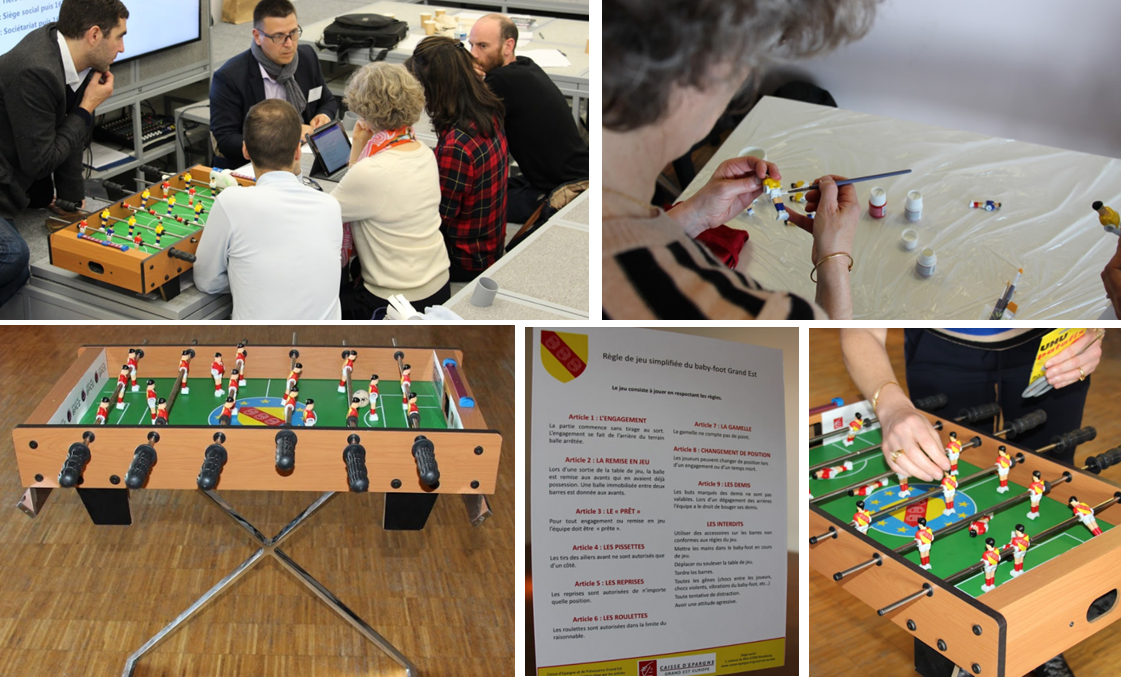 17th May
On 17 May 17h, the 104 was the venue of the Art Thinking Conference, where fruitful discussions took place between experts from Stanford, Aalto or Kyoto University, companies such as famous Venture Capital firm Mistletoe, and Art Thinking instructors from Japan, Norway or Germany.


The subject for discussion was the uniqueness of Art Thinking, and the value of its specific operating processes:
- mixing teaching with conferences, workshops, feedback sessions, and an exhibition involving 2 instructors: one artist and one expert in entrepreneurship;
- the necessary facilitator posture that requires high sensibility to symbolic and social questions, to guide participants throughout the transformation learning process;
- the extremely challenging task of paying attention to the rhythm: the 3 day long delivery of the Art Thinking method requires a lot of energy from both participants and instructors (engaged in an artist / teacher duo).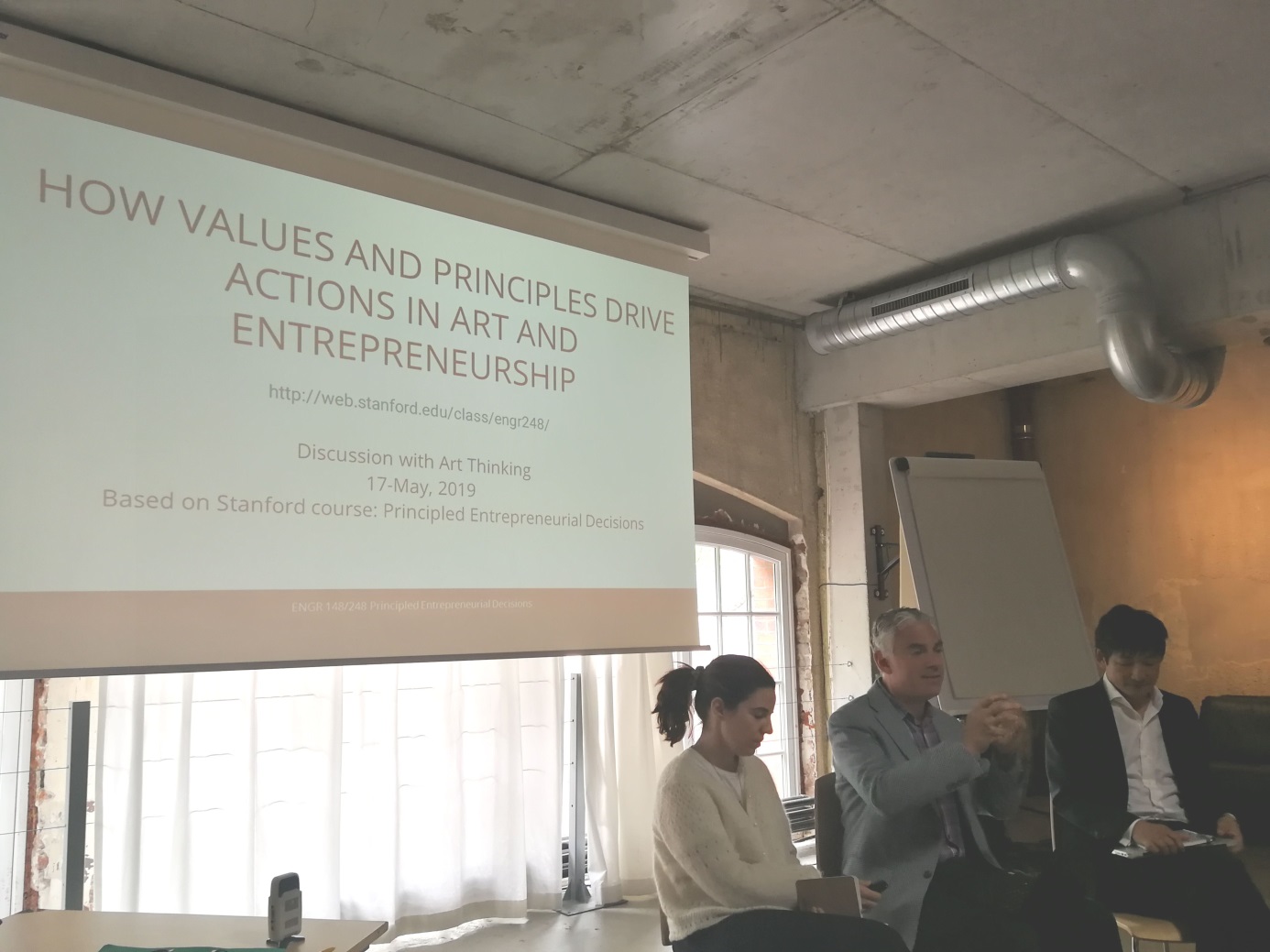 Participants also addressed the specificities of Art Thinking compared with other methods. They agreed that Design Thinking is more about finding a solution to a problem while Art Thinking is more about finding a question to a problem. Art Thinking allows people to challenge values and the status quo that frame a problem, whereas Design Thinking allows them to find solutions.
"Sharing practices globally at the conference gave us further confidence that the Improbable Art Thinking Method really works!" said Sayaka Iida, one of the attendees. A point of view also shared with another participant: Mariko Nishimura who "believe Art Thinking Improbable has "an improbable power" to connect Art and Business. We are no longer belong to growth-oriented economy, nor 'copy & paste' business models."
18th May
On 18 May, a unique visit to 5 Art Galleries was organized to benefit from the partnership between ESCP and Paris Gallery Week-end. The captivating tours proposed by Anaïs Montevecchi and Skall, and the great variety and quality of the selected artworks, made for a very grateful audience.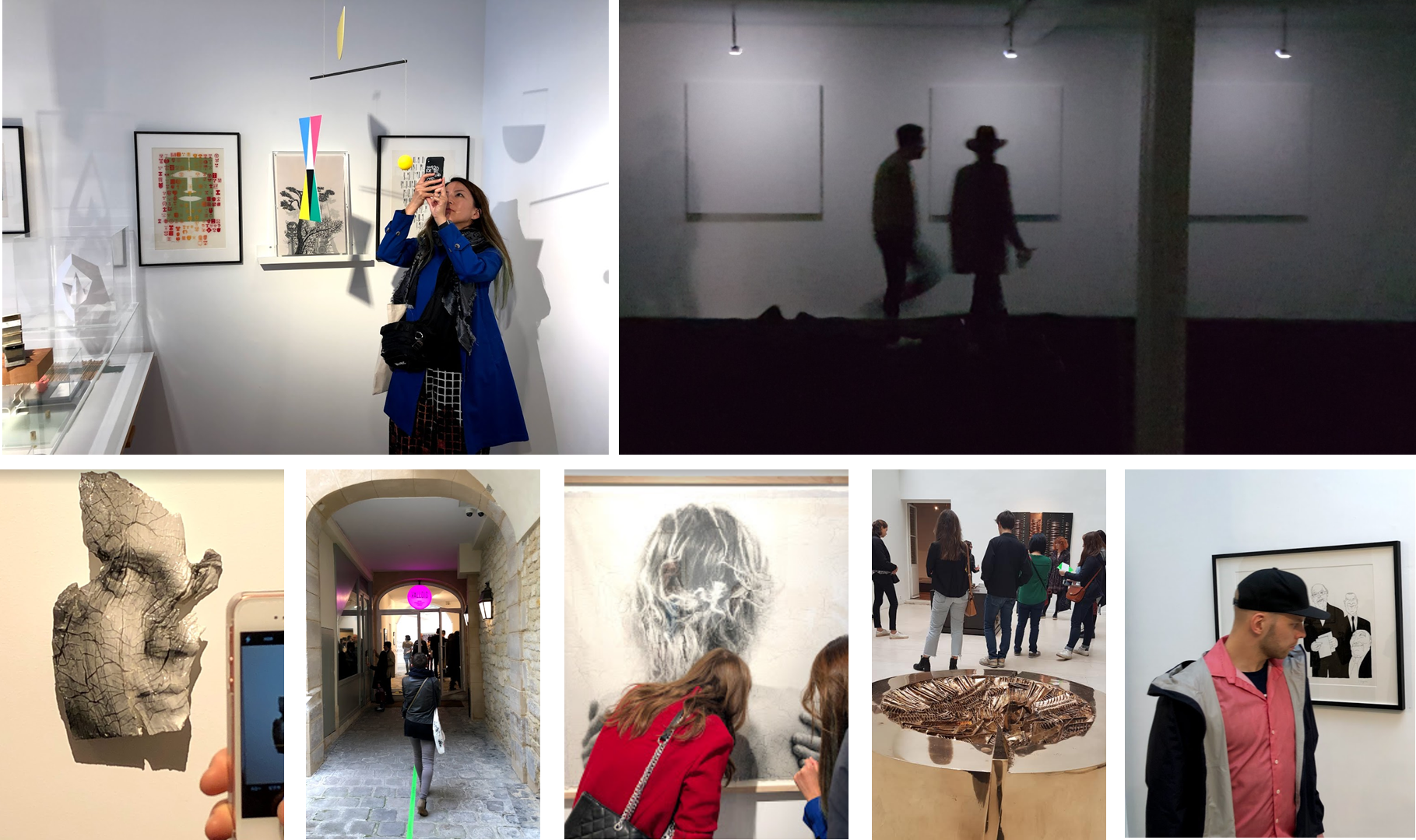 As a wrap-up of the Art Thinking Conference, a cocktail was organized at the Paris UNESCO headquarters, a perfect location for an immersive experience in an art collection comprising major paintings by Picasso and work by Calder, Tàpies, Tadao, Ando… Not to mention the incredible view of Paris from the terrace…
To learn more about the Art Thinking Conference:
- Get access to the programme
- Get access to the podcasts
# TO RELIVE ALL THIS EVENT