Introducing The Choice
The new media powered by ESCP
In November 2020, ESCP launched The Choice, the new media dedicated to business leaders. Our ambition is to highlight the ESCP community's expertise on the business issues that matter and position the ESCP brand as a thought leader.
How was The Choice born?
In 2019, on the occasion of the school's 200-year anniversary, we worked on the new ESCP brand platform.
Alumni from different backgrounds, all of whom shared a track record of excellence in different fields of communication, an unwavering commitment, and strong ambitions for their school, contributed their insight and experience to the process.
From the very beginning, we adhered to The Choice concept devised by TBWA, a global advertising agency. More than a simple corporate ad campaign, we were looking for a concept that would position ESCP and have real meaning for the school, at all levels.
What exactly are ESCP's strong choices?
The theme of the choice is of unparalleled richness because it characterises everything that qualifies a business leader. Learning how to make choices - individually or for one's company - is the condition for a successful career, because it mobilises all the skills we teach at ESCP.
You must first analyse and understand your environment, know your own assets, determine your value system, and be able to implement the decisions you make. This approach is valid for strategic and technological choices, as well as for moral, environmental, and ethical issues.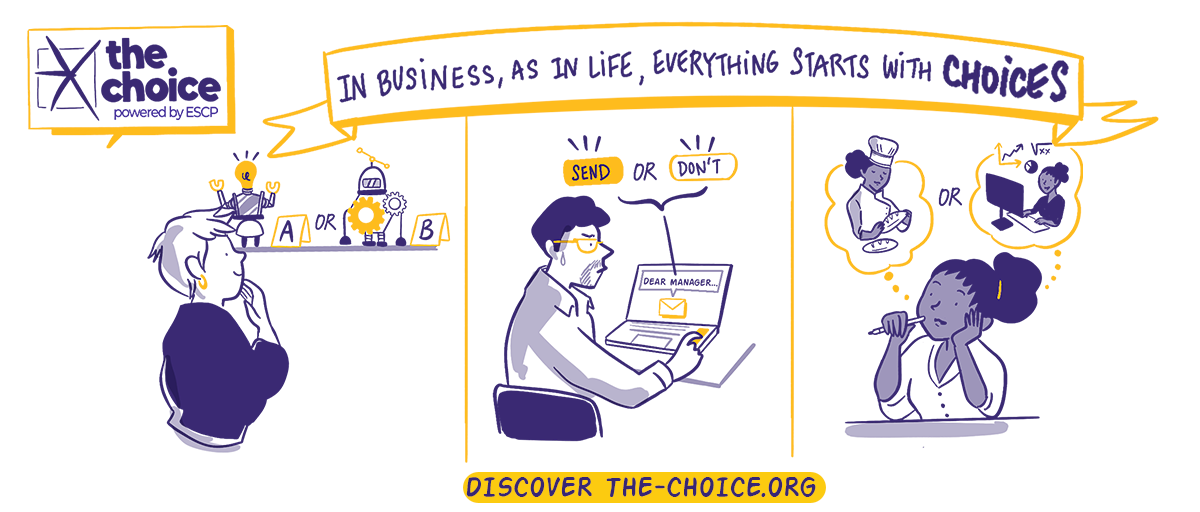 The younger generations we welcome at ESCP encourage us to embrace this holistic approach. For the new generations what counts is being successful AND having an impact on the world. As their ambition has increased tenfold, so have their expectations and desire for excellence.
Beyond teaching, this concept engages the whole school in its daily activities: How and why do students choose ESCP? What strategy does the school's management implement to rise to the top - knowing that there is no strategy without strong choices? What commitments does the school make to face the challenges of the 21st century?
There is a trap we did not want to fall into: building our singularity on current trends.
The trendy subjects of the last few decades: international development, then digital transformation, today sustainable development, are challenges that a leading school such as ours cannot choose not to deal with, but we will never stand out thanks to them! Everyone talks about them, for good reasons (because they are key issues for the world to come) or bad (because they are fashionable). We will differentiate ourselves by the lens with which we approach them.
And this lens is…?
Europe! ESCP is now firmly anchored in the world's top 20 business schools, and ranked even higher for several flagship programmes such as our MIM, EMBA or MS Finance...
ESCP is accredited by the best entities, at the national (in our campus countries) and international level. In this very exclusive club of business schools with a global reach, how can you stand out from the crowd? By unique roots that empower your singular vision of the world.
Until a few years ago, business leaders were global minded because the world was presented as flat. Today, the world is once again polarised around two powers. No more global world order! Even the GAFAMs collide with this wall, an alloy of cultures and geopolitical power relations! Europe must therefore be something different, besides a consumer market. Despite the ups and downs of Europe as an institution, Europe remains an economic power. It has many assets in terms of entrepreneurship and creativity; it trains engineers, financiers, entrepreneurs, in short, top-level leaders. Europe can be an economic force if it wants to; it has the talent and its humanist values are in tune with the needs of our times.
ESCP has a role to play. No school is truly global; there is no such thing. Any leading university or grande école contributes de facto to the soft power of its country or region. Harvard, Wharton, and Stanford convey a North American vision of the world. Chinese C9 schools promote a Chinese approach to business. Europe lacks a soft power.
ESCP is a European school and it is the only one. It is a strong choice that we have been making for 40 years now.
How does ESCP want to play this role?
Our mission, displayed everywhere on our campuses, is to educate and inspire the international business leaders of tomorrow, guided by our European values.
This means that beyond our central mission of research and teaching, provided to more than 7,000 students per year, beyond the services and unique experience that we offer them, we also have a role to play in disseminating knowledge and know-how to enlighten social, economic, political and institutional decision-makers...
Our mission, which is to educate but also to inspire, is illustrated by The Choice, a medium that addresses major contemporary issues, at the decision-making level. It disseminates our professors' research, our Alumni's worldwide and cross-disciplinary expertise and experience, and our students' commitments and achievements. We deal with topics related to business, management, entrepreneurship, career choices, but also more societal, geopolitical, environmental and technological issues.
What is the difference with a company blog?
The Choice is not a promotional blog!
It is not ESCP and its programmes that we are promoting. It is not a personal promotion media either, but a real media of analysis, of foresight, which should interest and engage targets - even if they are not planning to join ESCP!
The positioning of a brand such as ours does not depend on self-centred messages but on the ability to share its vision, values and content freely
This is the whole point of communication in the 21st century, which has changed since the advertising approach of the last century! Your contact with the Harvard brand is more likely to be through the Harvard Business Review than through their advertising campaigns or goodies. The media will be linked to the site but housed at a different address: the-choice.org. The Choice, powered by ESCP.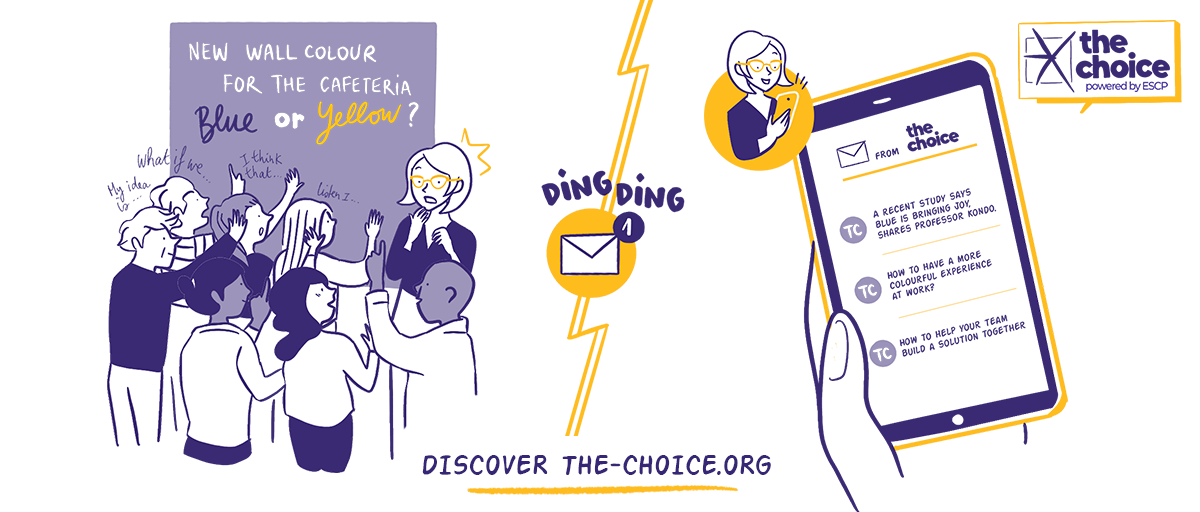 In concrete terms, what will be featured on The Choice?
The Choice is a team project, led by a colleague who was specifically hired for this task.
We work with the communications, chairs, and research valorisation teams, and with all campuses. Each month we tackle a subject with an ad hoc editor (professor, alumni, etc.). From January on, we will also be working with an agency founded by an alumnus.
In terms of content formats, we have many ideas, as we are targeting an audience of decision-makers who want to learn and discover new ideas by making the most of their rare downtime. So we do not only have articles and interviews but also infographics, book and press reviews, and key statistics that are selected and commented on by professors. We are also exploring podcasts as they allow for a more in-depth study of certain subjects while remaining an "on-the-go" format that can be enjoyed while commuting, walking the dog or around the home.
We are working on promoting The Choice through the school's communication channels and partnerships with media. We also hope to count on the ESCP community to support us by promoting The Choice among coworkers, friends and across social media. If you'd like to contribute to the media, you are welcome to contact the editorial team at contact@the-choice.org.