33 lucky MiM students from the IoT specialization went to Copenhangen to explore what the IoT world is there.
They got a lot of great insights from experts during an intense 3-day programme, starting with a launching session at the French Embassy by Caroline Ferrari, French Ambassador to Denmark and alumna. She pointed out the leading position of Denmark in fighting against climate change and the role of IoT in this fight.
During COP25, Denmark passes Climate Act with a 70 per cent reduction target by 2030 (compared to the 1990 level).
The Internet of Things could be a game-changer for sustainability.
Leveraging AI and IoT for environmental sustainability can help maximize our current efforts for environmental protection. According to a 2018 report by Intel, 74% of 200 business decision-makers in environmental sustainability agreed that AI would help solve environmental problems.
Smart Meters, Smart Lighting, Air Quality Monitoring, Water Monitoring, Connected transport
… there are a lot of impactful IoT sustainability solutions.
Let's see what students grabbed about IoT & Climate change!
Can IoT play a role in the Green Transition? Kenneth Jahn Andersen, CEO IoT Denmark A/S gave the MiM students an insightful overview, with great examples of IoT sustainable solutions such as reducing water waste at home or avoiding flooding in urban areas. "Date driven energy management must help drive the green transition and data bases energy help identify and reduce energy consumption in many buildings" he said.
Indoor climate is often misunderstood, said Daniel Bachmann, CEO, Ocutune. He raised the awareness of students about the dramatic global indoor climate situation, emphasising that it is a combination of air, temperature, humidity, noise and light, and that, with most people today spending 90% of their time indoors, being immersed in an artificial environment can have serious health implications.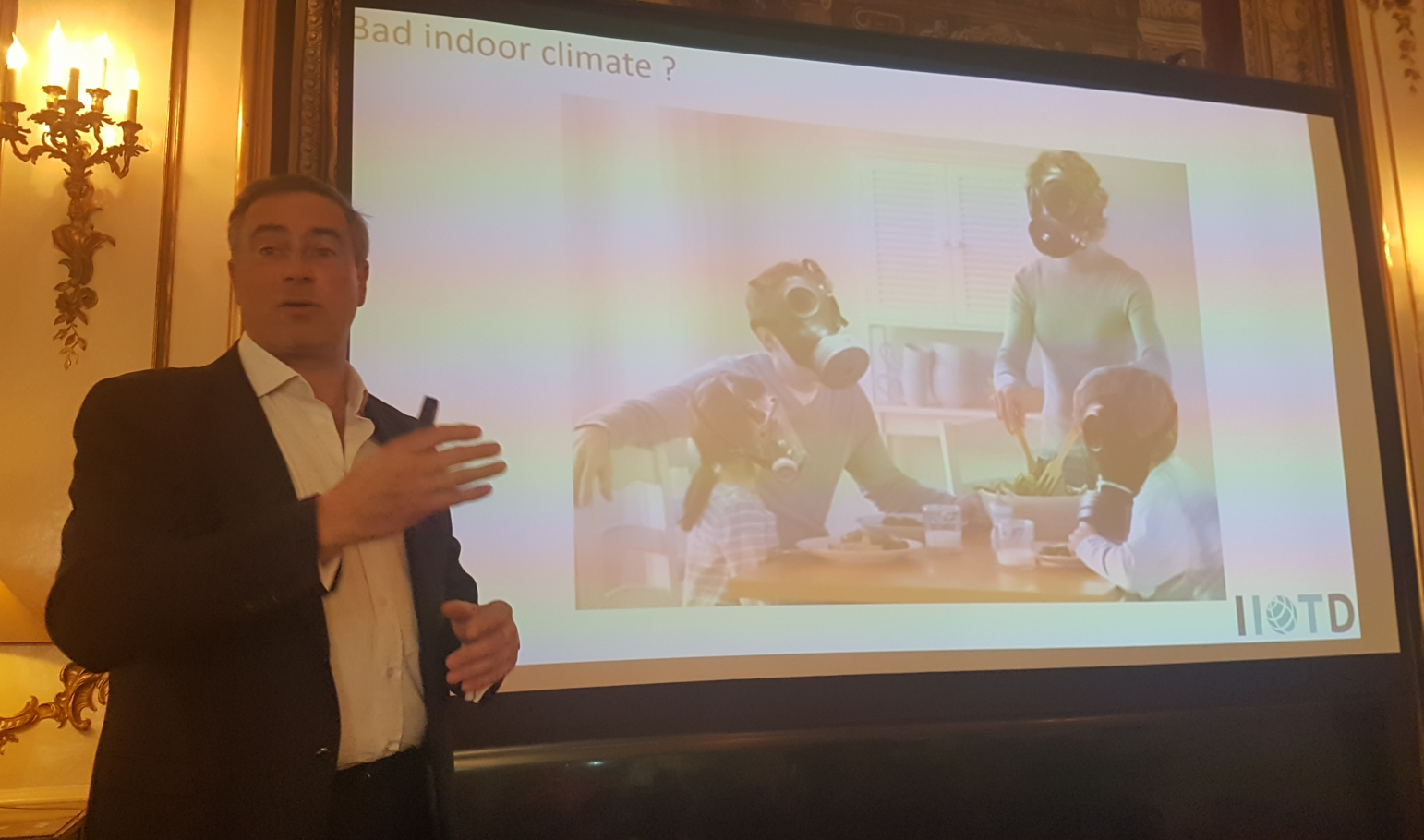 "In Denmark today, 30% of children going to public schools get sick from the bad indoor climate," he said, "that, to me, is not acceptable." Intelligent use of data can improve indoor climate.
OCUTUNE develop user friendly devices and systems, which give feedback to the individual and communities to optimize sleep, health and well-being.
Welcome to Green House, the new green headquarters for the 520 employees of Schneider Electric Denmark in Copenhagen! The new building, students got the chance to visit with Jens Ellevang, Facility & Event Manager and Niels Boel, IoT Expert, Schneider Electric, is full of own energy efficient solutions and gives the perfect surroundings for an efficient workflow, for the wellbeing of the employees and the planet.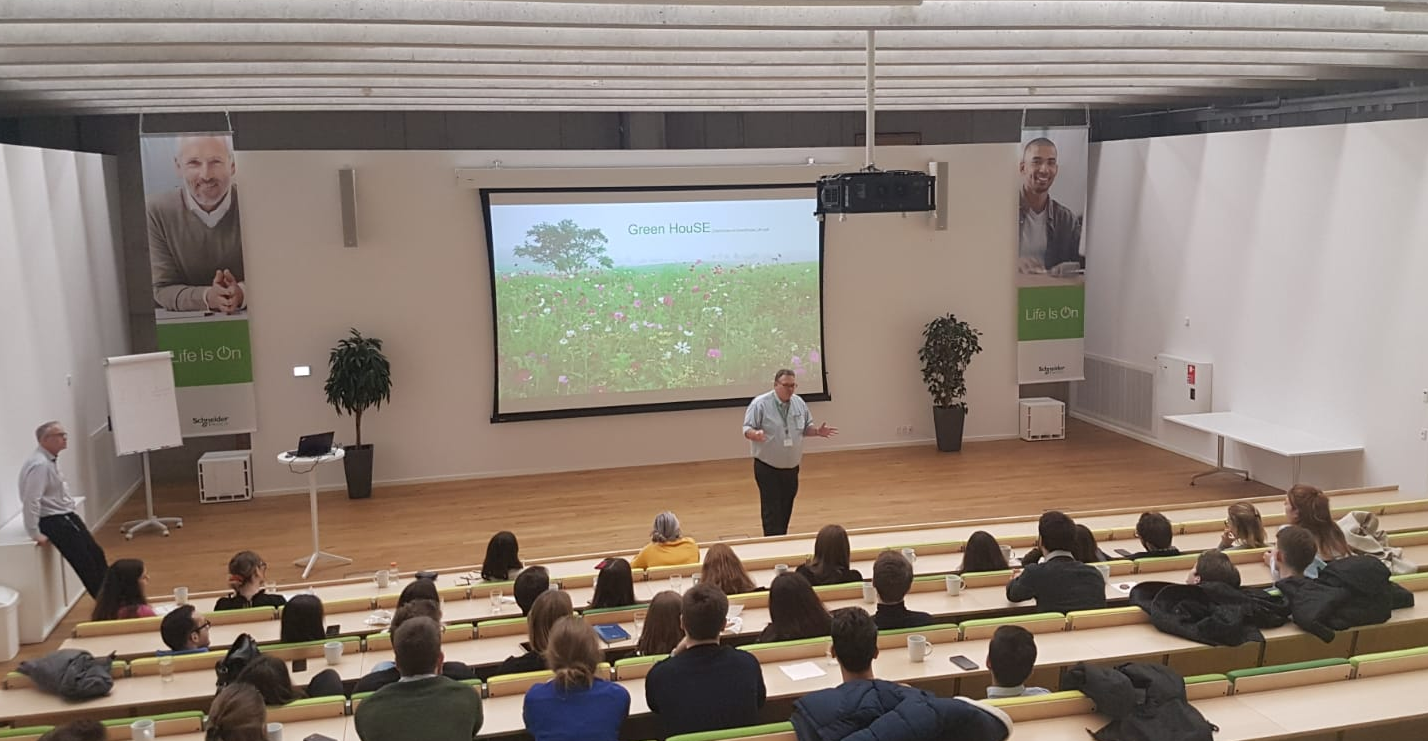 The EcoStruxure platform is an essential part of our promise to reduce our customers' CO2 emissions by 120 million metric tons by 2020. EcoStruxure is our IoT-enabled solution that increases operational and energy efficiency. It gives our customers extensive visibility and control over energy use, thus empowering them to pursue sustainability goals.
Over the years, Schneider Electric has offered energy audits for large office buildings and now the energy auditing concept is being extended to industrial buildings. Customers in industry are focused on energy savings, being politically more aware end interested in lowering their CO2 emissions.

Jens Hammer Andersen, Living Lab Cordinateur, Doll Living Lab brought students through The Doll Living Lab, an innovative playground of 400 acre.
This Lab brings public and private actors together on a neutral ground, where they can test, showcase and be inspired by cutting edge technology in a "one stop shop" with all relevant network infrastructures.
Driverless buses in Denmark very soon? The technology is ready, the regulatory frameworks not yet. The development of self-driven cars is also gaining momentum. There is particularly great potential for autonomous public transport. Therefore, self-driven buses with app-based dynamic routing will also become a regular part of the street scene.
Which impact on Climate change? Transport accounts for about 25 percent of the world's CO2 emissions. Self-driving car technologies are paired with electric vehicles, which we've shown have lower carbon emissions.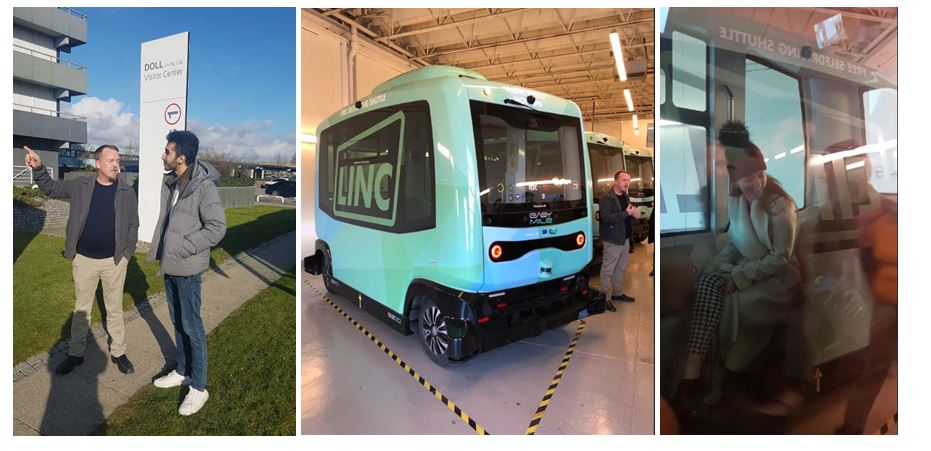 Students then met Hans Benedict Ahlefeldt-Laurvig, Process Automation, Solution Sales Atos Denmark and Claus Larsen, Country Manager to understand how vessel performance can be maximized by utilizing data, brought by IoT. First they learnt that fuel represents 55% of the direct related vessel operational cost.
IoT is a driver in cost reduction by scaling down maintenance costs, reducing technical downtime, and decreasing fuel consumption. IoT also enables new business models and opens up new value streams, as well as improves quality and efficiency of logistics. Tracking data from the engine and fuel rooms optimizes vessel performance, saves money in the long term, and reduces the CO2 emissions.