ESCP's European Center for Digital Competitiveness published its Digitalreport 2020, which summarizes Germany's digitalisation and confirms it leaves much to be desired.
Key findings of the report (in German):
- Digitization plays a pivotal role in the future of Germany.
- For the German Public, the Federal Government does not have a convincing concept for digital transformation.
- There is only little trust in the digital competencies of all parties and all Federal Ministers who are in charge of digital transformation.
"The results are alarming," says Professor Philip Meissner, who is the Founder & Director of the European Center for Digital Competitiveness at the ESCP Business School's Berlin campus. "The Federal Government and all parties must recognize the importance of digitization for Germany as a business location and quickly present convincing concepts for digital change." As the issue of digitisation is crucial not only from an economic but also from a geopolitical point of view, action must be taken quickly. According to him, it calls for concrete measures. "The creation of a digital ministry would be the first step. We also need more money in Germany for new technologies, innovation and start-ups. Options for this would be the expansion of state investments in technology or a sovereign wealth fund for investments in innovative companies. Politicians could certainly learn from the successes of other countries and implement measures that work in Singapore, Sweden or the USA."
This only confirms what the European Center for Digital Competitiveness had stated about Germany and Europe's digitalisation delay in its Factbook Digitization (in English).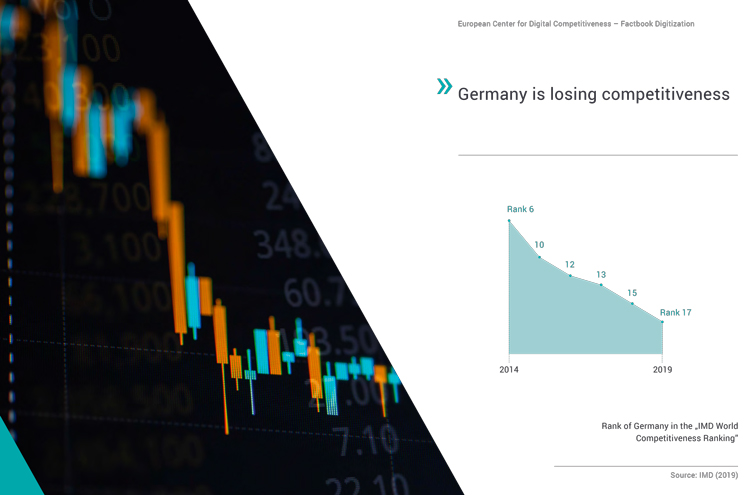 What needs to happen?
- Germany needs a Federal Digital Ministry
- Germany needs massive investments in technology and start-ups
- Germany needs to attract the best international talent
- Germany needs to act quickly!
The study received wide media coverage in Germany: you can watch a report on German TV station ARD's prime time news show (from 10:45min) or read stories on Handelblatt, ntv or Taggesspiegel (for instance).