Sustainability - Campus Life
Waste at ESCP Paris campus: What do we do, and how does it work?
Yellow bin? Green bin? Where do I put my orange peel? My yoghurt pot? Is this recycled? How does ESCP Paris Campus commit to reducing and recycling waste?
Inside and outside the building
Through our partnership with the Mairie de Paris, the waste in our building is recycled.
Yellow
= Recyclable

Plastic bottles
Cans
Yoghurt cups
Food trays
Plastic bags
Paper
Cardboard
Green
= Other waste

Not exhaustive:
Food waste
Plastic Film
Napkin
Receipt
…
Inside the school's restaurant
Glass, Cardboard, and even cooking oil have been recycled for a while. We decided to go further and have both our République and Montparnasse sites now have bins designed for recycling plastic bottles and cans with our partners at LemonTri.
We also collect food waste, which is then transformed into compost and renewable energy (through methanisation) with Les Alchimistes. Just a little over a year ago, we installed recycling bins, and the catering staff was trained on recycling and reducing the environmental impact of food preparation and waste. The student society NOISE provided the posters with the indications you now see above the bins.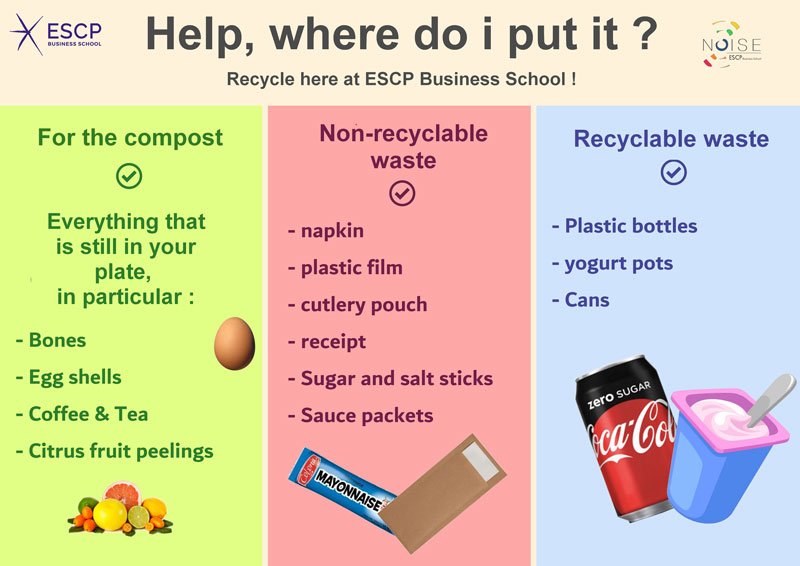 Blue
= Recyclable

Plastic bottles
Yoghurt cups
Cans
Red
= Non-recyclable

Napkin
Plastic film
Cutlery pouch
Receipt
Sugar and salt sticks
Sauce packets
Green
= For the compost

Everything that is still on your plate, in particular:
Bones
Eggshells
Coffee & Tea
Citrus fruit peelings
Your food waste feeds the green spaces!
Our goal
Reduce single-use items
You might have noticed some drastic steps have been organised to reduce single-use plastics!
We encourage the use of reusable bottles by having water fountains all over the campus, and we often gift our students with reusable water bottles.
Moreover, following a switch in suppliers, we can now offer a more sustainable water bottle at the cafeteria, thanks to Eau Neuve, a French source water company which provides a fully recyclable water bottle. The brand is also very innovative in terms of sustainable supply chain and circular economy.
We also have a new process for events organised at ESCP, where we can now offer zero-waste catering for our corporate events.