Innovative, comprehensive and detailed studies carried out with Netexplo allowed us to understand that we are at a tipping point of digital transformation and especially to better understand its levers, starting with human beings: we identified seven major skills markers which should help boost their role as digital facilitators.
"We made the decision to launch an online certificate for executives who need to become digital transformation facilitators in their companies", explains ESCP Dean and Executive President Frank Bournois. This certificate was designed based on the teachings of three important studies (Talent Foresight, Talent Corporate and Talent Survey) carried out in collaboration with Netexplo, the reference observatory of digital innovations. "The Talent studies are about what talent will mean by 2030, especially in a more and more digital world. We interviewed dozens of digital experts and hundreds of managers on several continents, because we wanted to find out what types of talents will be necessary to make companies successful". In early 2018, the results were presented to 1,200 company executives and managers at UNESCO during the first ever Talent Observatory Forum, which ESCP organized with Netexplo.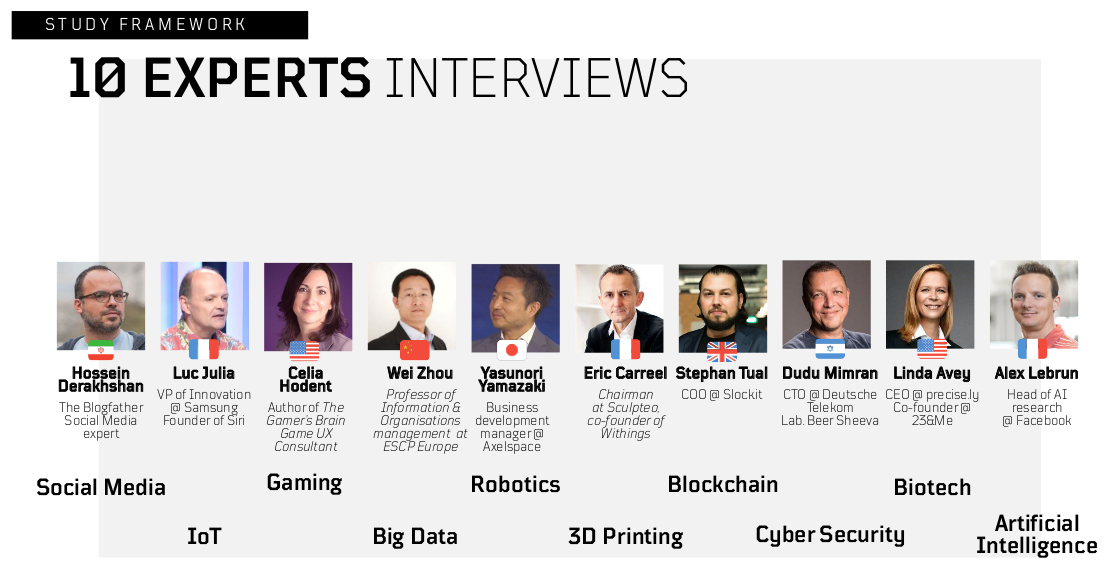 "Over the last thirty years, I have personally researched the making and the preparation of high-potential managers who will make it to the top of their companies, adds Frank Bournois. And with other professors and colleagues at ESCP, we are passionate about helping our students adapt to the management revolutions. Some of the studies' key findings are going to transform deeply the way we teach and how we prepare the leaders of tomorrow".
We will experience more transformations in the next 10 years than in the last 40. This is probably no surprise, but it is nonetheless the first lesson of the studies conducted with the support of Alexandre Tissot, VP, Management & Culture Expert Fellow at Netexplo, PhD candidate and Affiliate Professor at ESCP.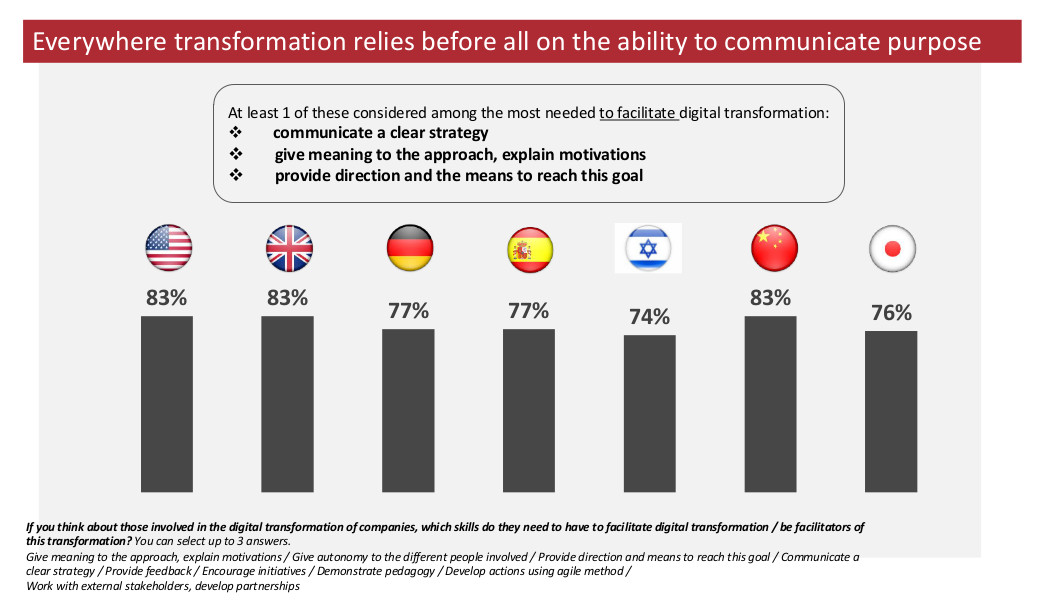 More surprising: the researchers also noted that there are major similarities in the way digital transformation is approached across countries. As a matter of fact, transformation relies above all on the ability to communicate purpose everywhere.
However, the heart of this mutation lies more in humans than in technology: they identified seven skill markers as major trends in the current digital revolution with the advent of more robotics, artificial intelligence, cybersecurity, social media, etc.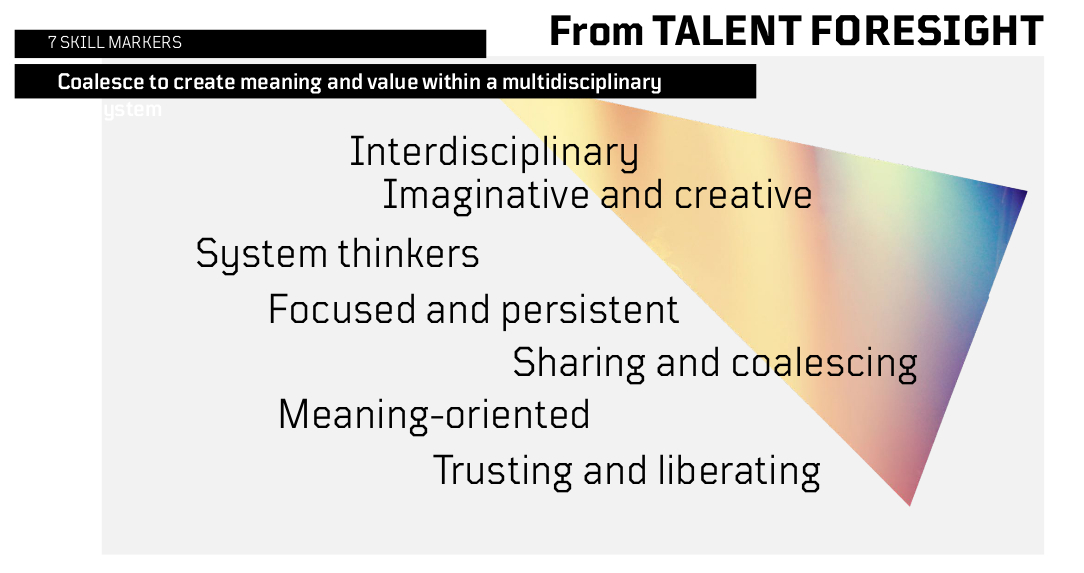 These include interdisciplinarity, imagination and creativity, sharing and the ability to evolve within an open ecosystem. Thus, those most capable of leading digital transformation in the company are not necessarily the best trained technically. Most often, they meet technology accidentally and have the will to make practices evolve.
Theses markers make it possible to draw the contours of a company completely renewed in its form. They also noted that large organizations, structures and departments are no longer legion: the new organizational unit is the team, each being connected to the others and even outside the company, within partners, in order to produce new sustainable solutions in an agile way.
The extremely encouraging point presented by the study is an awareness, on the part of employees, of their ability to transform the company. This awareness is strengthened by their history and their culture in the face of start-ups and GAFAM (Google, Apple, Facebook, Amazon, Microsoft) that are actually young and just beginning their growth crisis, and in the midst of a debate on the gratuity of their raw material: our data.
The Talent studies also stress that this transformative potential is powerful, but that all eyes are turned towards leaders and their ability to embody this transformation and be exemplary in their changes of posture.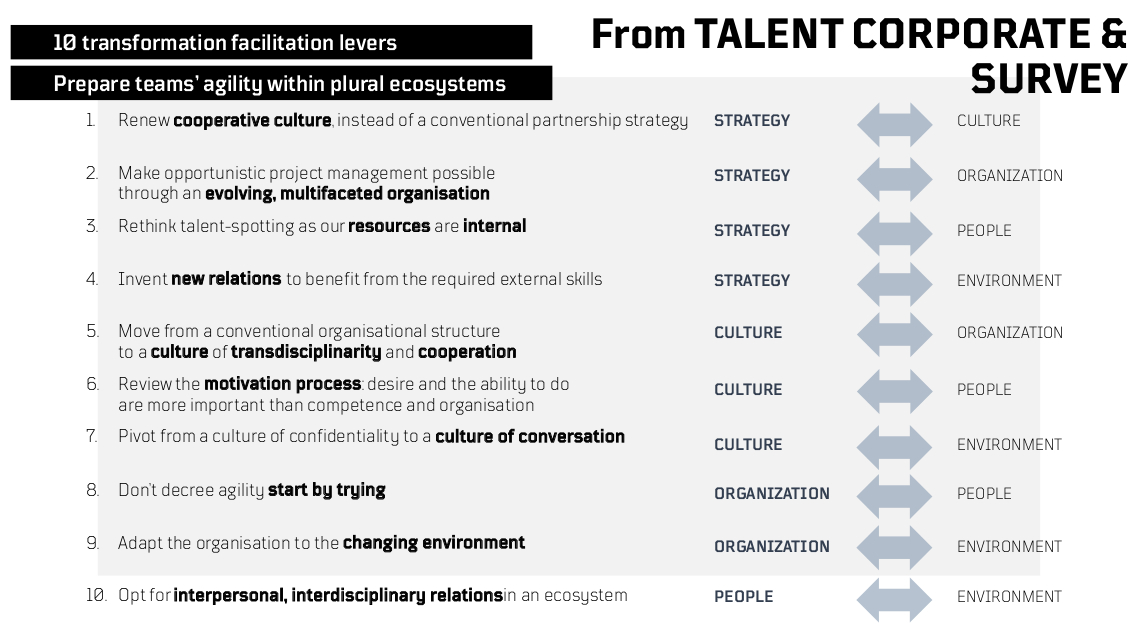 They highlight a far-reaching change in progress, the essence of several years of restructuring in companies' operations, but also that there are 10 important action levers to help facilitate the management of digital transformation, and 12 competencies that need to be developed because they play a key role in its successful deployment: anticipation, i.e. knowing how to observe, test, validate; agility, i.e. the ability to be disruptive, to know how to bounce back, to pivot; building an ecosystem, i.e. sharing, coalescing, negotiating; being team-oriented, i.e.making proposals, listening and knowing how to drive. And we added 10 key success questions to ask at the onset of any digital project.
"These teachings must guide pedagogical learning, in order to train the leaders of more agile organizations marked by digital transformation", feels Frank Bournois.