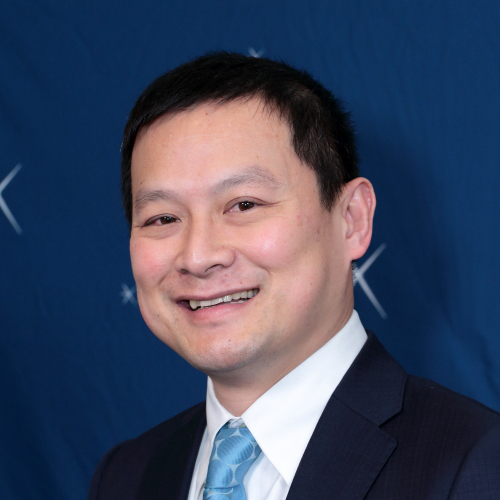 The school's Associate Dean for Research would like to make research more relevant and is developing a new, differentiating strategy in order to produce knowledge that is both academically rigorous but also applicable to practitioners and other stakeholders all over Europe.
Building on ESCP's mission to be recognised worldwide as a leading European business school for internationally-focused management education, research is one of the school's key strategic priorities. We aim to be internationally recognised for excellent research that is relevant to the business world and has an impact on other stakeholders: the European community, our students and society.
Moving towards research excellence
Over the last five years, ESCP has clearly shown its academic excellence in terms of research publications and its strong research commitment to research impact thanks to several key policies which we have implemented to promote research activities, namely i) the financial incentive programme for peer-reviewed journal (PRJ) publications, ii) the recruitment of research-profile faculty, iii) the ESCP Research Funding for new research projects, iv) the creation of the Granted Research Centres (GRCs) and v) the development of external funding: Chairs and Professorships, research projects supported by the European Union (Horizon2020), LabEx ReFi and private research contracts.
Shifting research performance towards high-quality, international journals
ESCP has made a clear shift in its research portfolio from applied research output such as books, chapters-in-books and national articles, to research papers published in PRJs. Our research and development activities are international in nature, but ESCP has continuously made an effort to promote leading international journals. As a result, the ratio of international/national academic journals has been completely inverted, from 31% international/69% national during the 2008-2012 period, to 69% international/31% national between 2013 and 2017. The majority of more than 415 conference papers have been presented at international academic conferences. Over the past five years, over 75 international speakers from 22 countries have visited ESCP to deliver research seminars and workshops.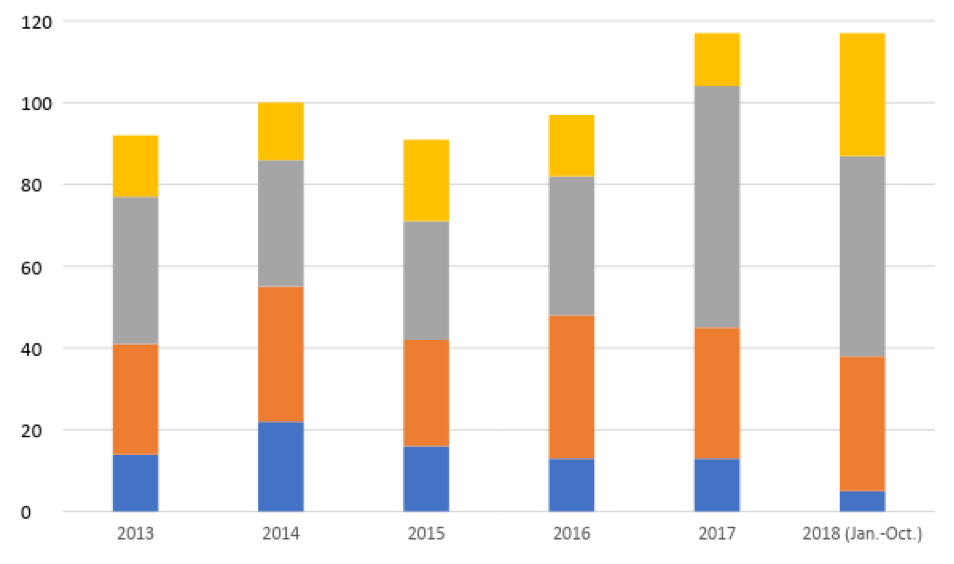 Sharing research value across campuses and disciplines
Our faculty in different business disciplines (Finance, Marketing, Human Resources, Entrepreneurship and Strategy) equitably contributed to this high-level research performance.
Interestingly, the school's different European campuses (Paris, Berlin, London and Madrid) contributed equitably to A-journal publication in relation to their faculty size. ESCP provides mechanisms and resources to support its faculty's research activities across campuses. All research policies operate at the federal level and help faculty on any campus to improve the quality of their academic publications.
During our recent Full Faculty Meeting, more than 100 Professors came from all over Europe to toil together on the future of the school and celebrate the outstanding work of its members: Professors from the London, Paris and Berlin campuses were rewarded by their peers, thereby reinforcing the school's European dimension.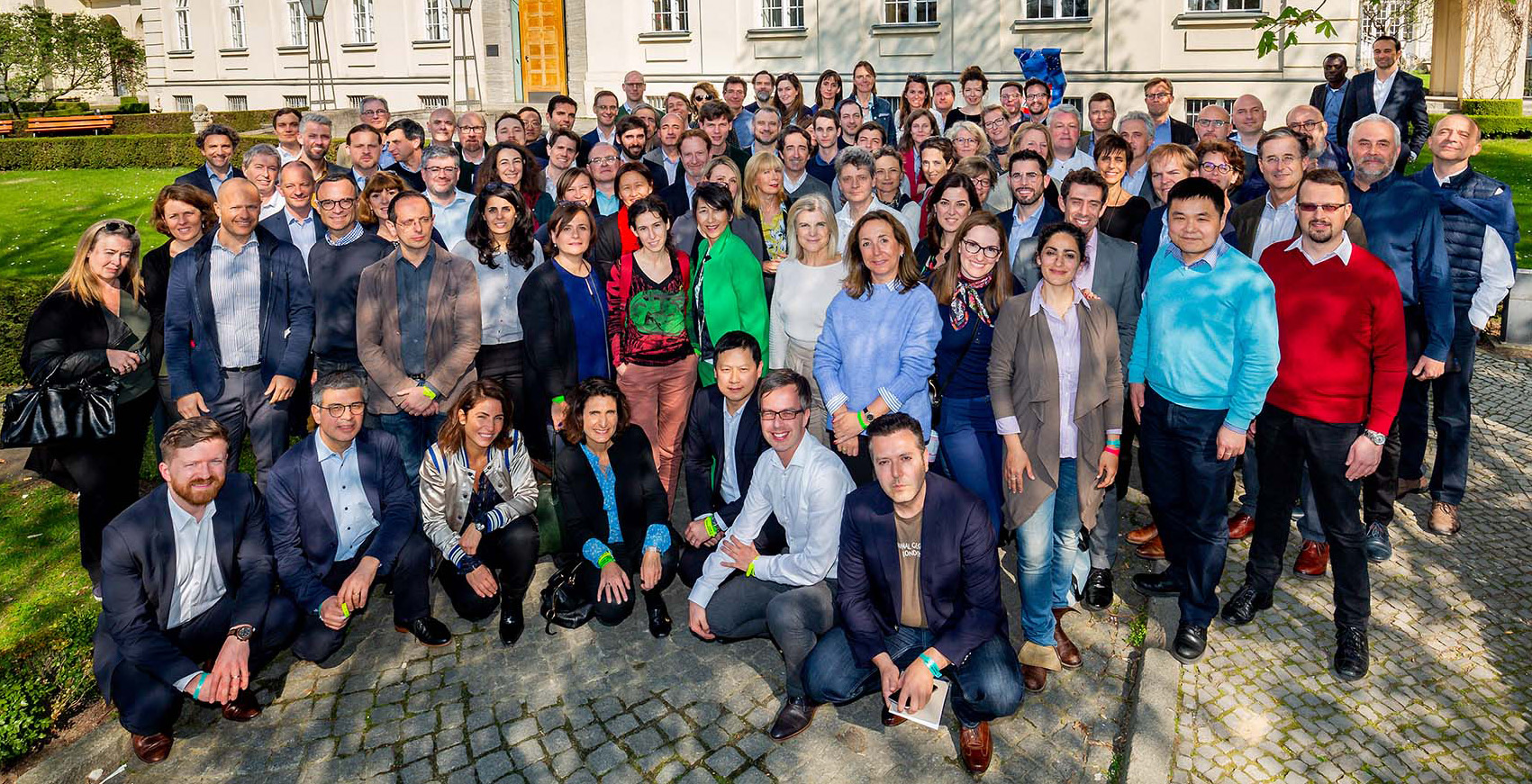 Our new strategy: Impactful research for Europe
Research at ESCP is taking a step further towards more relevant and impactful research, the school seeking to improve its research impact through a framework defined for and with stakeholders.
ESCP will be a pioneer business school that focuses on research impact for Europe: our new research strategy up to 2022 builds on the "Impactful Research for Europe" mission, encouraging all researchers to work towards promoting impact beyond academia. Each high-quality research publication will be translated into knowledge that informs stakeholders.
Impact is not static, therefore it will develop and evolve over time based on a general framework for research impact beyond academia which will help researchers develop their research projects. Four measurable dimensions of research impact are identified: Business impact, European impact, Societal impact and Teaching impact (B.E.S.T).
The assessment of research impact will be exceptionally challenging, as the level of achievement and significance of impact is to be assessed not only quantitatively (e.g. KPI) but also qualitatively (e.g. cases). We will thus develop assessment tools which take into account the challenges faced by stakeholders and the increasing development of their engagement.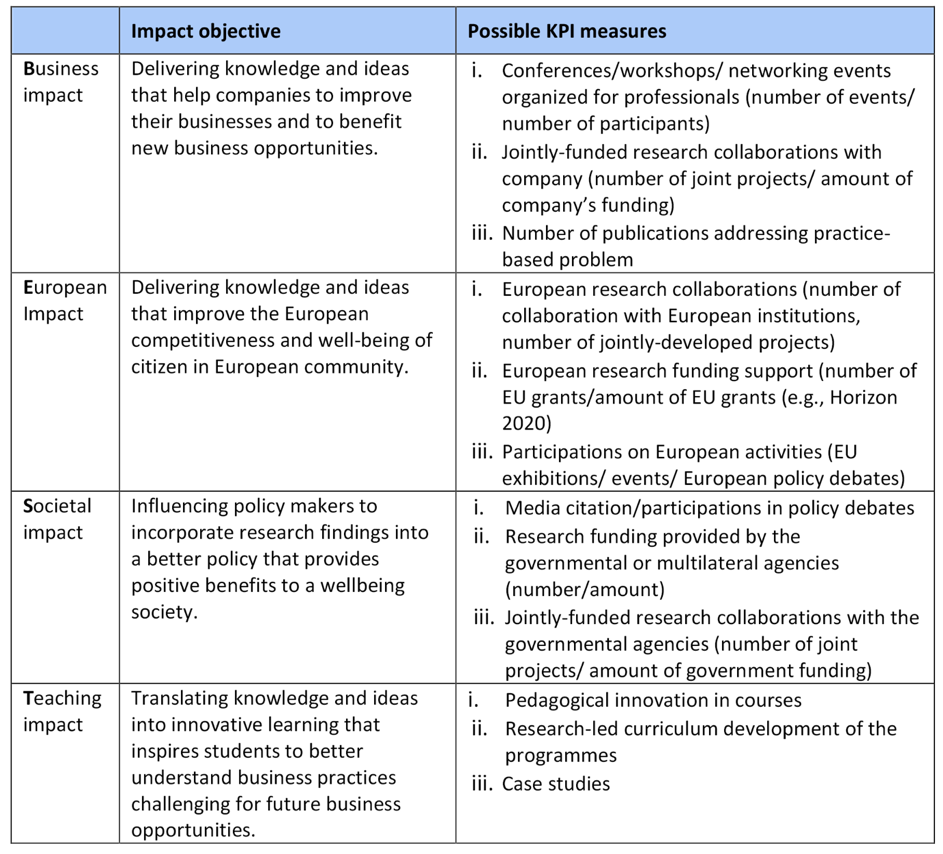 The areas of expertise will be more focused via Research Excellence Clusters (RECs). These evolutions of the existing GRCs are interdisciplinary networks that will allow ESCP to heighten brand visibility and promote international recognition of the school's research excellence in distinctive areas on a wide scale.
Collaboration across campuses will be continually enhanced. The research clusters will be popularized through the school's knowledge platform, which has been developed with our communication team in order to better enhance and disseminate impactful research with economic and societal benefits.