My experience at the "world's largest event for the planet" by Patrick Shafik (Bachelor' 23)
1000 solutions, 800 investors and 400 speakers.
Within a few years, a young company made it possible for the fifth edition of the "world's largest event for our planet" to take place. Introducing Change Now. This year's summit took place in May at the Grand Palais Éphémère in Paris.
ChangeNow.
In the face of climate change, and the urgent need to change our way of life and our economy in order to save our future, the name of the event and the company behind it could not be more appropriate.
Founded by responsible innovation leaders Santiago Lefebvre, Rose-May Lucotte and Kevin Tayebaly, ChangeNow is a networking event that allows innovative young entrepreneurs with sustainable ideas to present themselves to investors, politicians and the world. And for everyone like me - Patrick Shafik, a 20-year-old student of ESCP Business School - the summit was both an informative event and a wake-up call.
In my case, I not only had the privilege to work with ChangeNow on a project but also was able to enjoy the unforgettable chance of volunteering at the event.
My experience, which I will try to make as relatable as possible in the following paragraphs, was an inspiring one that awoke my passion for a more sustainable economy.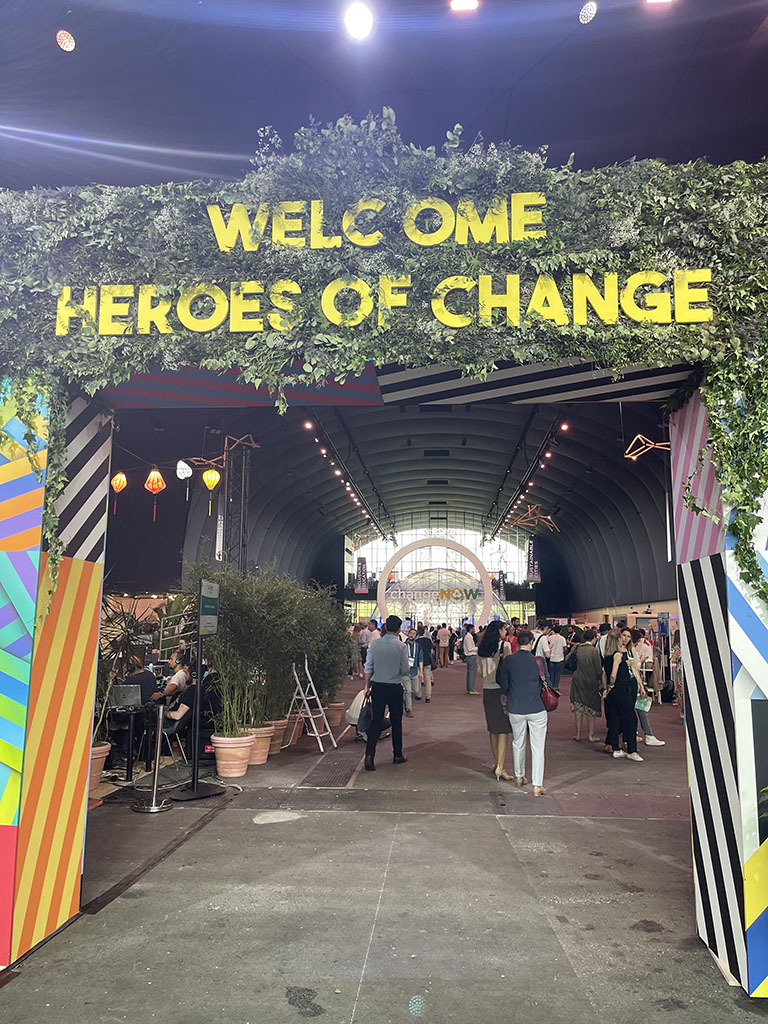 But first, back to the start
It's September 2021 and the first lesson of the Collective Project course of the 2023 Bachelor class at ESCP's Paris campus is taking place. In the middle of it, me, someone whose knowledge of climate change didn't extend beyond the mere awareness of its existence.
In that lesson, with the help of a mind-map summarizing the effects of climate change, I learned for the first time about circular economy, which, in a nutshell, describes the following economic principles of reusing, recycling, recovering and sharing throughout every stage of the production and consumption of a product to close the loop and reduce waste to a minimum, which consequently saves costs.
In the following lesson, we were briefed about our upcoming project. In several stages, we were to work in self-selected groups to find innovative start-ups from different sectors, be it food, technology, business or transport, that have implemented circular economy elements in their operations.
At the end of our academic year, we presented our work to our course leader and representatives of ChangeNow, who would invite some of the start-ups we presented to participate in their 2022 summit.
In addition to a grade, at the end of our project we were kindly invited to attend the event. A lucky coincidence, to be more precise a voucher code I entered incorrectly, caused me to re-read theinvitation and see the offer to help as a volunteer at the fair.
Our academic year was over and my knowledge on sustainable economy had developed since the first lesson in September; so I applied and luckily ended up on the invest team, being one of 300 volunteers who were allowed to help with ChangeNow.
My team's task was to accompany the investors and business angels to their appointments, speeches or networking events and to draw their attention to special start-ups and the course of the fair.
My experience volunteering at ChangeNow
The location design was incredible. Each start-up had their stand set up early; several stages were ready to host the speakers; and the food court, art exhibitions and networking areas were conceived with a sustainable approach to set an example and enhance everyone's experience.
For example, each volunteer received a recyclable bottle and all the seating options at the fair were made out of recyclable material. During the three days of the fair, various changemakers, as I like to call the participants, had the opportunity to present their sustainable solutions for combating climate change on the numerous stages.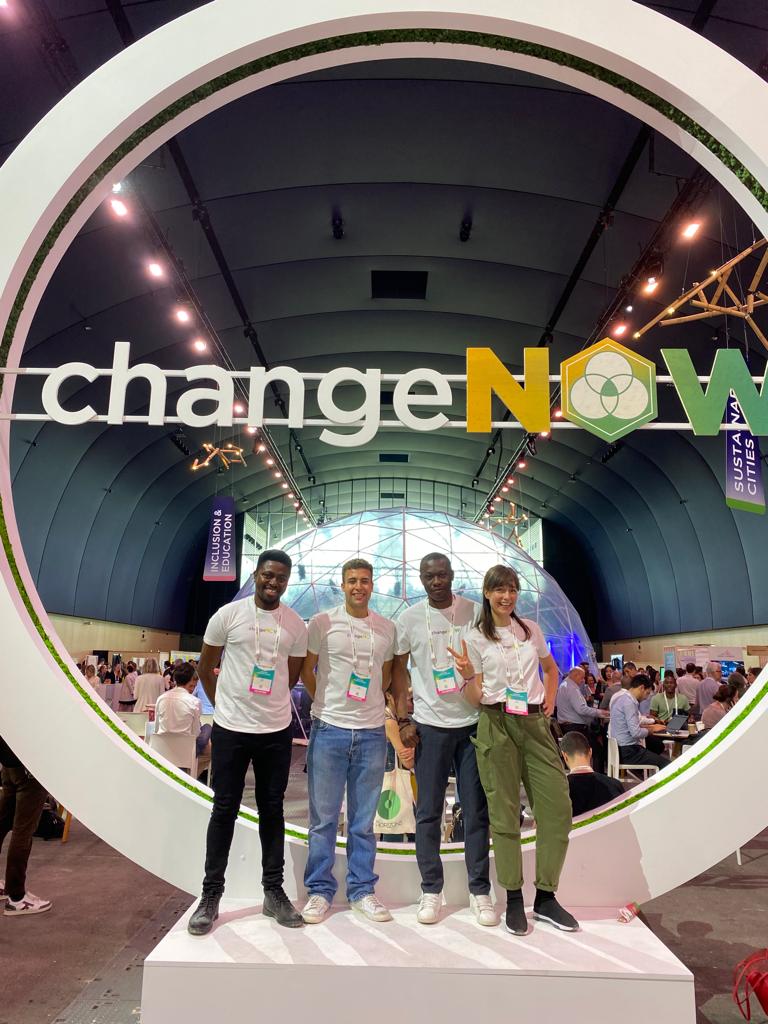 Some shared how they incorporate sustainability into the everyday life of their companies, foundations or occupations without neglecting the economic point of view or non-profitable efficiency.
Anil Soni, CEO of WHO Foundation, for example, emphasised the importance of accessible healthcare and explained health inequities, as more than half of the world's population still lacks access to essential healthcare.
Among the 400 speakers there was also Adam Elman, head of sustainability for Google Europe, Middle East and Africa, who spoke about Google's sustainability and decarbonisation journey within the tech industry and the two new goals of the company (i.e. net zero emissions by 2030 and to continue to be one of the largest consumers of renewable energy.
His message helped me to understand how the leading companies of our economy are approaching their responsibilities as role models to operate more sustainably.
These speeches on the main stage were set against a giant image of the earth, a reminder to all of us in the audience that making sustainable choices and adapting our consumption and use of resources matters to us too.
Not to forget the young, inspiring leaders who ChangeNow gave a stage to as well, like Sophia Kianni who advocates on behalf of the UN for universal access to education on climate change in all languages.
Overall, numerous sectors were addressed that require more sustainability, and I was more than proud to see Laetitia Langlois, sustainability project manager at ESCP, on the Gaia stage addressing sustainability, inclusion and diversity in the field of education
Listening to those speeches made me eager to act, and as I am unfortunately not the CEO of Google, I eventually decided to write this article.
My hightlights from the 2022 ChangeNow Summit
At this point, I could finish the article and immediately question my summarizing skills because I have not yet mentionned the real highlight of the ChangeNow summit.
Be it the countless vegetarian "chicken" nuggets from HappyVore, asustainable French start-up founded in 2019 whose delicious free sample option I constantly made use of. A solution that offers an alternative to decrease the ecological footprint of livestock farming, which is responsible for more greenhouse gas emissions than the fuel consumption of transport.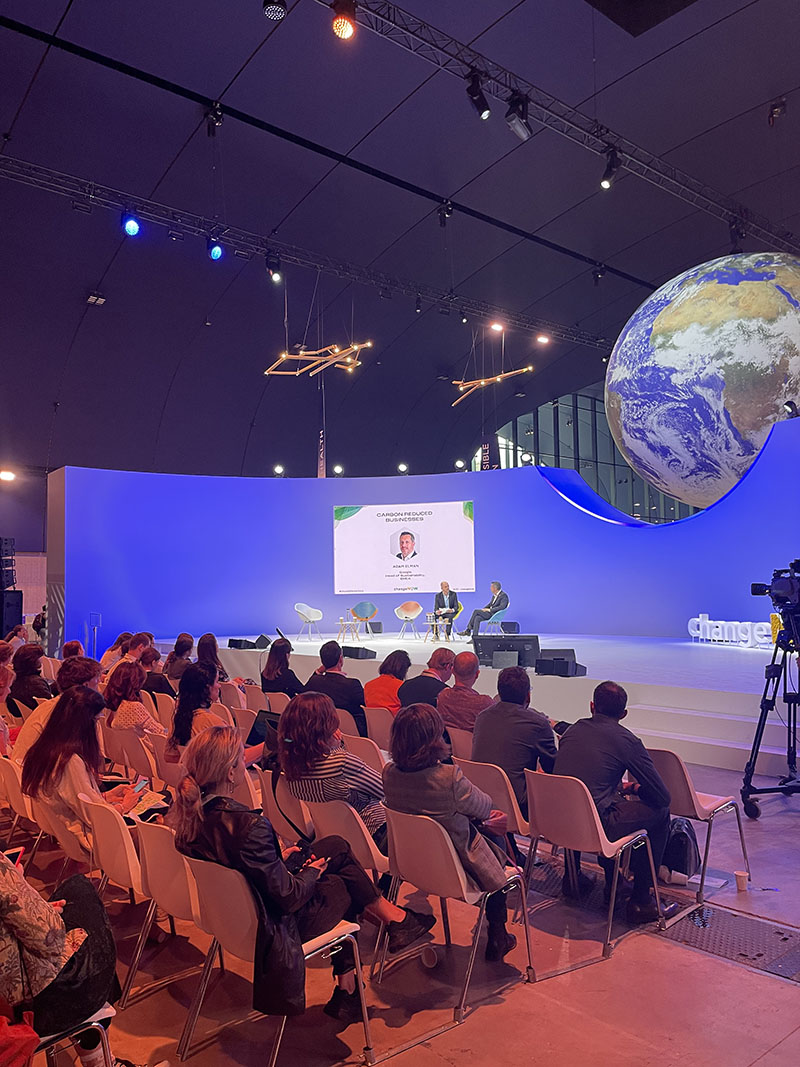 Or the world's first solar car, produced by Lightyear One, which is about to enter the market. Their solution is a long range solar electric vehicle, with a small but efficient battery, designed to consume two to three times less energy than any other electric vehicle on the market today.
I was equally intrigued by the app Miivo which rewards us for using public transport by offering its users monetary incentives, such as shopping vouchers, when tickets are purchased through their app for less carbon intense travel.
The key highlight that I mentioned, however, was the countless entrepreneurs who pitched their innovative and sustainable solutions at their stands and on the stages. It was positively overwhelming to learn about the wide variety of solutions and ideas brewing across all sectors, and which will be available to us soon - if not already. All while I was racking my head where I would spend my next vacation.
Leaving with a ray of hope
This experience infected me with the energy that permeated the event: to think, to question, to research, to find solutions together and, fundamenally, to act.
This article is not meant to be a radical call to action or to portray me as the truth-telling, environmentally conscious, euphoric activist I am not. I only want to emphasise how ChangeNow managed to inspire me and convince me of the acute importance of a sustainable lifestyle.
Throughout the summit I learned that there are those who are not only annoyed that the weather is getting more extreme but forget the next humanitarian crisis after a minute of silence, but there are also those who try to question these developments and look for solutions, such as integrating hydrogen-powered boats, cement or meat alternatives and much more into our everyday lives and our economy, the battery of our ark.
ChangeNOW is and was a ray of hope in the sobering, dark reality of the rapid development of climate change and its impact on our lives. I witnessed how happy these changemakers were when they were able to inspire the physical and online visitors, including me, with their ideas.
The representatives of the companies were happy to answer critical questions, even if these did not come from a potential investor but from students like me.
Finally, I would like to express my gratidude for events and projects like this, and people like Santiago Lefebvre, which have made it possible within a year to help me develop from a student, who didn't even know what circular economy really means, into someone who uses his semester break to write a whole article about the largest event for our planet.
No matter how much you think you know, I cannot recommend more the value that visiting events like ChangeNow or participating in debates on sustainability in helping us grow as future leaders and actors for the planet.