Executive Master in Digital Innovation and Entrepreneurial Leadership (EMDIEL)
Meet the Alumni: Lennart A. Paul, Class of 2017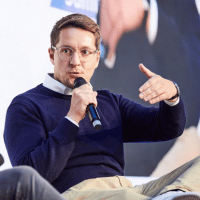 Lennart is currently the co-founder and CEO of BEX technologies GmbH. He agreed to an interview with us to discuss topics from and aspects of his study experience that really stuck with him, especially coming into the programme with a corporate and consultancy background.
Can you tell us a little about yourself and your background? What is your current professional situation?
I was born in 1988 and am a German citizen with several years of international experience as an expat. I started my career as an executive assistant at the Würth Group, co-founded a corporate start-up, and spearheaded some digital business development projects.

After that, I lived in Berlin and Hamburg, and worked for a couple of years as a partner in a digital consulting firm, mostly focusing on B2B businesses. Since 2019 I've been the co-founder and CEO of BEX technologies GmbH, a digital freight forwarder and logistics platform in the construction space.

Why did you choose the EMDIEL? Did you have specific goals or a general idea of how you wanted to evolve?
In 2016 when I enrolled in the program, I was looking for an Executive MBA with a digital emphasis. The EMDIEL appeared as an ad in a printed magazine (Brand Eins Innovation) and it immediately caught my attention. After already completing my bachelor studies alongside full-time work, I knew that I also wanted a master degree before I turned 30. I wanted to study something new with a bit more of a scientific background, but without losing touch with practice.
Can you share with us a memorable experience from the programme that has impacted your life in the long run?
Effectuation has been key to my entrepreneurial journey. I am a strong believer in this way of being an entrepreneur — of taking action and working with what you have, who you know, etc. Also, the people that we met during our stays in Berlin, Paris, London, Shanghai and San Francisco were great and almost every one of them brought valuable experience to the table.
What are your main takeaways from the EMDIEL? Were you expecting them, or did they come as a surprise?
The effectuation method – I did not know this concept before. I guess with my corporate and consulting background, which I had before I started the program, I did not come across such a method. Everything is usually based on targets, not on means. However, to me, that is a much better approach to entrepreneurship.
How is the required project developed during the EMDIEL doing right now?
From 2016 to 2021, I successfully ran the project as a side business, however after starting my current company in 2019, it became harder and harder, and I was forced to close it.
In retrospect, looking back on your time management between your work versus the five modules - e.g. assignments, trips, etc - what would you do differently?
With what I know today, I'd enjoy the trips related to the modules more and make even more out of them by prolonging them by a couple of days on either end. I only did this in San Francisco and Shanghai; I should have also done it in Paris and London.
Which module was your favourite and why? Any favourite speaker or expert during the EMDIEL, and why?
The trip to San Francisco was spectacular because it was the first time I directly connected with the US founder and start-up spirit. That really motivated me. Today, I still take from my experiences during this trip.
Last but not least, according to your experience, what kind of profile would thrive in this programme?
The EMDIEL is the best alternative to a "classical" master if you really want to broaden your horizon beyond the beaten path and mainstream business education.