Thursday 11 March, 96 students of 25 different nationalities and from 3 ESCP specializations (Innovation, IoT and Digital transformation) joined the Michelin Campus Innovation.
A 1-day hackathon, which aims at investigating, proposing and arguing on technical feasibility, economic viability and sustainable solution offered students a great opportunity to discover Michelin activities, products and meet top managers!
With 127 200 employees working in over 170 countries, Michelin is a leader in sustainable mobility, ranked amongst the world's most innovative, responsible and high-performing companies.
The MICHELIN CAMPUS INNOVATION is a competition to reward the team spirit and innovation of students in higher education.
From 9:00 am to 5:00 pm organised by Anne-Sophie Greil, Employer Brand and School Relationship Manager and Lisa Crippa, Events & Attractiveness Projects have been orchestrating the challenge.
ESCP Students have been splitted into 18 groups of 5 to 6 members and had to choose one of the 2 topics to crack:
● How to maintain operators' skills in industry on tools in perpetual evolution?
● How to measure behaviour and associated attitude in a digital transformation of an industrial population?
They have been coached by Michelin's experts (Jean-Philippe Ollier, Manufacturing Engineering Director, Giuseppe Garaffo, Group Progress Expert and Catherine Tranchant, Jean-Christophe Delage, Clément Contour, Nicolas BENEZIT, Denis Laforest, Digital Tranformers) giving them real-life insights and a lot of inspirational perspectives.
Students groups have been on boarded into a challenging schedule organisation to bring their recommendation to the next level. 3 rounds of 3-minute pitch… A very accurate but smooth-running process to get 6 of the best teams before selecting the 2 finalists and then the final winner.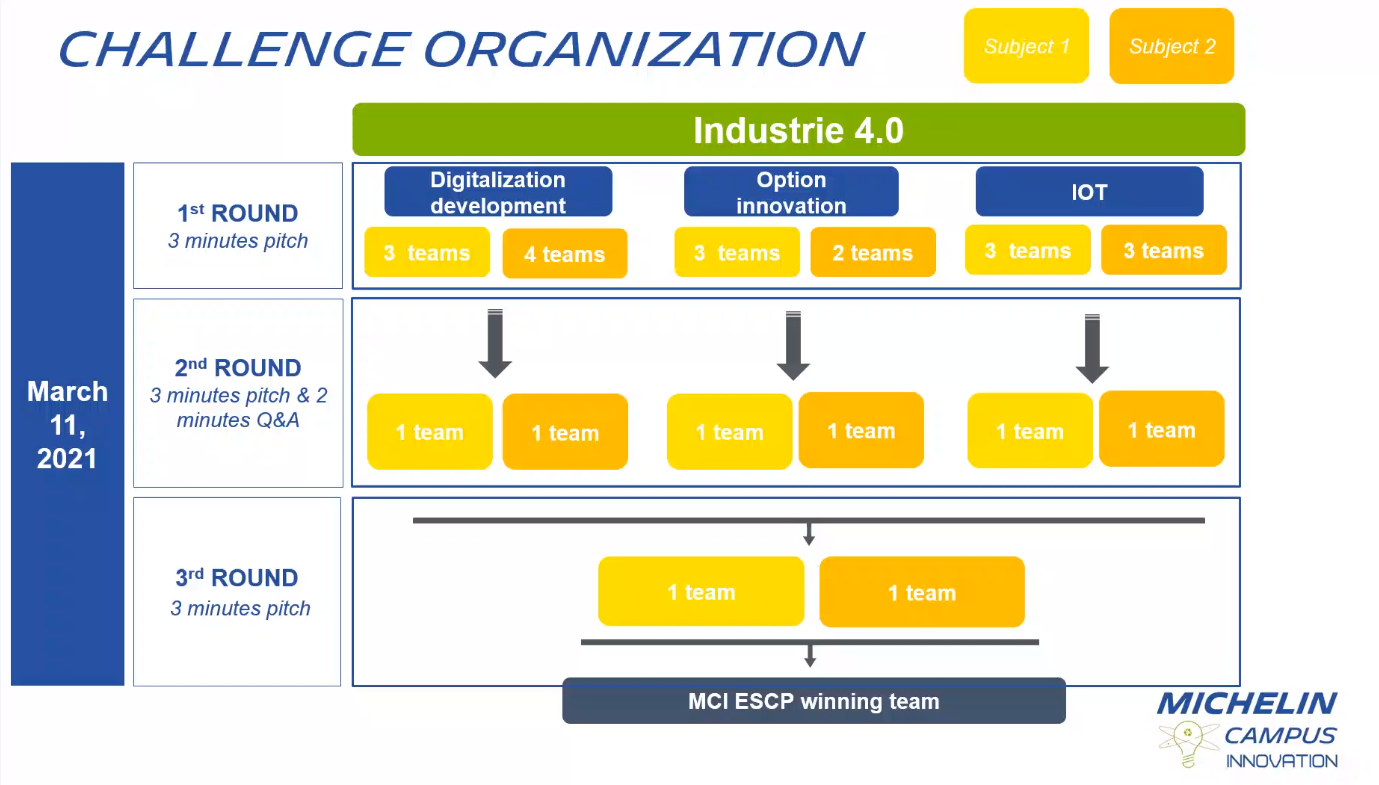 Exposing students to companies' issues is part of the ESCP pedagogy but as Professor Geraldine Galindo, Scientific Director of the Factory for the Future Chair says "I'm still very impressed how students can quickly seize and take up a topic. Moreover, they navigated through the process remotely, which is a priceless skill to develop in this particular period we are going through. Fair to say, it is also captivating to see how students from x different nationalities can bring precious ideas on the table. Valuable results have been presented to the Michelin experts and I'm looking forward to welcoming the 2022 Michelin Campus Innovation!".
"I was amazed by the teams' dynamism as well by the clarity of the projects they presented" says Jean-Philippe Ollier, sponsor of this project. "Considering how inspiring this Hackhaton has been, I'm convinced we should keep building bridges between business shoools and companies".
A Jury composed of ESCP Professors and Michelin representatives have evaluated the students' achievements (economic viability, technical innovation, potential impact, management & teamwork, wow effect).
Giuseppe Garaffo praises students' ability in taking over non-easy topics so rapidly. "For sure, student's outcomes will inspire us. And I would be glad to be on board next year to coach again!"
Nicolas Benezit also spent a very interesting day sharing with ESCP students. "They have been extremely efficient at rapidly understanding our industrial stakes, and very creative in the concrete and sustainable solutions they proposed".
Catherine Tranchant who got to coach the winning team appreciated the experience as it allowed her to discuss impressive out of the box ideas with our talented students. ""Think simple, stay close to the reality (eg: as a farmer) and mostly important: let your feelings talk" were my guidelines for them. I've been impressed by their skills in listening, collaborative teamwork and sharing tasks to be more efficient."
"This kind of challenge teaches us once more that the students's fresh eye and take on concrete issues faced by companies generate new paths of progress" explains Denis Laforest. "It is an excellent exercise which prepare us to get ready to welcome the next new generations in our company, while offering them the keys to debunk a few myths of the business world".
The 6 teams qualified in final will receive a batch of Michelin goodies (bottle, backpack and battery charger).
Congratulations to:
Anaelle Derville, Sirine Douhane, Charlotte Imbert, Nils Putz, Viktor Schaetze and Wilhelm Bingsmark, Davide Castellano, Garance Chanove, Théophile Deloingce, Yu-Ning Lee, Marvin Ulbrich, members of the ScanV team and the Michelet's go team (students from the Digital transformation Class)
Mathilde Bourland, Elisa Dahan, Sarah Chaabane, Léopold Morin, François Schiestel and Corentine DURROUX, Estelle VU, Wenting ZHANG, members of the Never tired team and the PM group (students from the Innovation Class)
Federica ARMONE CARUSO, Lucca BOTTI, Ludovica BRAJA, Federico CACCIABUE, Ksenia KASHKAROVA and Piergiorgio Candito, Yuanxin Cui, Ludovico De Vita, Margarita Sarkisian, members of the IoTeam team and the Tirefy team (students from the IoT Class)
The Never tired team the Michelet's go team have been selected as finalists and the members will be invited to an event organized by Michelin.
At the final step of this hard competition, Michelin praised the Michelet's go team. Each member will have the opportunity to celebrate this achievement enjoying a dinner in a Michelin-starred restaurant.
Let's see how Wilhelm, Davide, Garance, Théophile, Yu-Ning and Marvin report from this experience!

Why did you choose the topic "How to measure behaviour and associated attitude in a digital transformation of an industrial population?"
"We are a group of students from the specialization of "Digital Transformation: Understand, Contribute, Manage" on the Paris campus this year. The main emphasis in our specialization is the importance of people within digital change, and so we wanted to work on issues related to human/ IT complementarity. We felt that this topic had the right balance between our courses taken and our personal interests, and therefore we reached a consensus quite easily and decided to take on topic 2 instead of the other one."

What did you enjoy the most and why?
"We enjoyed working on a concrete case study and growing an intuition into a concrete project. In a very short period of time, we shaped our initial idea, got insights from corporate experts and managed to oversee its potential implementation. A remote experience of project management in just one day! We managed to come together as a team, making the best out of our personal experiences and knowledge from various fields, just like in a real professional environment. Also, our team dynamic was amazing. Despite the fact that we were working under high pressure (time & content wise) we were always able to create some "loosen-up" moments and just laugh together while striving for the success of this Grand Challenge."

What was the most difficult?
"For us, it was to quickly gain a complete understanding of the problem that needed to be solved, defining the need from Michelin and the limitations we have in the scope. The given case was rather complex, and in order to propose the best solution possible, it was essential to first diagnose the case to understand the underlying challenges behind the presented problem as well as the desired outcome. Therefore, we dedicated a substantial amount of time at an early stage of the project to read, re-read and discuss the case, which in the end allowed us to present a solution with greater accuracy."

If you had 3 words to describe your experience? Which ones?
"Michelinspiring, Michelintrepreneurial, Michelinsightful"

What did you learn from this Company Projects process?
"The project provided us with experience in addressing a real business problem with a consultative approach, presenting concrete solutions within a given deadline. Due to the 3 minute "pitch" presentation format, we learned to present detailed solutions to a complex task very concisely and "to-the-point". Additionally, having real-life feedback from the digital transformation experts from Michelin along the way was extremely helpful, through which we could see the blindspots of our ideas, and further develop and shape our proposals into what exactly Michelin is looking for."

Does this challenge give you a taste of Michelin issues, did it inspire you to consider getting a job in this area?
"The two topics presented were all "real-life" challenges that Michelin is trying to solve at the moment. Therefore, the Michelin Innovation Challenge gave us a very practical insight to what digital transformation means for a well-established company that needs to adapt to this modern phenomenon. What's more, this experience provided us with a glimpse of the different challenges we might be facing once we enter a company which operates in this area. For sure we now have more information about this world and after graduation, some of us would definitely be interested in thinking about entering this fast-changing industry."
For Pascale Pernet, ESCP Chairs and Business Development Director, this event is a "further demonstration that French industry is not lacking in initiative! Special thanks to Michelin for its involvement at ESCP, and most of all to Jean-Philippe Ollier who supports our Chair Factory for the Future, offers grants to students in trouble due to the sanitary crisis, and provides the school with great challenges and opportunities!"