Thursday 10 march, over 100 students from 3 escp specializations (innovation, iot and digital transformation) joined the michelin campus innovation.
One day hackathon, which aims at investigating, proposing and arguing on technical feasibility, economic viability and sustainable solution, offered to the students a great opportunity to discover Michelin activities, products and meet top managers!
The MICHELIN CAMPUS INNOVATION is a competition to reward the team and innovation spirit of students in Higher Education.
After a 2021 edition 100% online, students and Michelin representatives met in person.
From 9:00 am to 5:00 pm, ESCP Students have been split into 20 groups of 5 to 6 members and had to choose one of the 2 topics to crack:
● How to keep our frontline workers motivated to use digital solutions (Office 365) with FUN in her/his work journey?
● How can we better use augmented reality in our industry to serve people? Identify usages, risks… how to scale up?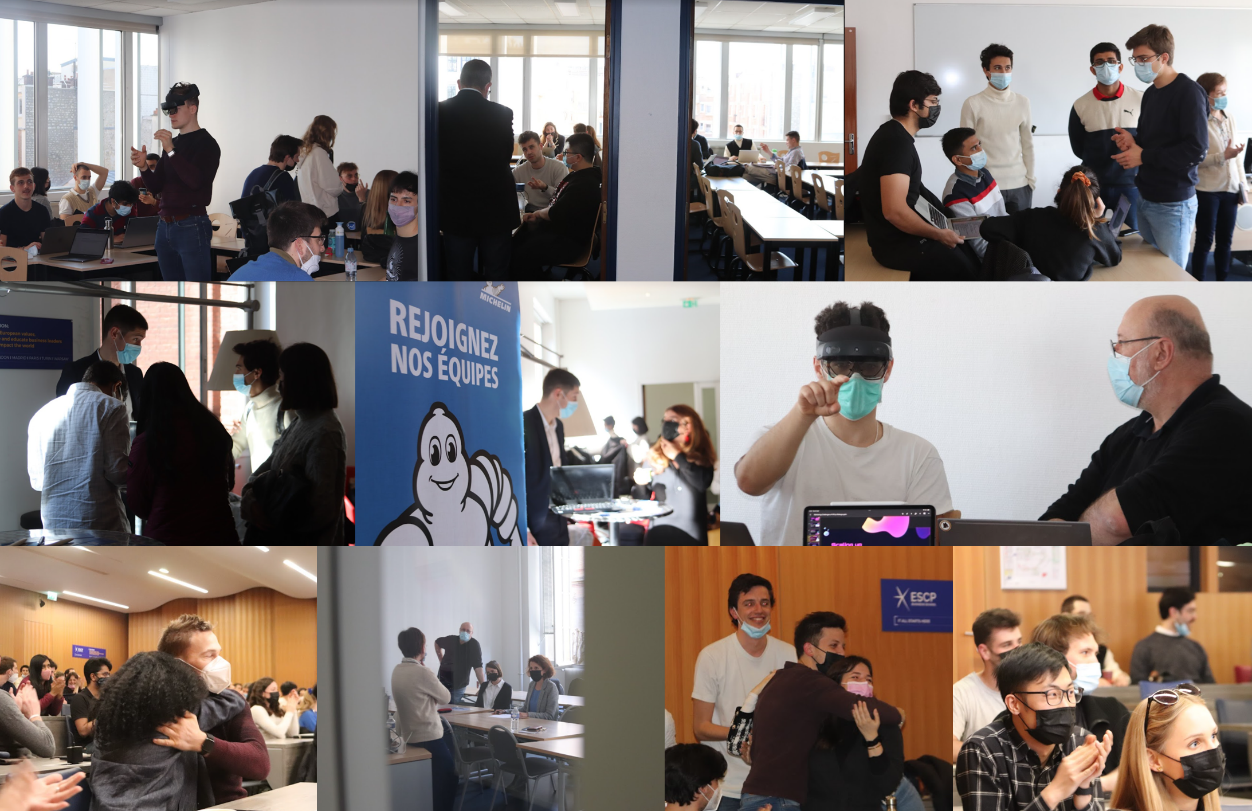 It was a unique opportunity to:
- understand the Industry 4.0 context
- make concrete proposals on topics suggested by company managers
- reflect on managerial issues associated with digitalization and augmented reality
- interact with factory workers in Brazil, India, Italy or Germany
- be coached by managers
- pitch in an impactful way
- listen to others' proposals
- exchange and discover different contexts and career paths
They have been coached by Michelin's experts (Catherine Tranchant, Jean-Christophe Delage and Denis Laforest) giving them real-life insights and a lot of inspirational perspectives.
Students groups have been onboarded into a challenging schedule organisation to bring their recommendation to the next level. 3 rounds of 3-minute pitch… A very accurate but smooth-running process to get 6 of the best teams before selecting the 2 finalists and then the final winner.
Exposing students to companies' issues is part of the ESCP pedagogy but as Professor Geraldine Galindo, Scientific Director of the Factory for the Future Chair says "This first in site version lead the students to exchange formally and informally with the Michelin teams, to consider new work contexts and to compare their proposals. Exchanges with workers in Brazil, Italy, Germany and India also enabled them to understand the expectations of those who use and will use digital tools. This challenge is once again an opportunity for them to develop skills as diverse as knowledge of technologies, creativity, adaptability and listening skills. The Michelin teams are in direct contact with the students, who often come up with very relevant points and ideas. For ESCP, it is also an opportunity to make our students more familiar with the industry and to develop actions with a company such as Michelin."
Jury members from ESCP and Michelin have evaluated the students' achievements (economic viability, technical innovation, potential impact, management & teamwork, wow effect).
At the final step of this hard competition, Michelin praised the CLAYM team (Giulia Casalegno, Matteo Cecchinel, Alessandro Azzoni, Celeste Mastria, Francesco Amodeo and Ariane Salque, students from the Innovation course) for the way they took over the topic "How to keep our Frontline Workers motivated to use digital solutions (Office 365) with FUN in her/his work journey". Each member will have the opportunity to celebrate this achievement enjoying a dinner in a Michelin-starred restaurant.
Congratulations to the 3rd wheel team from the Digital Transformation course, finalist for the subject "How can we better use augmented reality in our industry to serve people? Identify usages, risks… how to scale up?": Sarah Sanders, Hugo Jouan, Leonardo Santa Maria, Maria Victoria Grasso and Melody Watson.
Congratulations also to all students involved in this Michelin challenge, they took over with enthusiasm and great ideas.
"It was a real pleasure to share Frontline workers' experience with the young generation that is about to enter its professional life. The students' maturity amazed me. For me, this day has been a source of fresh ideas and creative new ways of doing things; I've always loved opportunities to exchange on various topics with new and open eyes, to make me progress. Thanks to ESCP for such a day" says Catherine Tranchant.
"The fresh perspective brought by students always benefits us. I particularly appreciated the informal exchanges with these inquisitive and committed young people." adds Denis Laforest.
"Meeting with highly motivated and curious students, who engaged in pitching a real issue of our industry! What a pleasure and a source of inspiration! Win-win exchanges that, I hope, will have generated an interest in our beautiful company" declares Jean-Christophe Delage.
Let's see what the winners, Giulia, Matteo, Alessandro, Celeste, Francesco and Ariane, learnt from this experience!

What did you enjoy the most and why?
We enjoyed the overall organisation of the day, the involvement from Michelin, ESCP and students. It has been extremely challenging and we were able to perform well, due to the short timeframe.
What was the most difficult?
Being able to really understand the needs of frontline workers was one of the most difficult aspects of the challenge. In order to come out with an idea to make the adoption of Office 365 a fun experience we really had to get out of our comfort zone and think out of the box. The time we were allowed to spend during the morning interviewing several workers from different Michelin Factories around the world has been crucial. Indeed, their insights and experiences have been the main driver behind the development of our idea. It was just by keeping in mind the central role of the frontline worker in our challenge that we managed to overcome the difficulties during the day.
If you had 3 words to describe your experience?
"challenging", "enriching" and "inspiring"
Does this challenge inspire you to consider getting a job in industries such as Michelin?
Honestly, I've never considered applying at Michelin or in a similar company. It is an industry that we do not hear about frequently in business schools. This challenge was a great opportunity to discover the company and to give us a "fresh" image of Michelin, as a company really dedicated to innovation and to their employees.

For Pascale Pernet, ESCP Chairs and Business Development Director, this event is a "further demonstration that French industry is not lacking in initiative! Special thanks to Michelin for its involvement at ESCP, offers grants to students in trouble due to the sanitary crisis, and provides the school with great challenges and opportunities! This kind of challenge is very appreciated by our companies partners as it teaches them that the students's fresh eye can generate new paths of progress and lead to beautiful and future collaborations".