Pitch & Present: building a stronger network between ESCP students, startups and VCs
During the pandemic, one of the many things we all miss the most is engaging in impactful, real-life discussions. We miss exchanging our thoughts with inspiring minds without the need to worry about connection issues, delays, or blurry images.
Positioned at the intersection between members of the university faculty, career services as well as the alumni network, the connect me. team realised they had an important role to play in encouraging collaboration and bringing together students and companies at ESCP. Despite the complexities of social distancing, connect me. continues to believe in the power of networks.
Overcoming the limitations of collaboration during the pandemic
That's why connect me. made the choice to start the Pitch & Present event series, to foster exchanges between students and professionals beyond the normal lectures. The event takes place every two months with a specific industry focus. The goal of this event is to build a stronger network between ESCP students and startups as well as the venture capital (VC) ecosystem. One of the most exciting parts is that students can experience how real startups pitch their business model in front of a VC jury and understand the kinds of questions that are asked. Likewise, connect me. wants to use these events to strengthen ESCP's entrepreneurial spirit and encourage students to start what they believe in.
The first Pitch & Present
The first Pitch & Present event took place on the 14th of January 2021 with a focus on Educational Technology (EdTech). ESCP students Rebecca Linneweber & Sarah Röhm, as the initiators and moderators of this event, hosted 85 participants who watched the pitches from four early- to mid-stage startups. The four startups, Clay, EduEnhancement, StackFuel and GoStudent, pitched their businesses in front of a top-tier VC jury from IBB Ventures, GFC and PlugandPlay.
connect me.'s key lessons for online, collaborative events
Online events can be interesting and dynamic if the right format and concept is found. Whether in-person or online, flexibility and adaptability are key skills, especially during a pandemic.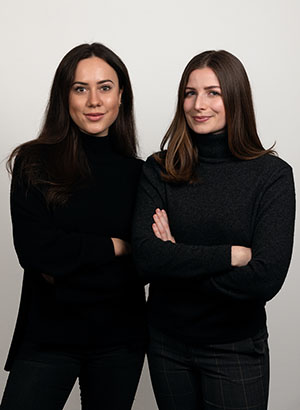 "In order to keep the attention and interest of the audience, we decided to go for a rather tight schedule and allocated 15 minutes per startup pitch," explains Rebecca Linneweber. "During the first half, the spotlight was solely on the founders' pitches, followed by the second half dedicated to discussion between the VC Jury and the founders as well as Q&A from the audience. This worked brilliantly."
"We also learned that it is crucial to overcome rejection and criticism, and rather use this as feedback to further enhance the purpose and vision of your event," adds Sarah Röhm. "The beginning is always hard. However, we just kept going and leveraged our network, which helped us a lot.
"We learned that being perseverant always pays off, and in the end, we're proud that we brought together 85 people to listen and engage with a great lineup of VCs and startups. It was a true success."
Last but not least, always ask for help and leverage your network!
"Oftentimes the most interesting collaborations arise from unexpected connections. Reaching out for help often makes things easier," adds Rebecca. "Our team from connect me. and the ESCP incubator Blue Factory helped us to make this happen."
Connect me. is thrilled to be focusing on sustainability for their second event on March 24th. Join the network and other curious minds to learn about the ambitious projects that ESCP students have in store.
Check out the connect me. website, follow connect me. on Instagram, Facebook or LinkedIn to stay tuned! And don't hesitate to contact the team any time if you want to join!