- An interview with Prof. Dr. Kerstin Alfes, ESCP Berlin's Academic Director of the MBA in International Management. Here is what she had to say about careers, how they have changed and her impression of MBA students. -
Due to the dynamic nature of today's job market, it's undeniable to say that our notion of the word "career" is changing. Have you experienced this?
We are definitely moving further away from traditional career concepts. To say that the traditional concept of a career is obsolete may be too extreme, but nowadays, professionals, especially students, are having a different experience than professionals did many years ago. Large companies known for their tall, multi-layer, functionally organised structures are adjusting themselves to become more agile and dynamic and the individuals who work there have had to adapt as well, accepting increased responsibilities and reduced promotional opportunities. Due to this, more and more professionals are moving towards taking charge of their own career rather than being dependent on traditional organisational career arrangements.

Many professionals switch companies in hopes of jumping on a fast-track to the top jobs. Does this work?
According to research, the answer is no. Research by Prof. Monika Hamori has shown that CEOs from top companies in Europe and the U.S. have been with just 3 companies on average. Prof. Hamori found similar results for non-CEO executives. Her research compared the effectiveness of inside and outside moves and it essentially revealed that inside moves produce more and faster-paced promotions.

As an Academic Director, but also as a professor, what kind of students do you come in contact with?
In my years of being Academic Director, I have come across some of the most motivated and determined-to-succeed young professionals. I think that very often there is a certain stereotypical view when it comes to business and management students. Usually it plays with the image of these students being only money-focused. However, I have experienced the MBA students here at ESCP as being thoughtful, innovative, informed and with a concern for social issues in business. Most students have solid work experiences and they are now looking for change in their career, either by switching to a different field or industry, or by accelerating their upward movement. You can see that as a general trend with MBA students below in the 2018 AIGAC survey of MBA applicants. The numbers speak for themselves in terms of what most influences young professionals to apply for an MBA programme.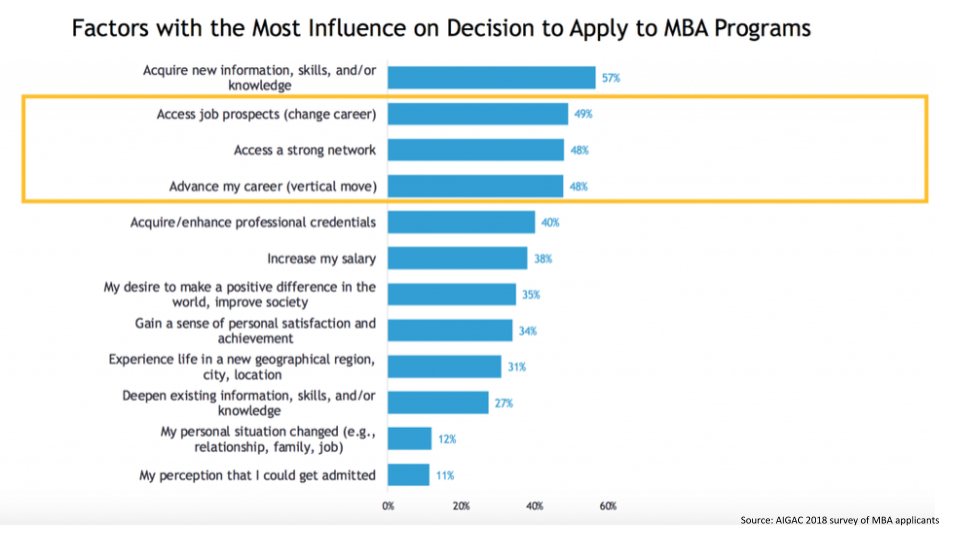 Why ESCP's MBA in International Management?
Personally, the biggest plus in ESCP's MBA in International Management programme is the number of electives that we offer in the second semester. There are more than 20 options, and students choose 4, which gives them a huge variety and flexibility to "design their own curriculum". They can decide to focus the electives on a specific area (such as finance) or stay more general in their choice. They can also do the electives on one campus or do each elective in a different location, benefitting from the European spirit.
The second advantage is the huge ESCP alumni network. Our alumni have been very helpful in giving advice to the MBA students and helping them with questions related to career development or finding a job. This is definitely a valuable resource.
Lastly, I think that the company consultancy projects (CCPs) we offer are amazing. The companies are spread across different industries, there are big companies and small start-ups and the projects are real-life challenges. Every year some of our graduates get job offers from their CCP company, so it's definitely a great springboard for students' careers.