Germain Legret, the school's first co-founder
Germain Legret was the school's first co-founder. He was born in 1752 and worked for the French Army before turning to a career in trade in the late 1790s. After living in Brussels for a few years he settled permanently in Paris.
Germain Legret and Paris
That was where he set up three business schools in short succession, all in the 1810s. He opened the Paris Académie de Commerce with Van Acker, a Belgian colleague, in 1815. The school taught trading skills to boys over 11 years of age. However, this first school was short-lived and closed down due to lack of funding at the beginning of 1818. Germain Legret then opened a second business school, at his home, in April 1818: the Ecole Spéciale de Commerce. However, it lasted even shorter than the first one, closing down within a year. These two successive failures did not discourage Germain Legret from making a third attempt a few months later, in partnership with Amédée Brodart.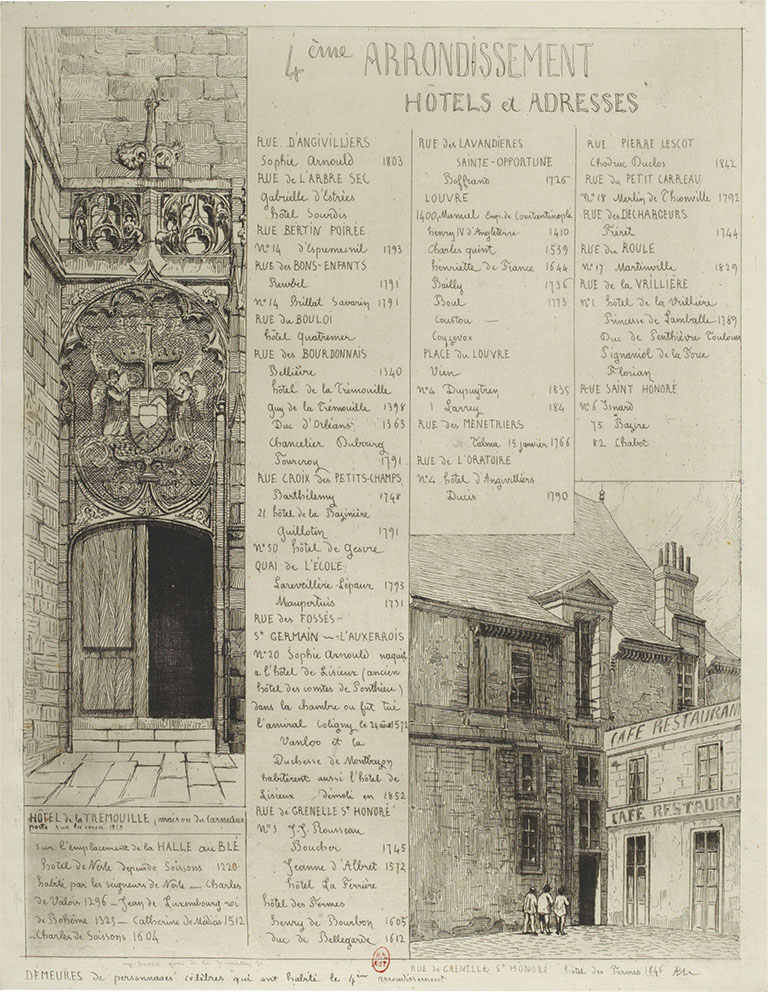 The Ecole Spéciale de Commerce et d'Industrie
Further to advice provided by Vital Roux, the two of them set up the Ecole Spéciale de Commerce et d'Industrie on 30 October 1819, funding it with their own money. The school was temporarily set up at Germain Legret's residence but this only lasted two months – long enough for the two founders to recruit the first pupils and the first teaching staff members, but also the time needed to move into new premises at the Hôtel des Fermes on 1st December 1819.
The building soon turned out to be too small and the school had to move a few months later to the Hôtel de Sully, located at 143 rue Saint-Antoine. The premises there were large enough to accommodate two hundred and fifty students.
The Students
The school only admitted boys of fourteen years of age and over. They could choose to be boarders, half-boarders or day boys. The school was divided into three classes – or comptoirs, as they were called. The first two dispensed theoretical classes while the third put business theories into practice via simulation, on the recommendation of Vital Roux. The students thus proceeded to simulations of trading transactions. Final-year students were taken to the Commercial Court when important cases were being held.
Guillaume Ternaux and Jacques Laffitte
To enhance the school's reputation, Germain Legret managed to get moral support and financial backing from Guillaume Ternaux and Jacques Laffitte, who granted their patronage to the school in 1820.
Germain Legret was a lecturer
In addition, and in parallel to his work as Dean, Germain Legret was a lecturer at the school, teaching courses in accounting and business correspondence.
1821: Germian Legret leave his position
Germain Legret had to leave his position as Dean of the school in 1821 due to financial difficulties. He was by then 70 years old and aspired to other occupations. He resigned as the head of the school he had co-founded but kept the title of "Honorary Dean". He died in 1838, aged 86.
Amédée Brodart, the school's second co-founder
Amédée Brodart was the school's second co-founder. He was born in 1789, the year of the French Revolution. He engaged in a military career. He was enlisted in Napoleon the First's Great Army and participated in the Spanish Wars from 1809 to 1811, during which he was wounded and had to have his right leg amputated at 22 years of age. After spending thirteen months in captivity, Amédée Brodart came back to France in 1812 and was appointed knight of the Legion of Honour.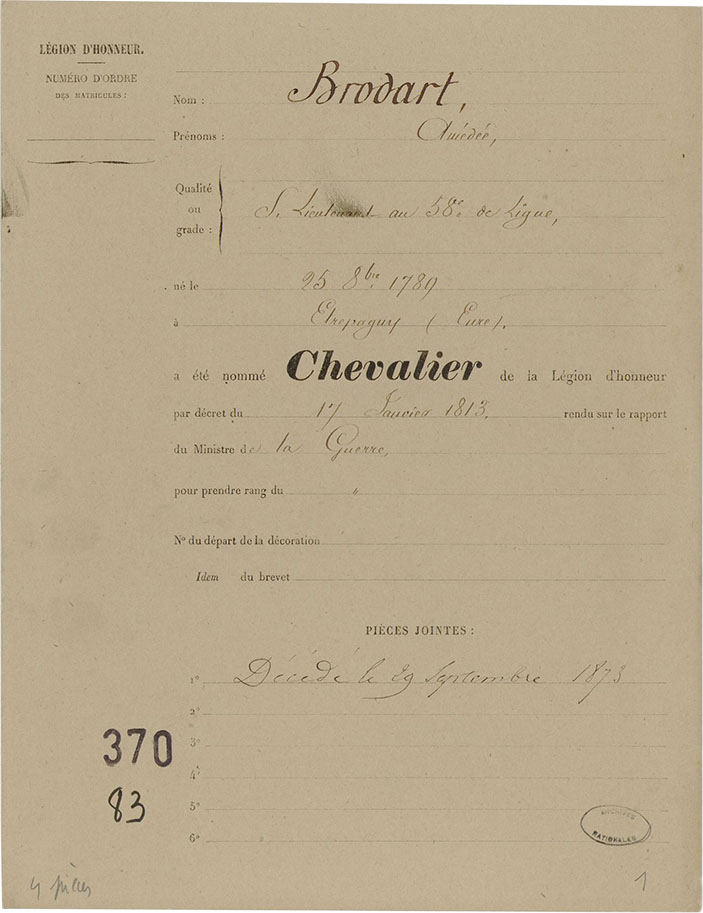 The new carrer of Amédée Brodart
As his military career had been shattered due to infirmity, and his administrative career had been interrupted for political reasons, Amédée Brodart turned towards commerce and more particularly trading in textiles, where he most likely made the acquaintance of Vital Roux.
Amédée Brodart, former Deputy Dean
He was the school's Deputy Dean until Germain Legret left in 1821, when he was appointed as Dean and refocused the school's courses on business studies alone, discarding industrial studies. On account of this, the school was renamed the Ecole Spéciale de Commerce from 1821, and Amédée Brodart was simultaneously Dean and a lecturer, teaching arithmetic, accounting and business correspondence.
In 1822: the school's financial
The school's financial situation was complicated, however: in 1822, he took out a loan for the school in his own name, and was still paying it back fourteen years later. The school's situation deteriorated quickly and in 1824, it was restructured as a limited partnership under the name H. M. des Taillades et Cie. This heralded the end of Amédée Brodart's time as Dean of the school.
Amédée Brodart at 34
He retired at 34, then got married and settled in South America. In 1825, he was a lecturer in French at the University of Buenos Aires, but he never let go of business teaching: in 1821 he opened the Accountancy Academy with financial backing from the National Bank of Buenos Aires. This institution was short-lived, however, and closed down in 1827.
In 1830, he returned to Paris, and then retired to Amboise where he died on 29 September 1873, aged 84.