The Future of Work: What's Next? Students' visions of today's challenges
This challenge is the final step of a 30-hour course delivered by Professor Emmanuelle Léon, Scientific Director of the BNP Paribas BivwAk! Reinventing Work Chair.
Main objectives
The course aims to explore the organisational changes that have impacted companies over the last decade, with a special focus on the consequences of the Covid crisis, and to identify how these changes impact management, engagement, and performance.
The course was designed to develop students' awareness of the various transformations they will be facing in their professional environment. As part of the assignment, students crack a challenge by working on the following timely topics and present their work to a jury of experts. Students presented their findings at Onepoint's headquarters where they were warmly welcomed by Jeremy Badre, an alumnus, who made this partnership possible.
2021 topics: Defining a new value proposition for the office, leading a different workforce (free-lancers, slashers, platform workers…), leading virtual teams, managing coworking, integrating newcomers in a remote environment, developing/maintaining team cohesion remotely, and analysing the stakes of HR decision making via artificial intelligence.

2022 topics: Expressing emotions when working remotely, social capital at a distance, teleworking and career development, teleworking and sustainability, digital surveillance, professional isolation, communities of practices and digital territories, weak signals and digital nomads.
The Reinventing Work chair is an ecosystem where managers, professors and students work together in order to better understand the changes at hand in the organizations. This course has been designed in partnership with the different members of the jury, some of whom shared their experiences and knowledge with the students during class. It is through these continuous interactions between research and real-life challenges that we will be able to move forward. Designing a video, writing an executive summary and confronting their points of views with those of the jury have raised the students' awareness of today's real life challengesexplains Emmanuelle Léon
A panel of experts
A panel of experts was set up to assess the students' achievements. We warmly thank Mohamed Benkhodja, Leader Transformation & Change Management, Onepoint ; Pascal Borie, Business developer, Station F. ; Marcus Goddard, VP Intelligence, Netexplo ; Samir Hamidi, Education & Transformation, Onepoint.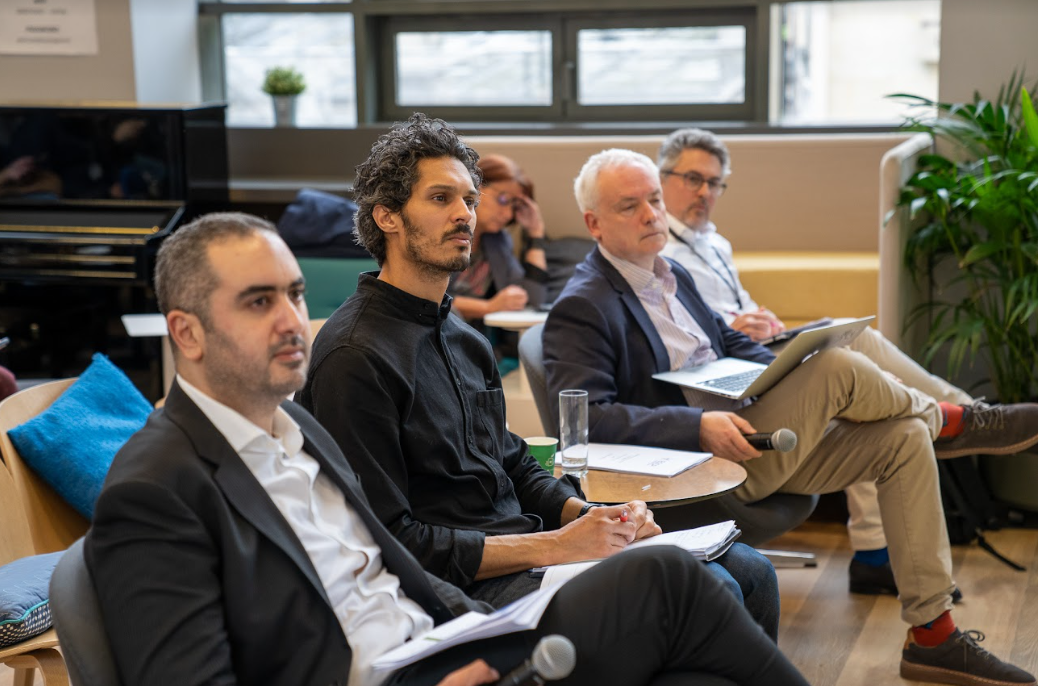 Marcus Goddard, VP Intelligence, Netexplo was "very impressed by the students' ideas and treatment of important topics".
Samir Hamidi, Education & Transformation,Onepoint appreciated this "great moment of reflection on important topics (surveillance, digital nomads, community of practice/learning, remote work...) notably impacted by Covid. I am grateful I had the opportunity to hear students express themselves on such matters. Congrats to the team for the organisation and to all speakers! Looking forward to our next learning and enriching moment".
Mohamed Benkhodja, Leader Transformation & Change Management, Onepoint adds: "It was an amazing morning with these ESCP students. I was delighted to be a jury member and have the honor of evaluating an equally high quality of work. I can only encourage them to continue, and look forward to co-constructing our future collaborations."
Pascal Borie, Business developer, Station F was impressed by the "rich and dynamic presentations by motivated students! Congratulations!"
Pitching
Each group took the "e-floor" for 10 minutes to present a 3-min video pitching their recommendations and to answer questions from Jury members.
Their topics were deeply embedded within the Reinventing Work Chair, developed between ESCP & BNP Paribas. With regards of the quality of the students achievements and academic research the jury has pre-selected 4 out of 12 projects.
BivwAk! was invited to decide for the final price and 2 projects were awarded: "The identification of weak signals remotely" - which is particularly relevant as flexible work may be associated with stress - and "the recruitment of digital nomads" - where the benefits but also the challenges of managing such a population were cleverly presented.
Marie Guillaume, Head of the transformation set up BivwAk! by BNP Paribas, "Congrats to all the teams and students for your amazing work and recommendations and to the 2 winning teams ".
Winning teams
Would you hire a Digital Nomad?
Congratulations to Elena Bagagli, Emanuel Klotz, Edoardo Meridiani, Maite Mizzaro Papini and Akanksha Thakur for their project: "Would you hire a Digital Nomad?"
What students say about this experience
Why did you choose this topic?
We all heard about Digital nomadism on different media sources, but we had superficial understanding of what it entailed. By choosing this topic, we wanted to evaluate it from an academic perspective, assessing also the drawbacks that digital nomads could experience.

What did you enjoy the most and why?
Digging into this absolute interesting topic!
Conducting the surveys and interviewing all the digital nomads that helped us and deeply understanding this lifestyle
Listening to their experiences and feedback made us realize how hard and fascinating this trend is. Maybe, who knows, we might adopt it in the future.

What was the most difficult?
Preparing the report was very inspiring but, of course, we encountered some difficulties framing and narrowing our topic to one research question. Digital nomadism is a very broad and relatively new subject for research, therefore it was challenging to effectively address one specific issue. It was key for us to be coherent and well-structured throughout our work, especially because different perspectives could have been applied.

If you had 3 words to describe your experience?
Inspiring / Eye-opening/ Thrilling

What did you learn from this project process?
Working on this project for over 3 months was such an enriching experience to learn about various aspects of a digital nomad's life but also to understood how adapting to this new trend will be beneficial for their employers. Interviewing these professionals with a structured approach boosted our analysis capabilities. It was also really fun to hone our editing skills while creating a video presentation.

Learn more about their findings
The Groupe came out with a few recommendations:
Hybrid organisations, which seamlessly integrate in-office and remote working hours for their employees, are best suited to meet the needs of digital nomads.
In a company adopting a hybrid work arrangement, digital nomads will be able to follow their lifestyle for the majority of the year, but there will be times when they will be required to work within the organisation. It might become a sort of 50-50 split in which employees can pick whether to travel and live as a digital nomad or stay in the office during particular periods.
Furthermore, it would be recommended for companies to create a partnership with coworking spaces around the world. Employees would therefore go to work in these locations where they would be able to meet other colleagues, with the result of preventing the sense of loneliness that is typical among digital nomads due to spending extended periods of time away from home. This solution would also assist them in expanding their network, becoming more motivated, and remaining focused on completing their objectives.
A third recommendation is to include policies for hiring freelance nomads, having legal contracts with specific terms and regulations tailored for this type of new job. Retirement plans and jurisdictional advisory would be all implemented and covered in this part of the plan. The last recommendation is to introduce employee mobility as a benefit. This could be a competitive advantage both for the candidate and the company itself. A firm that embraces and encourages this digital nomadism is seen as a very modern working environment. This is a major plus for their employer brand, indeed job seekers would be more tempted to apply and be part of these types of companies. Insurance coverage, as well as mobility plans, could have a deep incentive towards the implementation and success of the digital nomad world.

Source: Executive summary of the students group
Weak signals
Congratulations to Danfeng Cao, Mateo Machado, Giorgio Pennacchio, Sarah Sanders and Inés Villar Rodriguez for their project: "Weak signals"
What students say about this experience
Why did you choose this topic?
This topic really caught our attention because of our personal interest in mental health. The full title of the topic was "Weak signals at a distance: how do I know when someone is stressed out, or does not understand when s/he is remote?". In addition, it really sparked our curiosity because it is part of the reality we live in every day and yet not many studies have been done on this area, so we wanted to know more about the subject and share our findings.

What did you enjoy the most and why?
Discussing the topic of mental health from the point of view of varied cultures (we are a team of 5 but we come from 4 different countries)
Understanding how different societies and social norms cause and treat (or not) these issues

What was the most difficult?
Starting was the hardest part because of the fact that not much formal research has been done in the area of identifying someone's mental health condition at a distance or through a video call. Of course, our work only scratches the surface of the real problem but we hope that it helps to raise awareness on this topic because with today's massive transition to remote work, it is more relevant than ever.

If you had 3 words to describe your experience?
Enlightening / Challenging / Fun

What did you learn from this project process?
In addition to learning the specifics from this topic, this assignment was a strong reminder that mental wellbeing should be one of the top priorities in everyone's lives and must not be ignored by societies and organisations.
Learn more about their findings
After conducting a survey among ESCP students, the group collected a final sample of 47 respondents. From their findings, they share the following inputs:
Teleworkers may face more risks in terms of the physical environment and ergonomics (defined as the study of people in their working environment) because home settings do not always satisfy the same occupational safety and health standards as traditional workplaces.Employers should guarantee that the telework office space meets ergonomics criteria, in proportion to their level of control. Providing an ergonomic chair, a wide screen, a keyboard and mouse, adjustable or flexible workstations, and training to computer workers can reduce musculoskeletal and ocular discomfort, promote healthy computing behaviors, and increase performance.
To avoid injury when teleworking, interventions such as ergonomic tele-site risk assessments, worker training, height-adjustable workstation furniture, and adequate office equipment set-up are recommended. Telework can have negative effects on one's psychosocial well-being, such as slowing down one's work pace, prolonging working hours, and interfering with work–life balance, loneliness, and detachment. There's also the possibility of violence and harassment, such as cyberbullying. When a worker does not have access to a private, peaceful, and dedicated workspace, the psychosocial impact on the worker may be amplified. Employers have to stimulate social interactions and promote mental health to reduce stress during telework, the following action point may be considered: employers should encourage employees to set work hour limitations and stick to a regular schedule in order to avoid working an excessive amount of hours, incentivising regular social connections and informal discussions (e.g. virtual meetups and dedicated social time before and after meetings) during telework may reduce feelings of isolation and detachment, encouraging workers to participate in enjoyable social and leisure activities.
In addition, employees should be informed about the psychosocial dangers associated with telework, as well as the early signs of mental illness and how and where they can get psychosocial and mental health support.
The workplace is an important location for many employees to be physically active and reduce sedentary behavior. The commute to and from work, activity breaks, workplace programs, and accidental exercise all provide possibilities for more physical activity during the workday. Furthermore, It may be difficult to enforce existing workplace standards on tobacco smoking, alcohol consumption, and drug use when telework is done in private homes and other locations outside the direct authority of the company, as a result work–life balance could be negatively affected. Employers may help teleworkers stay healthy by supporting healthy habits and giving training and tools on how to be healthy during remote working. In order to support healthy behaviors and well-being during teleworking, an employer could consider the following action points: employers can encourage and empower teleworkers to set work and personal boundaries, ensuring that they follow a pattern of work- and nonwork-related activities as well as a time-management schedule; workers should stick to a normal sleeping pattern and avoid screen time and work obligations right before bedtime, electronic gadgets can be programmed to remind workers to switch them off before going to bed; and both workers and employers should collaborate to establish and implement telework arrangements that give workers time to rest, recover, and take care of personal matters.

Source: Executive summary of the students group
And we congratulate all the other teams who also made an outstanding work. Enzo Falco, Domitilla Corti, Joséphine Colin, Anshika Jain, Zhengqi Xie (Digitalisation/ sustainability), Anshuman Mishra, Himanshu Shastri, Melody Watson, Matteo Belumé (Digital surveillance), Panchagnula Jayanth Bharadwaja, Swapnil Umesh, Leonardo Santa Maria, Mouna Rahal, Tianyi Wang (Digital territories), Yuqi Chu, Fabiola Falzone, Sizhao Xie, Vasco Montanino Oliva, Aryaman Singh (Emotions), Vittoria Fastelli, Ivette Vasquez, Clara Cizain, Sacha Mouchiroud, Hamza Lahmamssi (Career), Luca Ferrero, Francesca Fontana, Pietro Giacometti, Edoardo Piubelli, Phani Puppala (Professional isolation), Marie Groeller, Xinyi Li, Raphael Bion, Hugo Jouan (Social capital)