Faculty news Full Faculty Meeting looks into the future
The 2022 Full Faculty Meeting took place between 8 and 10 June, with professors working studiously on the future of the school, and a few of them rewarded for their efforts.
"It was a real pleasure to meet most of the faculty's members during our 2022 Full Faculty Meeting," explained Faculty Dean Valérie Moatti. "According to the feedback we received, these days were a great success regarding the opportunity to meet colleagues in a friendly atmosphere and to work together on the future of the school and teaching." This is a topic she has studied with former PhD student Juliette Fronty.
A teaching innovation showcase by Associate Dean for Learning Innovation José Ramón Cobo, Emmanuel Zilberberg and René Mauer was followed by six workshops dedicated to the future of teaching & learning at ESCP: lessons learned of Covid-era teaching; the future of ESCP teaching and learning; engagement practices for ESCP students ; the classroom of the future at ESCP; lifelong learning at ESCP; ESCP Micro Certificates.
Another six workshops focused on the future of ESCP's faculty: coping with ESCP growth and shift in faculty profiles while maintaining our ranking and quality; designing ESCP faculty in 2030; dreaming about the campus of the future; the future of My ESCP; combining sustainability focus with our multi-campus identity; maintaining our current competitive edge on sustainability.
Executive Dean Frank Bournois also took centre stage to talk about the 2021 results, as well as the future of the school.
A first since 2019
Held in person for the first time since 2019, the Full Faculty Meeting was also, according to Valérie Moatti "a welcome opportunity to meet our new colleagues, and celebrate good faculty news." The latter includes promotions (Francesco Venuti and Laetitia Mimoun to Associate Professor; Argyro Avgoustaki, Hector Gonzalez, Daniela Lup, Jaime Luque and Vanessa Strauss Kahn to Full Professor) and the ESCP faculty awards, which are given every year following a thorough process by the European Faculty Advisory Committee (EFAC).
Professor Santiago Barazza received the award for teaching. Prof. Emmanuel Zilberberg was rewarded with the Innovation Award for his involvement in online teaching. Christian Durach received the Best Researcher Award. "Christian is widely recognised as a worldwide expert in supply chain management, sustainability and digitalisation, and part of the top journals' editorial boards," commented Associate Dean for Research Pramuan Bunkanwanicha. Another eight workshops were devoted to research and increase the faculty's impact beyond academia, with the help of the Brand & Communication team.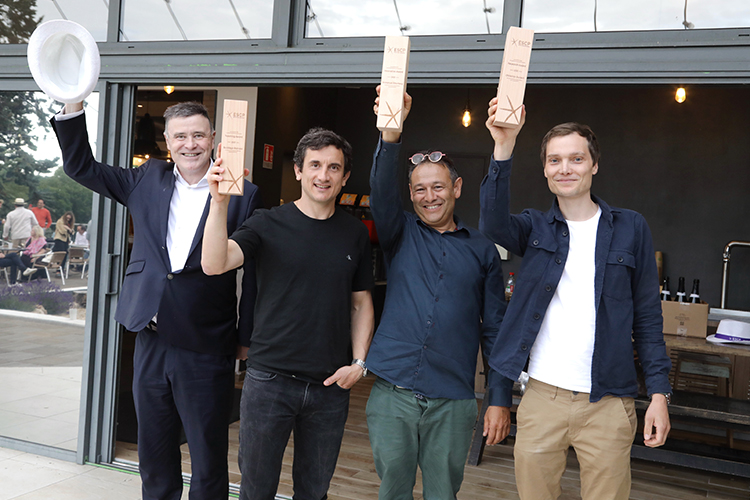 Prior to the Full Faculty Meeting, Santiago Barazza and other faculty members had taken part in the ESCP Junior Faculty Research Workshop organized for the first time by Maren Becker, Chuanwen Dong, Gonçalo Pina and Gwendolin Sajons on the Paris République campus.