From artist to entrepreneur:
she seized the opportunity the art world was missing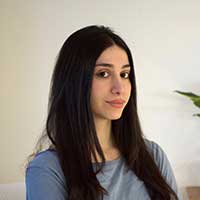 Meet Jessica Soueidi, ESCP alumna (19) and founder of Art From Future, the first growth platform helping young visual artists develop their careers by connecting them with a newly engaged audience online.
In 2015, you graduated with a Master's of Fine Arts in painting. Why did you choose to then pursue a double master's degree programme from a business school?
Exactly.
In 2015, I obtained a Master's of Fine Arts with a specialisation in painting from the Haute Ecole des Arts du Rhin in Strasbourg (former l'Ecole Supérieure des Arts Décoratifs de Strasbourg). Soon after, I was invited to take part in several exhibitions and renowned artist residency programmes internationally, including at The Swatch Art Peace Hotel in Shanghai and the Vagabond Club in Singapore.
During my experience, I noticed that it's extremely hard for young visual artists to make a living from their art - even with an outstanding CV! The traditional art industry values artists that get gallery representation. Selling art directly to customers that aren't considered to be "collectors" is denigrated. As a result, only a fraction of art students will be able to make a living from their art.
Having earned a Master's of Fine Arts and written a thesis like for any other degree, it was unacceptable to me that artists would have to struggle this way.
I started talking to people my age (Millennials and Gen Z) about their relationship with the art world. I was struck by their answers. None of them were interested in going to art galleries or museums. Worse, they didn't know any living artists. That's when I got the idea to create my own company to connect young artists with the new generation.
In order to do so, I needed to get the basics of business and learn more about the art and culture industries. I decided to apply to ESCP's Specialised Master's in Management of Cultural and Artistic Activities for several reasons. I was attracted by the school's expertise and rich international network as well as the fact that one quarter of the programme took place in Venice, one of the richest cultural cities in the world. I also felt encouraged by the teachers even before starting the program. During the entrance exam, the teachers were very interested in my startup idea and told me that they'd help me develop the business plan during the academic year of 2018-2019.
Earlier this year, in the midst of a global pandemic, you launched Art From Future. Why now?
In November 2019, I passed my final exam at ESCP, and one month later, I moved to Helsinki. I worked as a freelance art /content marketing consultant for Taiko, the largest online art marketplace in Finland for eight months. When the global pandemic hit, I noticed that online art sales were significantly increasing and the art market was finally adapting to the digital transformation. I'm a strong believer that timing can play an important role in the success of a startup. In September, I quit my job at Taiko, and I participated in Kiuas, the leading startup accelerator in Finland.
In a month, I was able to develop my Minimum Viable Product with the help of Kiuas's top coaches and mentors. While many art professionals saw the global pandemic as a threat to their businesses, I saw it as an opportunity to use digital tools to reach Millennials and Gen Z.
Art From Future was officially created in late January 2021, and the beta version was launched to the public in March. A few days later, Art from Future made its first art sale.
What is Art From Future's mission? Can you give us a concrete example of how you've worked with an artist to promote their work?
Art From Future is the first growth platform helping young visual artists develop their careers by connecting them with a newly engaged audience online. We select the most motivated and talented early-stage artists, and we empower them to develop their identities online and connect with their community. Our mission is to make art accessible to a growing audience, Millennials and Gen Z, and to help up-and-coming visual artists finally live off their works. Our services include personal brand and audience development strategies, content creation services and paid, targeted promotions.
To give you an example, when artists join Art From Future, it's really important to understand the message behind their art and their goal for the next five years. We first create a profile on our platform and we start promoting their works on Instagram, Facebook and TikTok. In order to do so, we collaborate with influencers, publish interviews and create content that is relevant to new audiences. Many young artists don't have a lot of experience using social media, and that's okay. Recently, we started auditing their Instagram accounts to help them increase their digital presence. We're also working on a series of tutorials specifically for our artists so they can learn how to grow and connect with their community.
How did your past experiences and studies at ESCP prepare you to launch Art From Future?
I have quite an atypical background. I'm a visual artist, but I also received an education to become a manager in the cultural and arts sector. Thanks to my experience as a visual artist, I have the empathy and the capacity to truly understand artists' needs. For example, in art school, I developed my critical thinking and my ability to spot promising talents. I also exhibited and curated several shows in cultural centres, art galleries and artist residencies.
Studying at ESCP gave me all the necessary tools and skills to create my company. It was an intensive year where I learnt about many different topics such as art economics, project management, art law, digital innovation and so on. We also had accounting courses, which are fundamental to the creation of a startup. For my master's thesis, I developed my business plan for Art From Future. The project was well received by my professors and I graduated with an A.
Studying at ESCP was definitely important for the launch of Art From Future because it developed my business mindset. In art school, they don't teach you about business, and you don't talk about money.
Art without business can't really work.
You're both an entrepreneur and an artist. Do you find there are similarities between the two?
Artists are entrepreneurs but they don't necessarily know it because they're not trained for it. When artists graduate from art school, they're on their own. Usually galleries take care of all the promotion and marketing for their artists. The truth is that only a small fraction of artists get gallery representation.
The rest have to make portfolios to apply to different art contests and prices, find and organise group exhibitions, and work at the same time in order to pay for their art supplies. It can be very frustrating for artists because the end goal isn't so clear. Whereas being an entrepreneur means having a clear idea and setting different achievable goals. The mindset is very different.
What advice would you give to other entrepreneurs looking to enter the world of arts and culture?
Go for it! Just do it your own way. Forget what you've learnt, don't be afraid of breaking the rules.
For ESCP's media, The Choice, Jessica shared her take on why the art sector needs to reach Millennials & Gen Z customers and how to do it.