Students from the IoT specialization did an amazing job finalising remotely the company projects launched 2 months ago
34 students, 7 projects, 7 groups… And 4 companies as sponsors (Société Générale Assurances, Schneider Electric Valeo and Kerlink) who asked students for recommendations about: Opportunity of a parametric insurance for online travel services, Go to market strategy for XIOT solution (Water Segment clients), Go to market strategy for XIOT solution (Farming Segment clients), How to pitch Kerlink's value proposition to European and and North-American cities, Monetisation strategies for Voyage XR solution, Value proposition of an IoT motorcycle insurance in the French market .
Students provided sponsors with well-argued recommendations.
Porter's five forces analysis, persona, design thinking method… a lot of tools have been implemented to
- sort out a competitive analysis
- explore customers' motivations
- define a go-to-market strategy and the sale process
- elaborate the value proposition
Based on their findings, they decided either to launch new services or to improve the one's existing.
They prototyped the user experience and designed business models by identifying partners, suitable targets and potential leads.
Every year, these company projects are part of the learning journey and a solid complement of what students learnt in the classroom.
"How proud of our students we are! Attending online courses is one thing. Complete a teamproject remotely is another" says Sandrine Macé, Scientific Director of the IoT Chair. "Despite the isolation phase, students gave an ample proof of their agility and comittment".
"I'm very impressed how the teams navigated through the process remotly. Valuable results have been presented to the sponsors. Groups found nice ways to interact with the audience even online" adds Louis-David Benyayer, one of the Professor of the IoT specialization in charge of the projects' process. "These projects are every year a complement of what we did in the classroom. They are a powerful teaching method challenging students to tackle real business cases".
Andrea Locatelli, Directeur Marketing Stratégique & Business Development, Valeo, pointed out the quality of the tools and presentation, the way information has been showcased. "Numbers were well argumented, Project management has been efficient. I appreciated a lot their open-minded spirit. They were at ease with the design thinking process and understood perfectly our culture and ecosystem".
Cyrille Chassaing, Americas Commercial Development Manager, Schneider Electric Water, also congratulated students "who have been able to work normally even in this creepy context. Team involvement level has been extremly high and multicultural dimension has been an additional value for students but also for us".
Stéphane Dejean, Chief Marketing Officer, Kerlink Group, also enjoyed working with the ESCP students: "They were good at highlighting the essentials in a 7-minute presentation online. An amazing performance! It's impressive to see how they are comfortable with digital tools, how they leverage them to support their argumentation. Value proposal, value chain have been perfectly tackled. A very good business-oriented work!"
Clément Le Blanc, Innovation project manager, Charles Kalanquin, Strategic Marketing Analyst and Matthieu Chenevier, Head of project portfolios, Deputy Chief Innovation and Digital Transformation Officer, Société Générale Assurances, also applauded the great work done in this complicated period. "Students understood our needs very fast and we can learn a lot from the ideas they came out with. Their outcomes are very insightful. We had weekly meetings with efficient interactions with both autonomous and comitted students".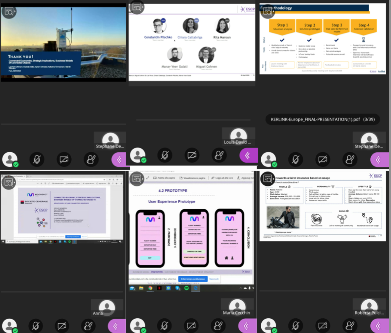 Congratulations to all students!
Alessandra BEGUINOT, Alex FERDINANDI, Anass HARRAK, Anna PAROLIN, Antoine NARDONE, Auriane PICHARD, Bartosz TRZASKOMA, Béatrice LONA, Benedetta DE BENEDETTI, Charlotte MÜLLER, Chiara CATTABRIGA, Constantin PLISCHKO, Facundo FORGIONE, Felix LORENZEN, George GHORAYEB, Johannes ZEISEL, Katharina ÖNNESMANN, Kumar AMAN, Leonhard DIHLMANN, Lucile REINE, Manav Veer GULATI, Maria CECCHIN, Mateusz KOWAL, Michela GRIMALDI, Miguel COHNEN DE LAS RIVAS, Myriam SCHNEIDER, Pauline BABEAU, Pauline BANCOURT, PAULINE VERBRUGGE, Riccardo MARANGON, Rita MAROUN, Roberta PULCINI, Sagar NISHAR and Valentin WITTMANN
One of them, Felix, shares his experience. See here.