The IoT Chair provides MiM students with a 120-hour long specialization course
32 students on board!
Each year, MiM students choose a specialization course among a wide-ranging portfolio consisting of around 100 courses.

Sandrine Macé, Professor at ESCP and Scientific Director of the IoT Chair, is delighted with the success of this course that aims to familiarize students with the managerial challenges related to the IoT. "The Internet of Things is a new step in the digital revolution and participates in the construction of a new society. A business school such as ESCP has the objective to train students to become future managers of companies dealing with IoT issues".

It is a 120-hour path which will give students input about information mastering, connected economy, strategic implications, business models of connected objects, ethical and legal issues, innovation, technology, patents and design, and digital marketing in the age of IoT…

Students get the opportunity to have Cyril Perducat, Alumnus and EVP IoT & Digital Offers at Schneider Electric as patron of the 2021 IoT Class.
During the course of Jan 20, Cyril interacted 1-hour long with students. He explained his career path: Cyril is French with a background in engineering and international project management. He joined Schneider Electric in 1994 and since then, he has held a number of roles across a broad area of the business, including marketing, manufacturing, supply chain, business development and acquisitions and alliances.
He also explained why Schneider Electric got involved in a IoT Chair with ESCP for the 4 past years and the next 3 one's.
Cyril presented Schneider Electric focusing on its business in digital transformation, on its positioning that entails in sustainability, efficiency and resilience.
Covid-19 has also been addressed because the Covid crisis accelerated the digital transformation processes and pointed out a new way of facing uncertainty.
We're seeing a major shift across industries from focusing on product-centric business models towards building new models based on data. Companies are questioning how to create competitive new digital business models and the lies with digital innovation itself. An important piece to this challenge is the idea that companies need to embrace the collaborative ecosystem approach in order to solve today's efficiency and productivity problems quickly. Companies search futur managers, such as those trained in the IoT specialization, to address IoT managerial challenges.
Students of the 2021 IoT Class appreciated the"insightful and motivational speech" of their patron.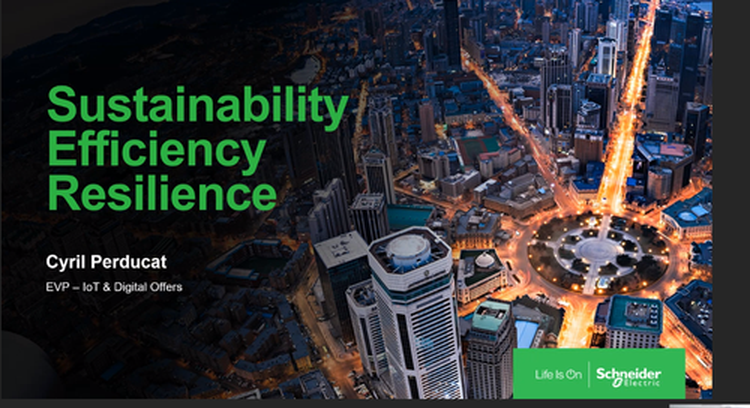 This IoT course also offers students a great field to experiment thanks to company projects. Every year, these company projects are part of the learning journey and offer a solid complement of what students learnt in the classroom. Three companies (Schneider Electric, Michelin and Kerlink) asked students for recommendations about their IoT initiatives. Seven groups of students are preparing solutions for the challenges offered by the companies.
Friday January 22nd, companies presented the scope of their projects to students. Topics include business models, go-to-market strategies, new offerings and partnerships. Students will provide sponsors with well-argued recommendations which will be presented on April 2nd.
According to Louis-David Benyayer, Affiliate Professor at ESCP and in charge of the course: "the company projects represent an intense learning opportunity for the students as they are confronted with real-life problems and are working directly with managers in charge of solving them."
Keep connected!