Welcome of the new Chair
April 5, 2016, ESCP, under the auspices of the Foundation and E. Leclerc, signed an agreement to create a new Chair dedicated to the theme of the retail industry in society 4.0.
A new opporutnity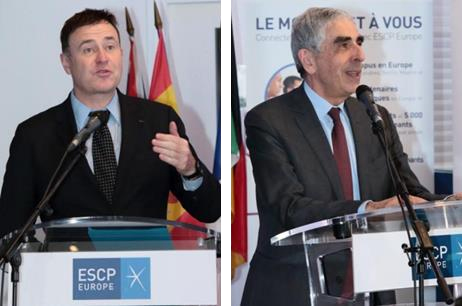 Frank Bournois (Dean of ESCP) and Patrick Gounelle (President of the ESCP Foundation) started the ceremony by expressing their pride at seeing E. Leclerc join the School.
ESCP is indeed also progressing thanks to its links with large companies who are taking part in the transformation of the economic and social environment.
It is the role of a school to offer its students the opportunity to draw inspiration from the outstanding economic figures they encounter. The commitment of Michel Edouard Leclerc is a great opportunity for the School and its student community.
Point of view of Michel-Edouard Leclerc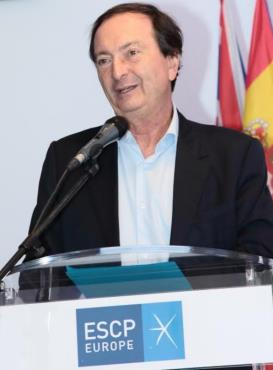 Michel-Edouard Leclerc (CEO, E. Leclerc) is delighted to discover that ESCP is a serene place for debate and education where one can approach and promote new forms of retail business and also discuss business/social and business/industry relations: a place where we can simultaneously educate students, encourage vocations and create scenarios.
Such a project is therefore especially interesting in as much as it teaches students how to keep up abreast of the purpose of retail, its social utility, its contribution to the creation of value and general well-being. A Chair should enable students and professionals to access these analyses and confrontations, publications and debates. ESCP is a globally recognised institution, a credible brand and this is therefore a great opportunity to "grow" with a new generation of students. At a time when the major schools speak more of business than retail distribution, it is essential to convince future executives and company managers of the inescapable and exciting nature of new retail functions.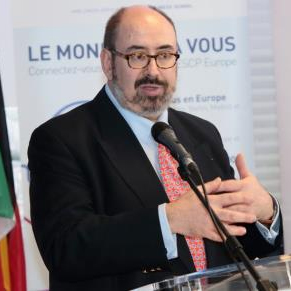 "The scope of issues to cover is vast"
The dematerialisation of the retail industry and especially the problems of different pricing between physical business and e-commerce; promotion of manual activities; war on waste; CtoC ; cross-canal; ubiquitous commerce; service economy; pure-player strategy; experiential; digital; new modes of coproduction and communication with consumers… the scope of issues to cover is vast, as Professor Olivier Badot reminds us.
This agreement covers a period of 3 years and has several objectives, including:
Moving away from short-term issues to see structural issues more easily
Leaving a traditional view of retail distribution, to move forwards and build the history and future professions of distribution around the retail industry, e-commerce and retail 4.0.
Produce and disseminate academic and empirical knowledge on future development and governance of the retail industry and, more generally, enhance and promote research on retail in society 4.0.
Ask analytical questions on fundamental issues affecting the retail distribution industry as a whole in order to structure forward-thinking knowledge on certain key themes of society 4.0
Help to develop research on retail 4.0. and distribution in student communities, and stimulate academic and professional vocations.
Future of retail in Society 4.0