Master in Management | Elective
A new MiM elective on Biodiversity, Society and Business!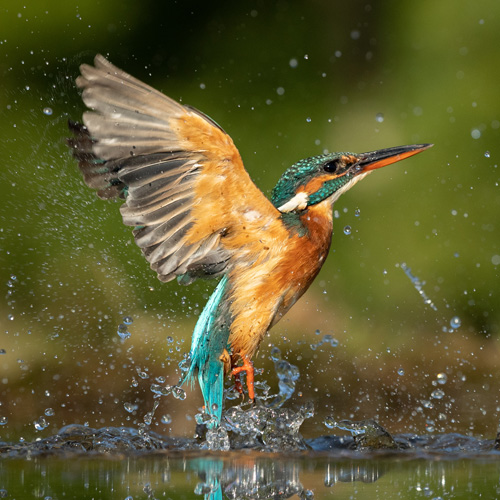 Promoting environmental consciousness and social accountability is a central pillar of the strategy of ESCP. The school ensures students embrace sustainability as a fundamental principle in their future careers. Therefore, ESCP continually develops new courses and programmes that emphasise sustainability as a crucial aspect of education.
Understanding the significant challenges faced by Humanity
Along with Climate change, biodiversity loss is one of the most significant challenges faced by Humanity. Indeed, according to the WWF, the wildlife population has declined by 69% since 1970. For example, 19% of birds and 80% of insects have disappeared since 1980.
WWF (2022) Living Planet Report 2022 – Building a nature positive society. Almond, R.E.A., Grooten, M., Juffe Bignoli, D. & Petersen, T. (Eds). WWF, Gland, Switzerland.
And it is not only nature that is at a net loss: The disappearance of the Great Barrier Reef alone could cost Australia 1 million visitors annually, imperilling 10.000 jobs and draining $1 billion from the economy. These statistics underscore the importance of addressing biodiversity loss urgently and taking concrete actions to protect our planet's ecosystems.
A new course to understand the importance of biodiversity and its effects on natural and human systems
Because of the issue's significance, ESCP has created a new course on the subject. Supervised by Professor Aurélien Acquier, the elective will be given in MiM 1 Semester 2 by Auriane Clostre, Co-Founder of StimShift, a core business of Stim and Eliott Rabin, Consultant at Carbone 4, both ESCP alumni. Their common objective since 2007 is to guide the clients in understanding the world that is taking shape.
StimShift is a research centre from Mines ParisTech, which helps companies design, build, and launch sustainable businesses compatible with planetary boundaries.
Carbone 4 is the first independent consulting firm specialising in low-carbon strategy and adaptation to climate change.
The new course, "Biodiversity, Society & Business", provides students with a comprehensive understanding of the importance of biodiversity and its effects on natural and human systems. It gives them a solid grounding in biodiversity issues for their future careers.
Ultimately, students will understand the importance of biodiversity to companies and investors and be better prepared to become managers who can address the complex and crucial issue of biodiversity loss.
Teaching Students about Biodiversity
The course will use a variety of up-to-date scientific research and reference methods to teach students about biodiversity, such as IPBES, SBTN, European taxonomy, TNFD.
IPBES
Intergovernmental Science-Policy Platform on Biodiversity and Ecosystem Services
An international organisation that provides policymakers with scientific assessments on biodiversity and ecosystem services to support policymaking.
SBTN
Intergovernmental Science-Policy Platform on Biodiversity and Ecosystem Services
A global initiative that helps companies set science-based targets to reduce their greenhouse gas emissions and limit biodiversity's negative impact.
European taxonomy
A classification system that establishes a list of environmentally sustainable economic activities
TNFD
Task Force on Nature-related Financial Disclosures
An initiative that aims to help businesses and financial institutions to understand, report, and manage their impacts on nature.
The course offers practical examples such as case studies of various sectors, corporate environmental strategies, and geographical area analysis to enhance students' comprehension. Additionally, students will engage in two group projects and play the biodiversity fresk to reinforce their understanding of biodiversity and apply it to real-world situations.
Students taking the elective course "Energy: Geopolitics, Climate & Business" may find it particularly advantageous since it delves deeper into another significant environmental crisis interconnected with biodiversity loss.