Behind the scenes with the winning teams

Their names are Lena Aridi , Francesco Mambelli (ESCP), Margo Blanche Compen, Papolthee Rakphongphairoj and Olivia Varon Caralps (IFM) ; Divya Kedia, Anna Syren, Clémentine Toussaint (ESCP), Amirkhon Murvatov, Deeksha Gupta and Charlie Wang (IFM).
They won the 2019 Big Picture challenge!
Each year, Big Picture is a powerful learning tool which brings together students from IFM and ESCP.
Students from both ESCP and IFM are projected into the heart of the creative process: they are asked to design and produce a video in a very short time. It is also a highly multicultural challenge. The workshop offers opportunities for exchanges between various different profiles, learning to work together on an innovative project and finalising it under the pressure of a tight deadline… such are the main learning challenges of the Big Picture project. At the end of the week, one of the videos was selected as the winner by a panel that includes leading professionals.
To dive with them into their five-day mission, click here.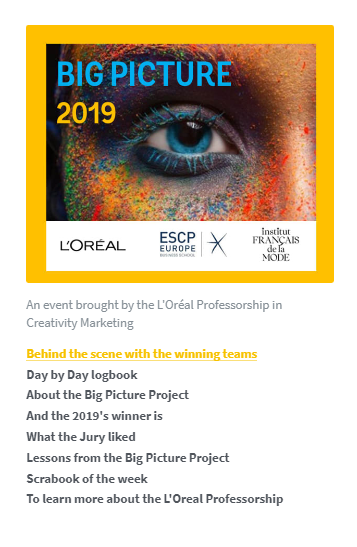 To learn more about the L'Oréal Professorship in Creativity Marketing
To learn more about the Msc in Marketing & Creativity
To learn more about the MSc International Luxury Management