Laura has a PhD in Economics from UEM, Economist from UCM, MBA from IE, in addition, she studied the Higher Management Program at Ashridge University, and has a Master in International Trade from IEDE. Her career has been linked to marketing and sales in top-level multinationals.

She is also the author of the book Political Marketing 3: 0; How We Can, Citizens and Vox have changed the rules of the game.

What professional challenges does this new appointment represent for you?
Being Associate Dean of the ESCP MBA in International Management is an honour, a privilege and a great challenge, both professionally and personally. To lead an MBA that is taught in 5 cities: Paris, London, Madrid, Berlin and Turin, with students and professors of more than 30 different nationalities, accredited by the most prestigious international institutions and with a vocation to grow in number of students and in prestige, is the most important professional challenge of my career. It will also involve a great personal effort, since my team is mainly in Paris and I will continue to live in Madrid.
I trust that my professional experience in various positions in marketing in multinationals (Unilever, Kraft, Colgate, Altadis, among others) and my years as a teacher and director of various programs, will be complementary and help me face this challenge.
What are the professional opportunities of studying an MBA compared to other disciplines?
The main reason why students decide to study an MBA is to boost their professional career or to change their line of work (move from more specialised positions to more general management). To have a career of increasing responsibility it is necessary to have a global and international managerial profile, that is why an MBA studied abroad and, if possible, in more than 2 countries definitely pushes professional careers.
The practical training of the MBA, especially ESCPs´ in which 2 real consulting projects are carried out, for real companies, makes graduates have real experience in various industries, countries and scenarios, so, together with their previous experience, they acquire a level of preparation and innovative ideas that are recognised by employers and headhunters.
We need not to forget that the great difference of a prestigious MBA lies with the so-called "soft skills". MBA students reinforce their leadership skills, we prepare them for decision-making and team leadership in diverse, changing and digital environments. The programme, teachers and activities are focused on students learning to work in international, sustainable environments. Digital and in permanent change.

An MBA helps students become entrepreneurs or have an entrepreneurial mindset.

And finally, an MBA allows you to create a unique network of contacts. The bonds that are created in an MBA last a lifetime. MBA Alumni help each other throughout their professional lives and it is quite common for opportunities to be offered amongst themselves.
We are living in a time where digitalisation absorbs and leads education at all levels. What influence does digitalisation have on an MBA?
It influences an MBA programme in every aspect. Other than taking digital related courses and knowledge, digitisation is transversal in all courses, since it encompasses all functions (marketing, finance, human resources, etc.) that are being affected by digitalisation.

We teach students to function in a digital world and they study in a digital environment.
What skills would you highlight from ESCP's MBA in International Management compared to other MBAs? What profile are you looking for in your students?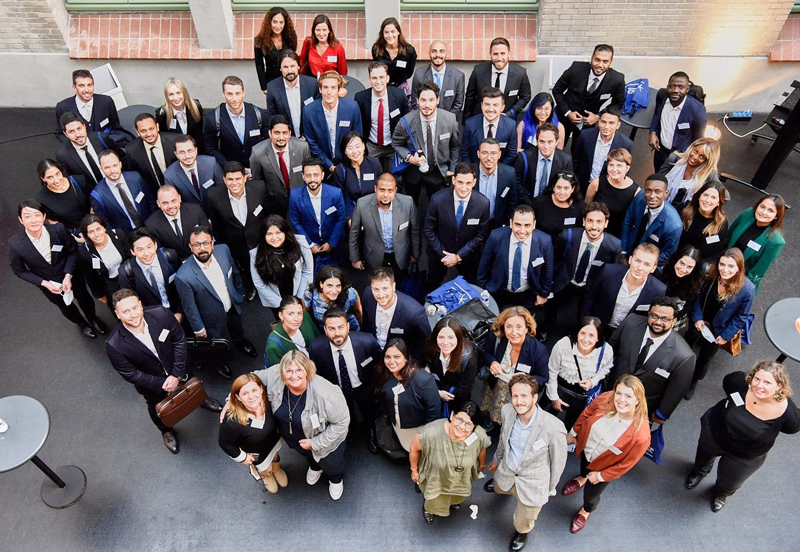 The Class of 2022
Photos by Thierry Foulon
The greatest competence, the one that really makes the difference compared to other MBAs, is knowing how to function and progress in a multicultural, digital and sustainable environment. We give our students the opportunity to study in 2 European countries, of their choice, and to do electives in other countries, on all of our campuses, including Warsaw.

Their day to day life is with students and teachers from more than 30 different nationalities and with personal and professional experiences on all continents and with different cultural and social environments.
Our students have an international vocation and digital and sustainable concerns.
Any advice you would give to professionals who are looking to pursue an MBA or are doubtful about doing an MBA versus a specialisation
The choice of which master's degree to study depends on the professional objective of the students, specialisation versus general ambition. If a student aspires to general managerial positions, if he aspires to a general, strategic, or similar direction, he must study an MBA, but if he wants to specialise in a function (marketing, finance, human resources, etc.) he must study a specialised master's degree.
Prof. Léon Laulusa, Executive Vice-President and Dean for Academic and International Affairs, adds: "We talk more about challenges than difficulties: our ambition is to make this excellent and innovative programme known internationally and to attract the world's elite to this MBA programme. "