Thesis Defence
The Influence of Networks on Perceived Career Outcomes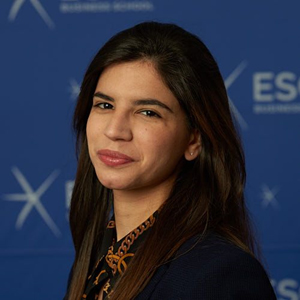 Salima Ouerk, PhD candidate in the Paris Doctoral programme, will publicly defend her thesis in Management Sciences.
14 October 2021 – 1:30 p.m. (CEST)
ESCP Business School, Amphi GUY
Abstract
This thesis contributes to several debates on the capacity of central banks to respond to their main objectives in a context of zero lower bound, by providing new evidence within an empirical framework.
Firstly, this thesis proposes to assess the transmission mechanisms and the macroeconomic impact of unconventional monetary policy in the Euro Area. The analysis shows that ECB's unconventional monetary policy measures have sustained the real economy even if the zero lower bound has decreased the efficiency of monetary policy and accentuated the heterogeneity of the Euro Area.
The second chapter studies the interaction between unconventional monetary policy and the behaviour of Euro Area banks by investigating the role of banks in transmission of unconventional monetary policy to emerging market economies. The results show that the ECB's unconventional monetary policy influences the decisions made in the Euro Area banking system, which leads to an increase of banking outflows.
In turn, the rise of inflows into emerging market economies results in a significant response of financial variables, which proves that ECB's unconventional monetary policy is a driver of the financial conditions of emerging market economies.
Moreover, the findings suggest that the monetary authorities of emerging market economies react to unconventional monetary policy independently from their exchange rate regime.
The final chapter of this thesis investigates the influence of ECB's unconventional monetary policy on the credit distribution. Based on a French microeconomic credit dataset, the study highlights the fact that the credit is unequally distributed among households in France.
The analysis of the distribution of credit shows that the expansionary monetary policy increased the volume of mortgages at the bottom and the middle of the income distribution, but that was not enough to reduce the unequal distribution of credit.
Jury
Supervisor:
Ms Cécile Kharoubi,
Professor, ESCP Business School
Ms Catherine Lubochinsky,
Professor, Université Panthéon Assas
Referees:
Mr Christophe Boucher,
Professor of Universities, University Paris Ouest Nanterre
Mr Adrian Pop,
Professor, Maître de Conférence HDR, IAE de Nantes
Suffragants:
Mr Julien Fouquau,
Professor, ESCP Business School
Location
Organiser: ESCP Business School
Paris - France
Map
Date
Start date: 14/10/2021
Start time: 1:30 PM
End time: 6:00 PM