Latest Developments in the South-East European Energy Market and the Role of Greece
We have entered a period of tremendous challenges but also opportunities for the region of South –East Europe when it comes to energy, but what does the future hold for the region both in the European Union (EU) and globally? Has Greece's emergence as a serious player positioned the country to play a pivotal role?
"South –East Europe will play a crucial role in the energy sphere in the EU, particularly with Greece and its huge discoveries of natural gas reserves in the Eastern Mediterranean. Also the TurkStream gas pipeline will bring Russian supplies to Turkey and the EU. In addition, the Trans Adriatic Pipeline (TAP) will bring Caspian gas supplies via Turkey into the European Union" says Dr Mamdouh G. Salameh, International Oil Economist; Visiting Professor of Energy Economics at ESCP and Speaker at the 4th HAEE Symposium to be held at the Divani Caravel Hotel in Athens on 6-8 May, 2019.
The Greek energy market
Energy companies currently operate in a complex environment, with strong regulatory framework, ever-increasing competition, massive geopolitical influence, and changes in stakeholder expectations. In Greece, opportunities are big but so are the challenges.
The country's high dependence on fossil fuels, the structure of its current energy market, the energy and climate targets 2030 that aim to reduce dependence on lignite power and increase the use of renewable energy bring some questions:
Could Greece obtain the investment needed to achieve its energy transition?
Is the global economy capable of the quick move away from oil in the next few decades in order to reduce emissions or is it a process that require more time?
Could Greece be the energy hub in Europe?
"Greece is at the heart of the energy scene in the European Union and the process of energy transition. Therefore, it will play a pivotal role and it will attract all the investment it needs for its own energy transition" said Dr Salameh. We invite you to watch his full interview here.
Meet top industry professionals and ESCP faculty in Athens
ESCP and its Research Centre for Energy Management (RCEM) will take part as Knowledge Partners at the 4th HAEE Energy Symposium organised by the Hellenic Association for Energy Economics (HAEE) on 6 - 8 May 2019 in Athens, Greece.
If you are interested in starting a career in the Energy industry or you are an experienced Energy professional looking to obtain hard and soft managerial skills to advance in your career, this exclusive free-to-attend invite gives you the chance to know more about ESCP – UK Business School of the Year- the Energy Management programmes it provides, experience the School's unique teaching style, interact with members of the ESCP community, scholarships and funding opportunities.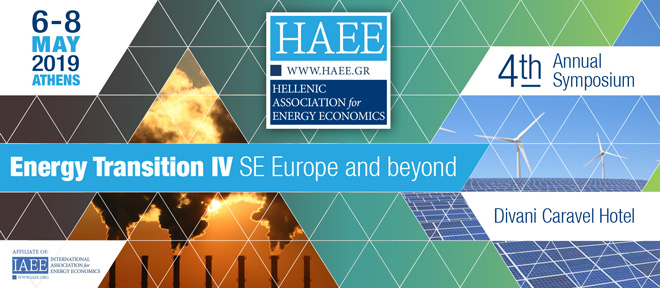 Location
Organiser: Hellenic Association for Energy Economics
Athens - Greece
Map
Date
Start date: 06/05/2019
Start time: 8:30 AM
End date: 08/05/2019
End time: 6:00 PM